Washington State is one of the states allowing both electronic notarization and remote notarization. These advantages make being a notary public in Washington State an attractive opportunity.
This short article will cover:
The requirements to become a notary in Washington State
The 5 steps to get your notary commission
How to easily fulfill your surety bond requirement
All the costs required to get your notary license
Washington State Notary Public Requirements
The requirements to become a notary are straightforward:
Must be at least 18 years old
Must be able to read and write English
Must be a US citizen or permanent resident
Must live in Washington State
Or have a place of employment in Washington State
Or have a practice setup in Washington State
What's The Difference Between a US Citizen and Permanent Resident
A permanent resident is an individual who lives in the United States with some visa or green card. A permanent resident does not have the full rights of a citizen. Some of these rights include:
The ability to obtain a passport
The ability to vote
Regardless, permanent residents are able to obtain their notary public commission.
The 5 Steps To Become a Notary In Washington State
The first three steps required are prerequisites before the application can be submitted.
Step 1: Purchase a $10,000 Surety Bond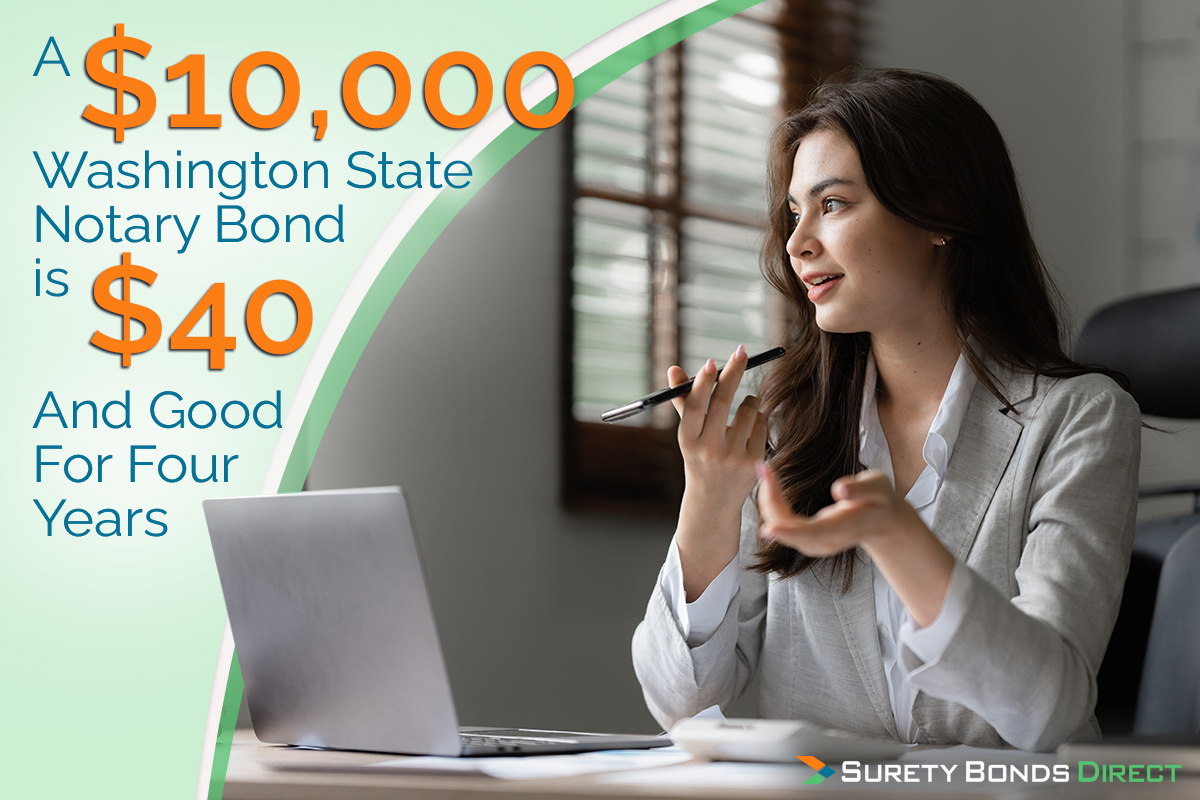 Washington State requires all notaries to have a valid surety bond.
A surety bond is similar to insurance, and a notary is required to purchase a surety bond for the protection of the notaries clients, courts, and other businesses relying on accurate notarized documents. Read our post, What Is a Notary Bond, to fully understand the bond protections.
In the case of Washington State, this protection extends up to $10,000, or the amount of the notary bond.
This bond can be purchased for $40 for a term of four years.
What Protection Do Clients, Courts, and Businesses Need?
A notary is responsible for validating the identity of individuals required to sign documents as the individuals who should be signing the documents.
Courts use notaries to validate evidential documents to drastically speed up court proceedings. Without notaries, the judge would require individuals who've signed key documents to come into court and testify they are the correct person who should have signed the documents.
Businesses use notaries to ensure the individuals signing contracts are the correct individuals protecting against voided contracts and agreements.
A negligent or fraudulent notary public is capable of falsifying evidence and contractual agreements.
Court proceedings can:
Fall behind schedule
Evidence to be omitted
Entire cases to be dismissed
Businesses and individuals can:
Lose business deals
Lose out on "locked in" interest rates in the case of mortgage
A surety bond gives the clients of a notary public a little recourse in the case of wittingly negligent actions of fraudulent notary.
Where To Get a Surety Bond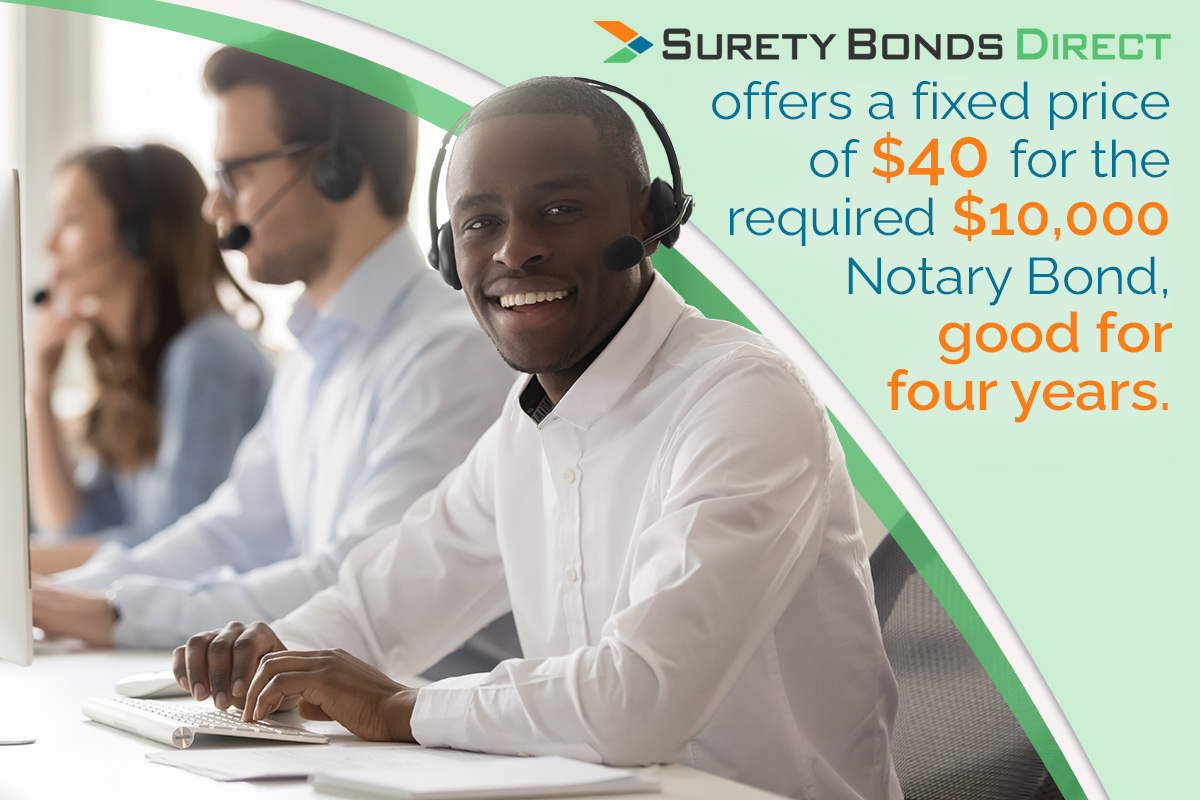 Special insurance companies, called sureties, write surety bonds. Not all sureties work with consumers. To save time and obtain the lowest price for your surety bond, use a specialty surety agent like Surety Bonds Direct.
A speciality surety agent has relationships with many sureties. This allows the surety agent to secure low prices for surety bonds.
In the case of a notary public surety bond in Washington state, Surety Bonds Direct has secured a fixed $40 price for the required $10,000 surety bond and it's good for four years!
Plus the Washington state notary surety bond is available to be instantly downloaded after purchased. This makes getting the required surety bond fast and easy.
Step 2: Purchase Errors and Omissions Insurance (E&O)
This is not required to get your notary license. However, having an errors and omissions policy is a good idea.
Errors and omissions insurance protects notaries from unintentional mistakes or false claims filed against them. It can cost thousands of dollars to defend yourself in a lawsuit to ultimately prove you acted responsibly.
Purchasing an errors and omissions policy can be purchased for as little as $2 per month. But do your own research and talk to insurance providers for a custom rate.
What Is The Difference Between a Surety Bond and E&O Insurance?
An E&O policy is purchase by the notary to protect the notary.
A surety (notary) bond is purchased by the notary to protect the clients of the notary.
Step 3: Decide If You Want To Conduct Remote Notarizations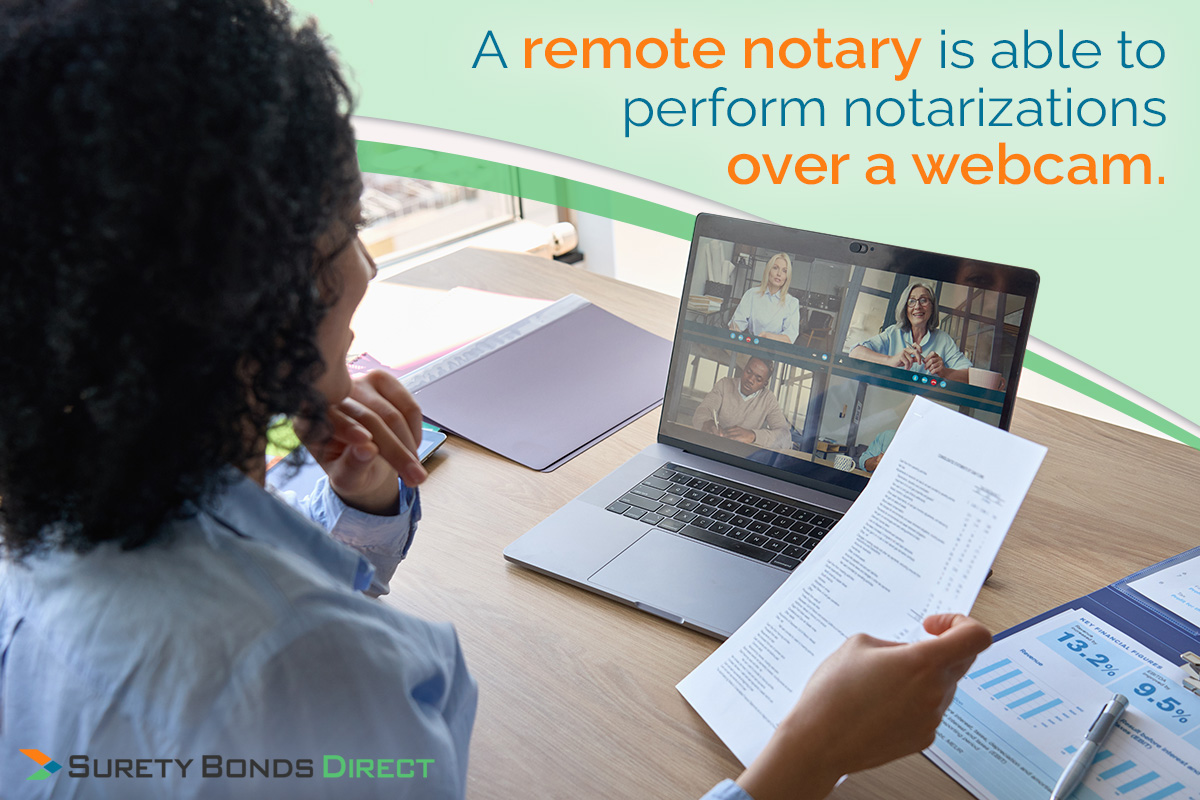 Decide immediately if you plan on performing remote notarizations. This will affect step 4, deciding on the software requirement.
There is a difference between obtaining an electronic notarization endorsement and becoming a remote notary. Electronic notarizations still require the parties involved to be physically preset with the notary. The difference is the documentation is signed and notarized electronically saving paper and making organization easier.
A remote notary is able to perform notary services over a webcam. This saves time on travel and scheduling, the number one reason notarizations can be delayed.
Step 4: Decide On Notary Software
The Washington State Department of Licensing requires the name of the software you'll use for either electronic notarizations only or for electronic and remote notarizations.
You can't legally notarize signatures until you've receive approval which includes choosing software.
Electronic notary software provides electronic notarization functionality with greater security. There are a number of different solutions available:
Pricing for these software solutions ranges from $30 per month to $99 per month. Some even have additional fees on a per notary session basis.
Conduct research for a solution that matches a specific licenses needs. Some solutions service only electronic notarizations. Others include webcam functionality onto of electronic notary benefits.
Remember, a software solution is only required if you plan on conducting electronic notarizations. Electronic notarizations is more or less a given in today's world.
Step 5: Fill Out Your Applications And Pay Fees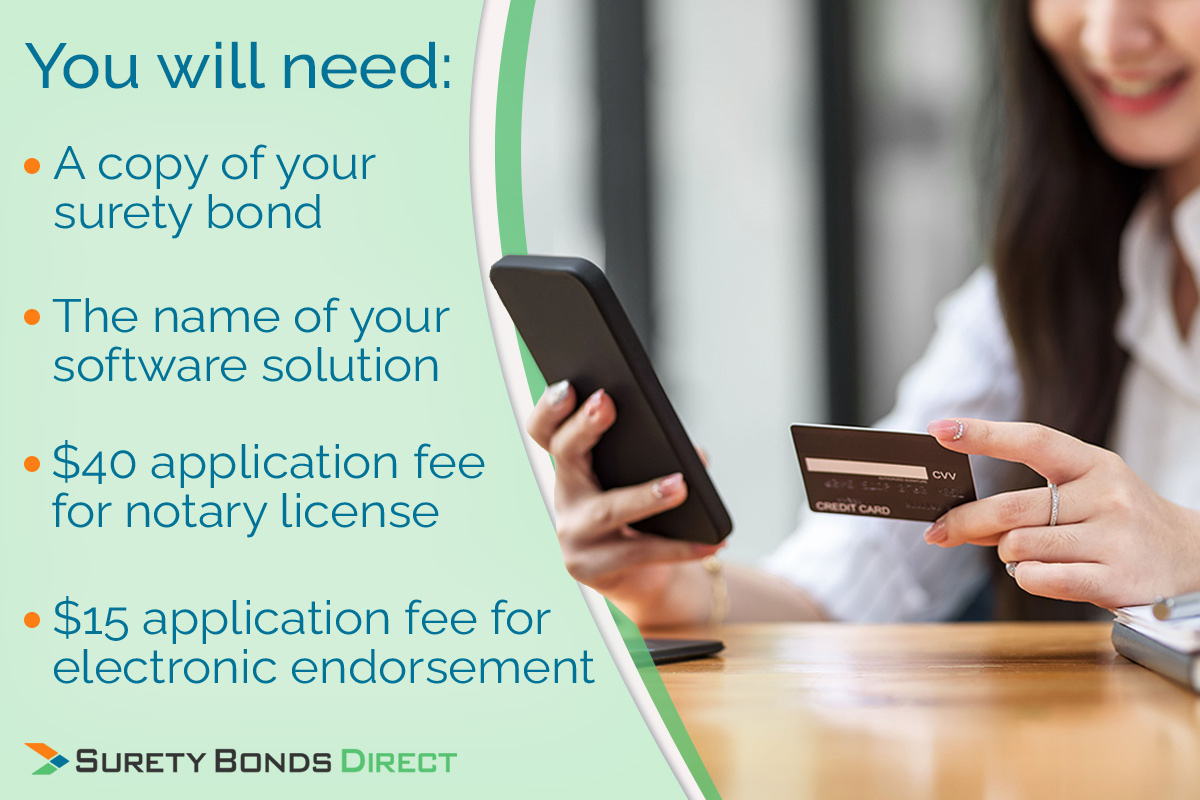 The final step is to fill out the official applications and Oath of Office.
The applications required are:
Notary Public Commission Application
Notary Public Electronic Notarization Endorsement Application
Email to apply for remote notary endorsement
Notary Public Commission Application
This is the main application. It's a short application requiring:
Name and address
Make sure you use the name as you would like on your seal and license
Notarization history if any
Statement of Washington residency or employment in Washington State
Short legal background
Software in the case of electronic and/or remote notarization services
Plus the Oath of Office
Without obtaining the electronic endorsement, the application fee is $40.
With the electronic endorsement, the application fee is $55, including a separate $15 fee for the electronic endorsement.
Notary Public Electronic Notarization Endorsement Application
Obtaining an electronic endorsement can be completed when applying for a new commission for when renewing an existing commission.
The electronic endorsement application is used during renewal.
You only need to provide:
Current commission name
License number
Social Security Number and date or birth
Name of the software
Plus, the $15 application fee.
Remote Notarization
To become a remote notary, you must email the Washington State Department of Licensing at notaries@dol.wa.gov.
Once you've completed your application, the only other requirement before submission is a copy of your $10,000 surety bond. Remember, you can instantly download your Washington State notary bond after purchasing it on Surety Bonds Direct website.
Step 6: Get a Stamp And Notary Journal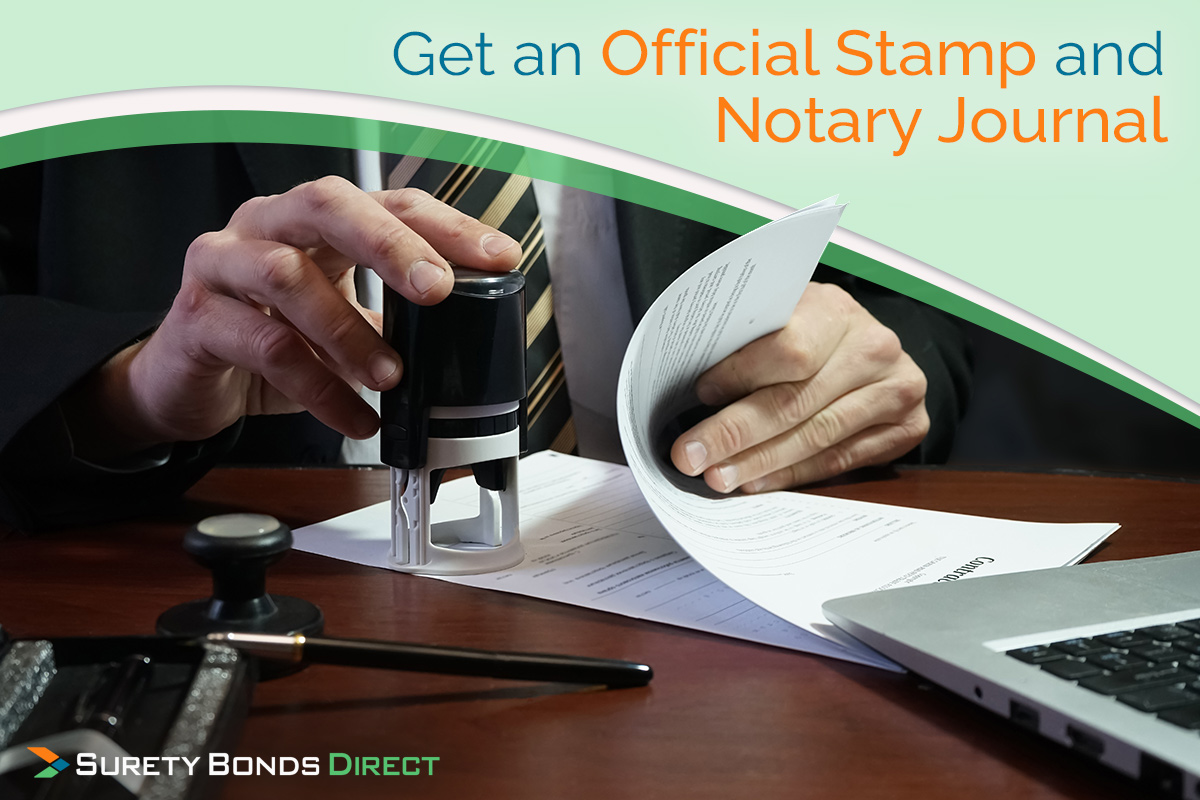 Once the application is approved, the final steps are:
Getting a notary stamp or seal
Getting the appropriate notary journal
Getting An Official Stamp
The stamp must include:
The words "notary public"
The words "state of Washington"
The name as commissioned
Commission expiration date
Commission number
Minimum of 8 point type
The stamp's physical condition:
Minimum of one and five eighths inches in diameter if circular
Minimum of one inch wide and five eighthes inches long if rectangular
The face of the seal must be permanently affixed
When affixed to a document it must use permanent ink, capable of being photocopied
The same cannot contain the Washington state seal
Record Keeping Requirement
All notarizations must be recorded. The requirements for this journal are:
A bound book with numbered pages
Kept in a locked and secured area
Kept for 10 years after the last notarization
Electronic journals cannot replace the book. But can be used for personal records.
Entries in the journal:
Must include the date and time of the notarization
A description of the document or act being notarized
Full name, address, and signature of each individual requesting notarization
Short description of identification method
If you resign your commission you must let the Washington State Licensing Board know where the journal is located until the 10 year time limit has lapsed.
Getting a Washington State Notary License Is Straightforward
Getting a notary commission is a straightforward process. The most time consuming steps are:
Obtaining your surety bond
Getting Errors and Omissions insurance
Choosing a software solution
When it comes to getting your surety bond, Surety Bonds Direct can instantly deliver your bond for $40. This means in 2 minutes you can cross getting your bond off your list.
If you have any questions, call a Surety Bonds Direct bond specialist at 1-800-608-9950.