Notarization is a key part of many legal processes, from closing on a home loan to vehicle title transfers, and it's important for preventing fraud and exploitation. Every day, thousands of Americans rely on a notary public to ensure that their most important legal documents are legitimate and valid, making the notary public a quietly vital position.
The process of how to become a notary public is usually relatively simple, and most people have the qualifications to do it—but it's still an important position of responsibility that requires the proper preparation and knowledge. In this article, we'll look at what notaries do, the qualifications and application process to become a notary, and the quickest way to get a notary surety bond.
What Does a Notary Public Do?
A notary public is an individual who is authorized by the state to notarize a document. Notarization is the practice of witnessing, verifying, and keeping records of parties signing a legal document. Usually, the notary charges a small fee for their services. Notaries public are responsible for ensuring that each party signing a document is:
Able to provide valid documentation of their identity.
Of sound mind and not being forced or coerced into signing the document against their will.
It's a simple task, but an incredibly important one. Notaries are a front-line of defense against many kinds of fraud, so it's critical that they execute their duties faithfully.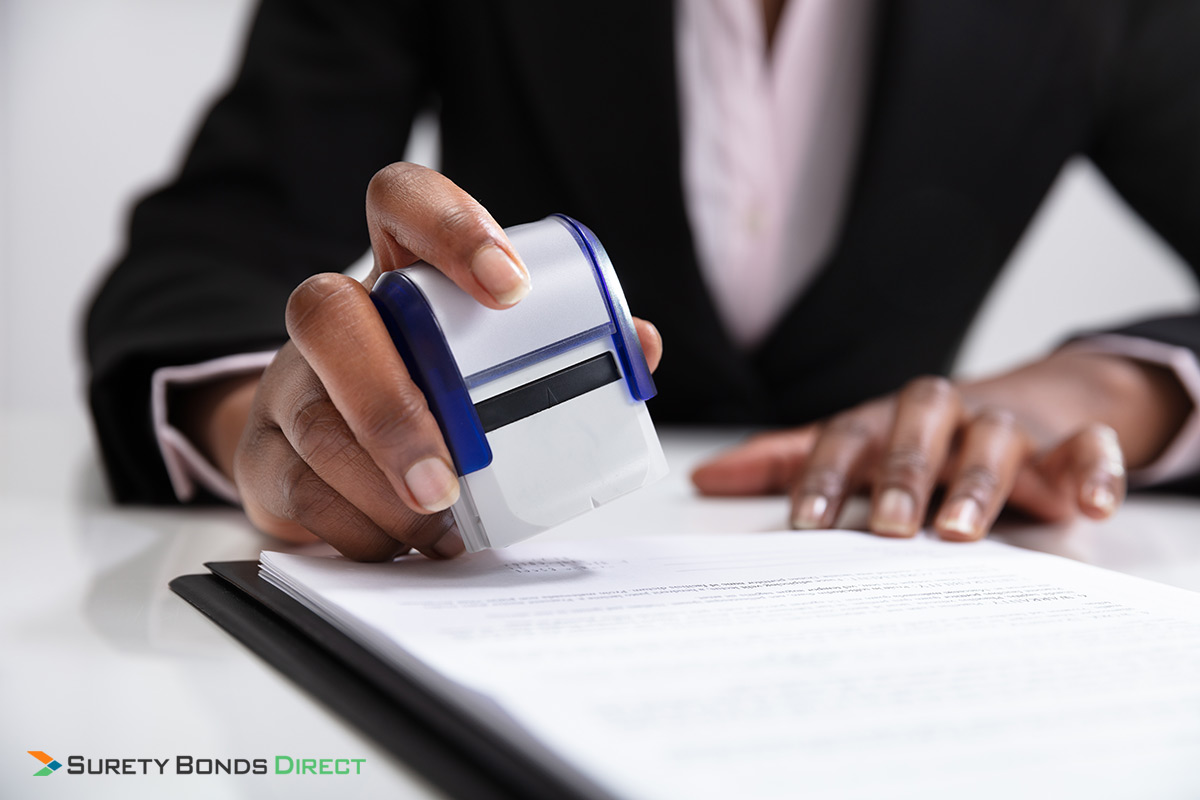 Why Become a Notary?
Becoming a notary can be a good source of extra income. The process of notarizing a document is relatively quick, allowing notaries public to notarize many documents per day if they have a wide social network and employ good marketing techniques.
Becoming a notary can also be a great way to provide valuable services to your community. A notary public helps make their community less vulnerable to fraudulent activity, making it an excellent option for those who want to earn some extra income and help keep their communities safe. Finally, some employers also encourage or require employees in certain roles to become notaries. Becoming a notary is also an excellent resume skill that can help a job candidate stand out from the pack.
Notary Public Qualifications
Required qualifications to become a notary public vary by state. In most states, the qualifications are:
Must be 18 years of age or older
Must be a legal resident of the state in which they apply
Must not have been convicted of a felony
Some states have additional requirements, such as being able to read and write in English. Many states, such as California, also require notary applicants to take notary training classes that show applicants how to check for a valid ID, how to spot a person being coerced to sign, and other critical skills.
Bonds and Insurance
It's important (and often required) for a notary to be bonded and insured. A notary bond is a type of surety bond that protects a notary's clients in the event that a notary makes a mistake, such as failing to confirm the identity of a person signing a document. In many states, notary bonds are required as part of the licensing process. The Notary Bond Express provides the fastest and easiest way to get a notary bond online, with low rates and instant purchases on notary bonds for every state that requires them. Just select your state, pay a one-time flat fee, and you'll receive your bond paperwork in the mail to sign.
Errors and omissions insurance is also recommended for notaries. Should a notary make a mistake during the process of notarizing a document —and should that mistake cause financial losses— an E&O policy protects the notary in the event of a lawsuit. Fortunately, Surety Bonds Direct offers a complimentary E&O policy with notary bonds in many states, at no charge to our customers.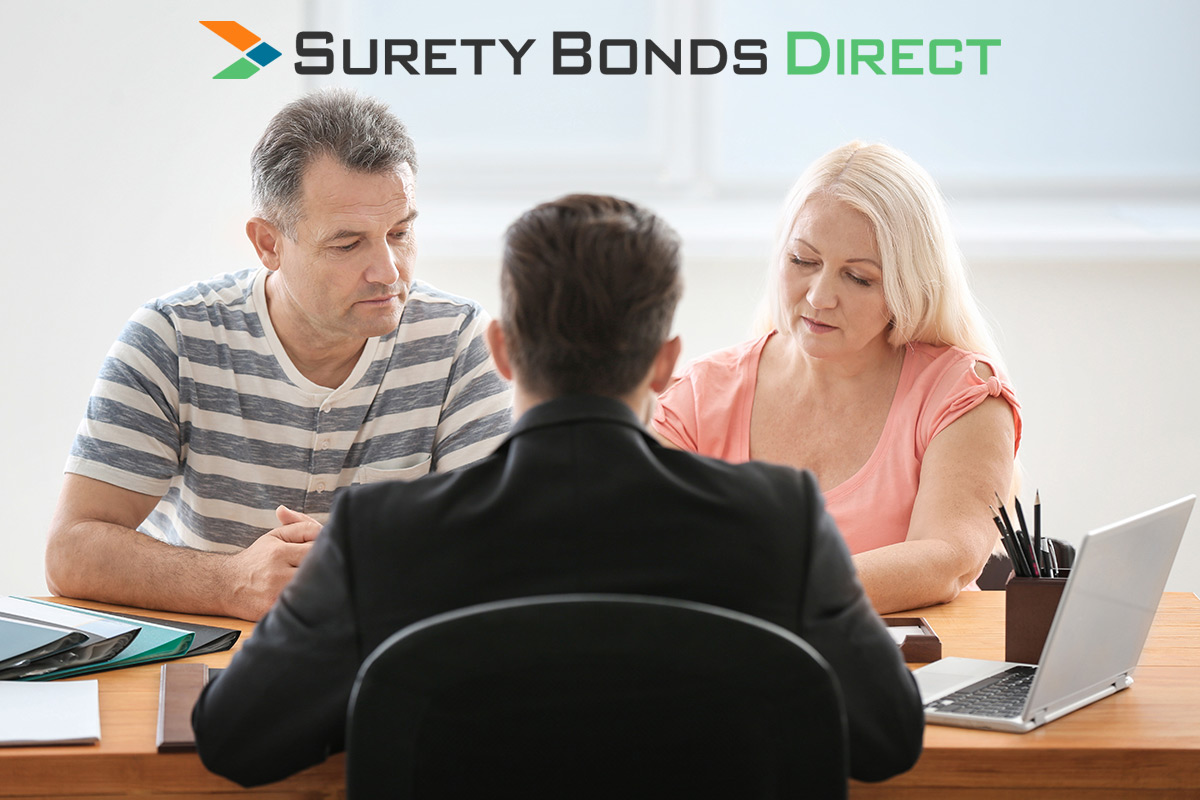 Applying for Your Notary Commission
Anyone wishing to become a notary must apply for a notary commission with their state government. The application process for notaries varies widely across states, but a basic summary of the typical application process includes:
If required by state law, take a state-approved notary training class. (Many are available online for $100-200.)
Submit your application, along with a fee, to your state's office that regulates notaries public. Your application will typically include background information, including disclosure of any misdemeanors, felonies, or lawsuit judgments.
If your application is approved, the state will send commission documents either to you or to your local office that regulates notaries (usually the county clerk). Follow the notary bond submission instructions provided by your county clerk's office.
Take your notary oath of office in front of the appropriate official at your county office, sign the commission documents, and have your notary paperwork filed.
Taking the oath of office makes you an officially commissioned notary public in your state. You're now ready to notarize documents in your community.
Your Notary Business
Notaries need to acquire a handful of key tools for executing their duties. These include:
A notary seal or notary stamp
A notary journal where you record your notarizations to protect yourself and your customers
A notary certificate
Business cards
For new notaries looking for clients, it's a good idea to join a notary organization such as the American Society of Notaries or 123Notary. These organizations' websites offer notary listings that make it easy for clients to find a notary.
Becoming a notary public can be an interesting and rewarding job. By ensuring that all of your qualifications and documents are in order, you'll get your notary business started off correctly.