The history of the United States is a centuries-long history of immigration that built the country we have today. People continue to come from around the world to become Americans and make their mark in the United States. However, today's U.S. immigration system is a long process that can be complex and intimidating.
Immigration service providers exist to help guide immigrants through the U.S. immigration process so that they can fulfill every legal requirement and increase their chances of being approved for a visa or permanent residence. To ensure that they conduct their business honestly, immigration service providers often have to obtain an immigration service surety bond.
Are you considering starting an immigration service provider business to assist new immigrants? We'll discuss what an immigration service does, how to become a licensed immigration consultant, and how to get an immigration service surety bond.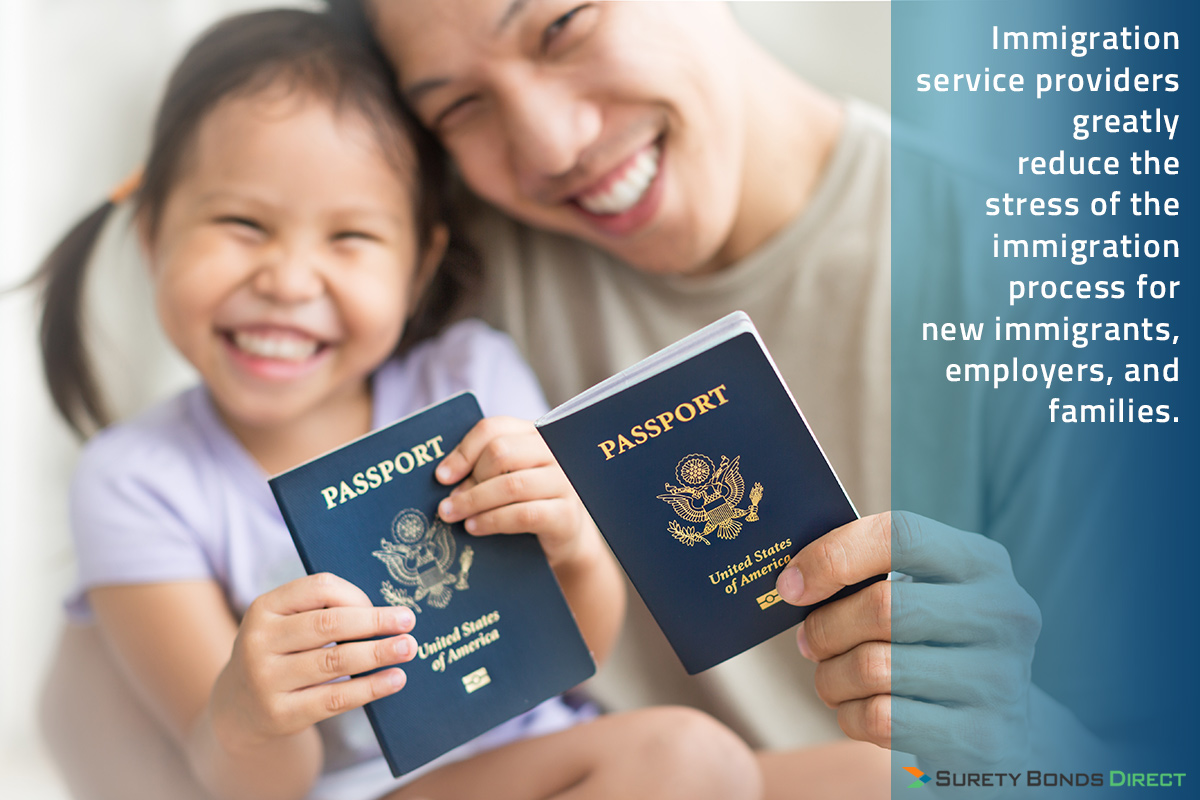 The Role of an Immigration Service Provider
An immigration service provider offers its services to any of the following:
Foreign nationals hoping to immigrate to the U.S.
Employers who want to hire foreign nationals and help them immigrate to the U.S.
Families who want to help a family member immigrate to the U.S.
Immigration service providers may also be called immigration consultants. An immigration consultant or service provider will offer services such as:
Assisting applicants in filling out the complex paperwork required to immigrate to the U.S.
Helping an applicant translate their answers on immigration forms
Organizing an applicant's required documents, such as birth certificates or health records
Filing an applicant's immigration documents with relevant government agencies
Communicating with government agencies on behalf of the applicant
Referring the applicant to an attorney for legal representation, without acting as an immigration lawyer themselves
Immigration consultant services can greatly reduce the complexity and stress of the immigration process for new immigrants, employers, and families. However, it's critically important that the service provider knows and follows all of the rules themselves. That's why the provider may first have to undergo a licensing and bonding process.
How to Become an Immigration Service Provider
Some state governments impose various requirements on immigration service providers to ensure that immigration service providers are held to a high standard. For example, we'll look at the state licensing process required for immigration service providers in California:
Pass a criminal background check.
Submit fingerprints to the office of the California Secretary of State.
Submit a 2" x 2" passport photo.
Submit a copy of a current photo ID.
Pay a $30 filing fee.
File a California immigration consultant surety bond with a coverage amount of $100,000.
Every state's procedures are different. Immigration service providers must be familiar with the requirements that their state imposes, including getting an immigration service surety bond.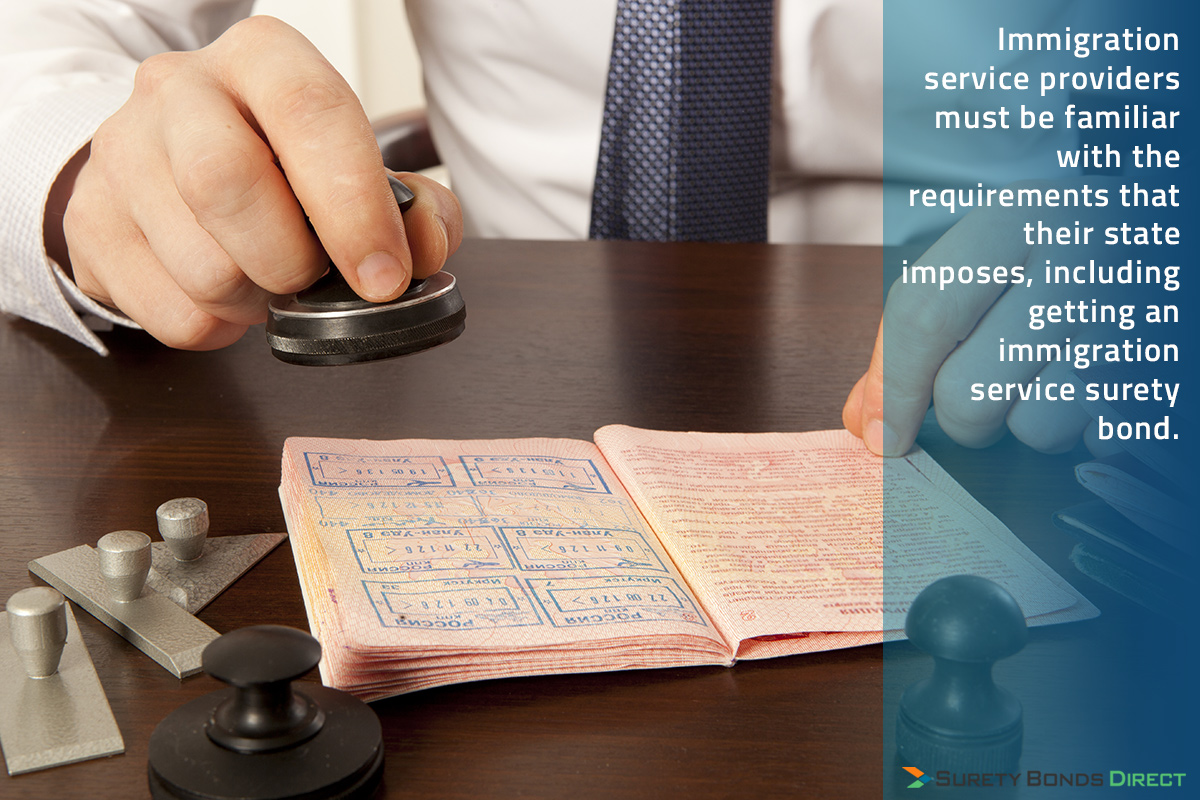 Immigration Service Provider Surety Bonds
First, what is a surety bond? A surety bond is a three-party agreement that provides a legally binding financial guarantee for the contracts and obligations of one party, referred to as the principal. An immigration bond guarantees that an immigration service provider:
Will fulfill all contracts into which the provider enters.
Will follow all relevant laws and regulations in conducting immigration services.
Will not misuse or misappropriate funds received from clients.
Requirements for immigration service provider surety bonds vary by state. The immigration bond Georgia requires has a penalty sum of only $5,000, the bond New York requires has a penalty sum of $50,000, and the immigration bond California requires has a penalty sum of $100,000. The following states require an immigration service provider surety bond:
How to Get an Immigration Bond
Here's how the process typically works for getting an immigration service provider bond:
Find out whether your state's immigration service provider licensing process requires a surety bond.
Apply for a surety bond through a reputable surety company. You'll need to provide some basic documentation on your financial and personal history.
The surety will perform an underwriting process and determine a premium (the price you pay) based on the risk level that they assess from your information.
You can accept the quote and pay the premium
Once you pay the premium, the surety will send the bond paperwork to you.
If you need your immigration service provider bond quickly and without hassle, Surety Bonds Direct should be your first choice. Our network of top-rated sureties will help you find the bond you need for a lower premium, and our friendly service will guide you every step of the way. Call us at 1-800-608-9950 or get your immigration provider surety bond quote online today.