Are you thinking about becoming a private investigator? Here's the good news: It's a much safer job than it might seem like on TV—private investigators rarely get into shootouts or car chases. The even better news is that it's an interesting and viable way to make a living, with the potential for a solid salary and excellent job opening forecasts.
However, the smart first move is to learn how to be a private investigator, including the licensing requirements for the job. By the end of this guide, you'll have a basic understanding of the most important requirements for becoming a private investigator, including how to get a private investigator surety bond.
What Is a Private Investigator's Job Like?
Private investigators work in many different environments doing many different tasks. Investigators tackle a wide range of responsibilities, such as:
Surveilling people for evidence in civil proceedings, including divorce or child custody cases
Locating missing individuals or property
Checking someone's background
Investigating insurance claims for fraud
Reinvestigating cold cases
Serving legal papers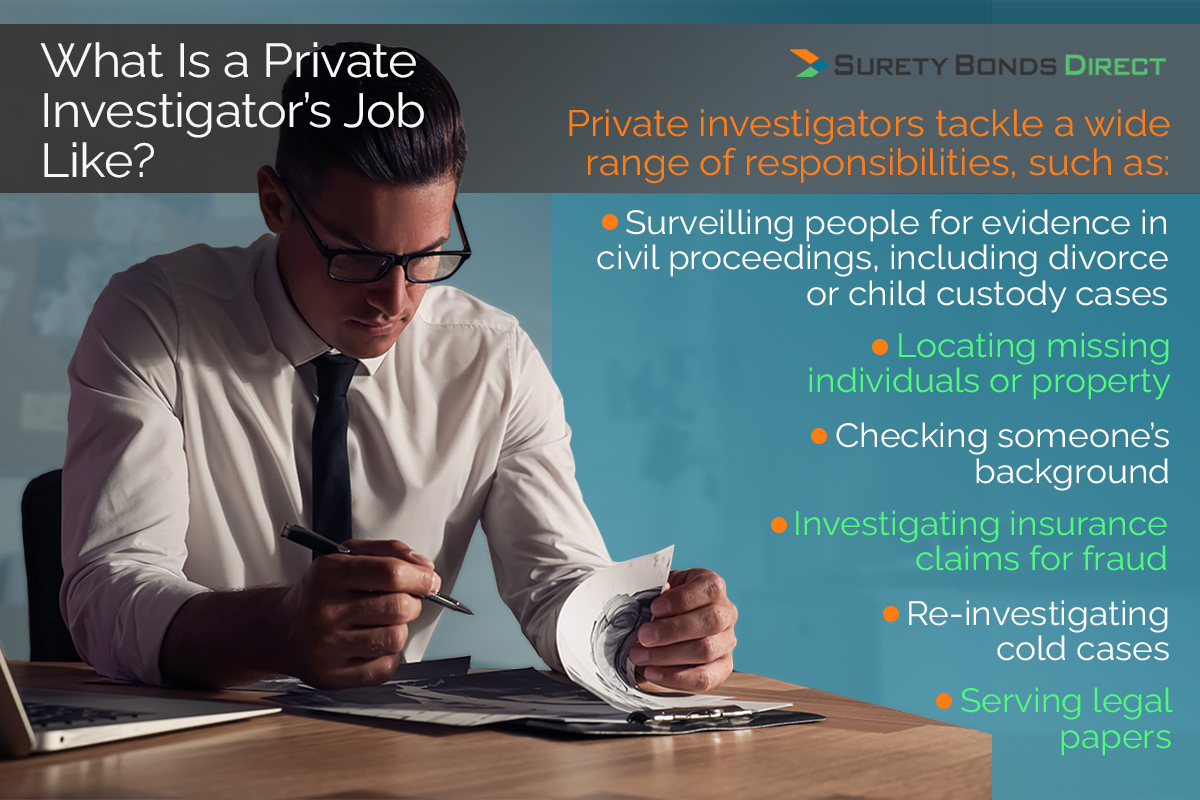 Some of these tasks require private investigators to do fieldwork, such as interviewing people in person or conducting surveillance. That means that good people skills are a must-have for almost any private investigator. However, today's private investigators also make extensive use of internet databases, both publicly available and private, to find information about people. Thus, being a private investigator also requires excellent research and computer skills. Most private investigators work for a security company, but some are self-employed. Others even have jobs ferreting out fraud for government agencies like the Office of the Inspector General.
Salary and Career Outlook for Private Investigators
According to the Bureau of Labor Statistics, a private investigator can expect to earn a median salary of $53,320 per year. That's well above the median U.S. individual income of $35,977, making private investigation a solid choice for a stable career with good pay. There's more good news from the BLS: Demand for private investigators is expected to soar by 8 percent in the coming years. That's significantly more growth than most other fields are experiencing, which means that job prospects for private investigators will likely continue to be strong.
Licensing and Qualifications for Private Investigators
Anyone considering becoming a private investigator should consult their state's licensing laws since many U.S. states require private investigators to have a state-issued license. Private investigators need to follow strict standards because their work often has significant legal and personal ramifications for other people. A state licensing process for private investigators ensures investigators can be held accountable to those standards.
Private investigator jobs usually don't require a college degree. Most private investigator jobs essentially begin as apprenticeships, in which a senior investigator shows a trainee how to become a private investigator. However, many private investigators also get a degree in a subject like criminal justice, which can provide a good foundational understanding of the law and open doors to higher-level jobs in the industry.
How to Become a Private Investigator: Understanding the Process
In most states that require private investigator licenses, the process for how to get a private investigator license looks something like this:
Make sure that you meet the requirements for getting a private investigator's license in your state. Typical requirements include being 18 or older, having a high school diploma, residing permanently in the state, and having a clean criminal record. In some states, you might also need proof of having completed additional training, such as private investigator classes.
Check whether your state requires a private investigator licensing exam. In many states, you'll need to pass an exam to certify that you have a basic knowledge of the law and private investigator ethics. Register for and take the exam if it's required.
Apply to the office of the Secretary of State or the professional licensing department through which your state licenses private investigators.
Obtain a private investigator bond in the coverage amount that the state requires and submit the bond paperwork to the state government.
Wait to receive the state's confirmation that your license application has been approved.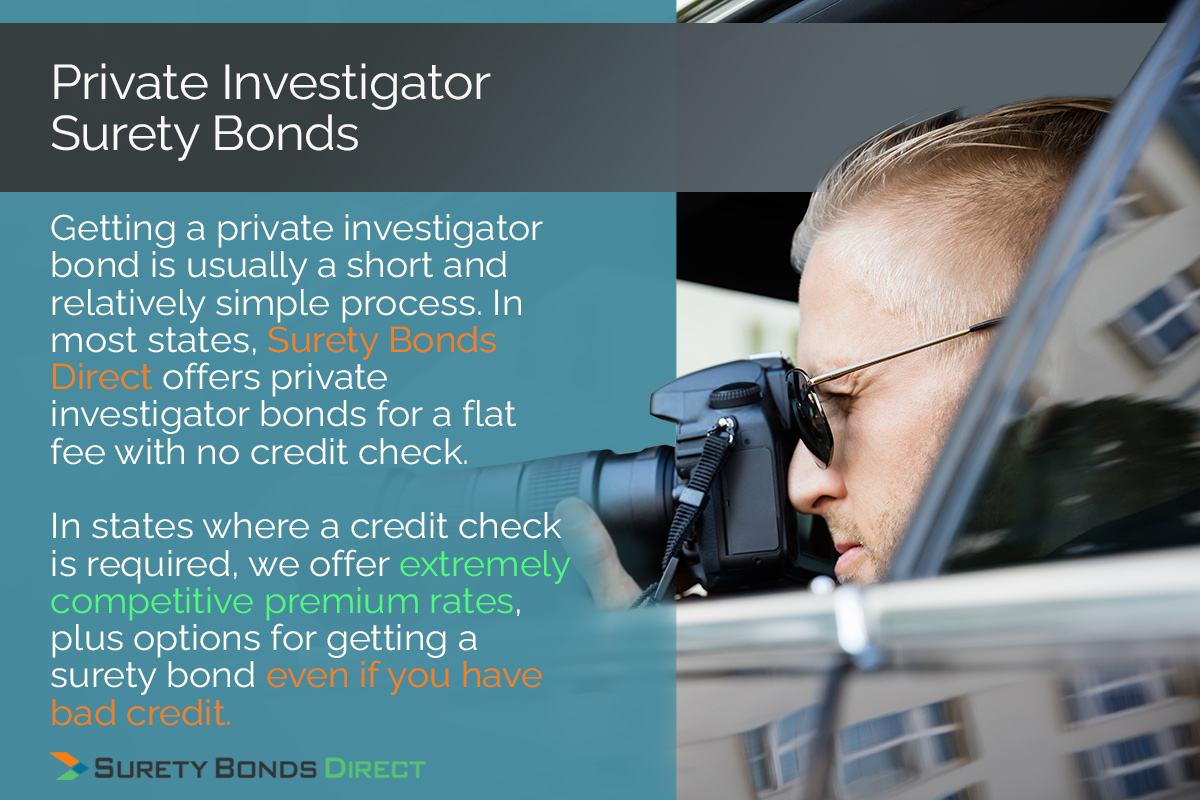 Private Investigator Surety Bonds
A surety bond is a three-party legal document that guarantees a certain obligation using a neutral guarantor. (See What Is a Surety Bond? for a complete guide to how a surety bond works.) In the case of a private investigator surety bond, the state requires the bond to guarantee the investigator's adherence to the law and relevant professional standards.
How much does a surety bond cost for a private investigator? First, know that every state has different requirements for the required coverage amount on a private investigator bond. The bond premium is a percentage of that coverage amount, which means that premiums vary from state to state. Getting a private investigator bond, however, is usually a short and relatively simple process. In most states, Surety Bonds Direct offers private investigator bonds for a flat fee with no credit check. In states where a credit check is required, we offer extremely competitive premium rates, plus options for getting a surety bond even if you have bad credit.
Surety Bonds Direct provides the easiest way to get a private investigator surety bond in every state that requires them. Get your private investigator bond quote online today, or call our surety bond professionals at 1-800-608-9950 for personal assistance.