2020 Guide to Medicare (DMEPOS) Surety Bonds and State Medicaid Surety Bonds
Federal and state governments often require suppliers and other providers who bill Medicare and Medicaid for DMEPOS items.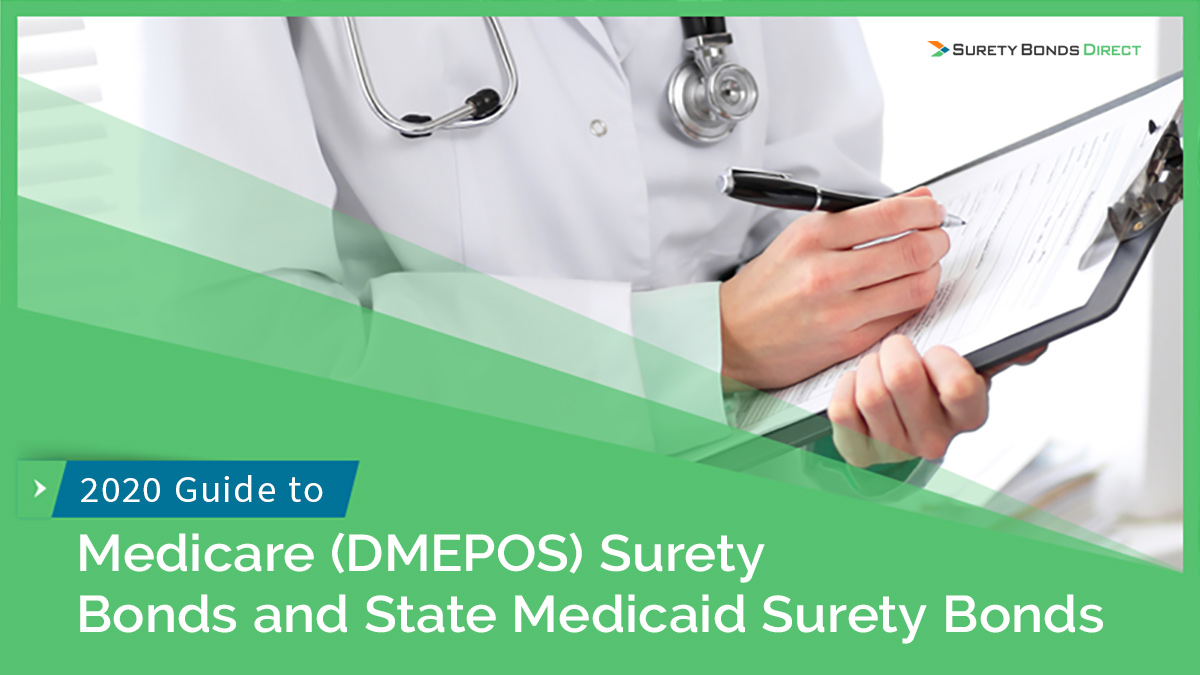 Medicare and Medicaid are among the most important pillars of the American healthcare infrastructure. Through these programs, older adults, people with disabilities, and low-income individuals receive care that's fully or partially funded by federal and state governments. Nearly 60 million beneficiaries receive Medicare benefits, and over 72 million beneficiaries receive Medicaid and CHIP benefits. Medicare and Medicaid had a combined budget of over $1 trillion in 2018.
With so many taxpayer dollars being used for Medicare and Medicaid, the Center for Medicare and Medicaid Services (CMS) and state government agencies are always taking steps to ensure that Medicare and Medicaid providers use billing practices that are accurate, transparent, and consistent. These government agencies focus particularly closely on a category called DMEPOS: Durable Medical Equipment, Prosthetics, and Orthotics. That's why federal and state governments often require suppliers and other providers who bill Medicare and Medicaid for DMEPOS items to obtain DMEPOS Medicare surety bonds or state Medicaid surety bonds.
DMEPOS Medicare and Medicaid surety bonds are among our most popular types of surety bonds at Surety Bonds Direct. What's the purpose of these bonds, who do they protect, and how can a Medicare or Medicaid provider obtain one? As 2020 approaches, it's important for providers to ensure that they have compliant and up-to-date DMEPOS surety bonds if they are required to have them. Our friendly bond experts are here to help you navigate the basic concepts, regulatory requirements, and steps that providers need to take.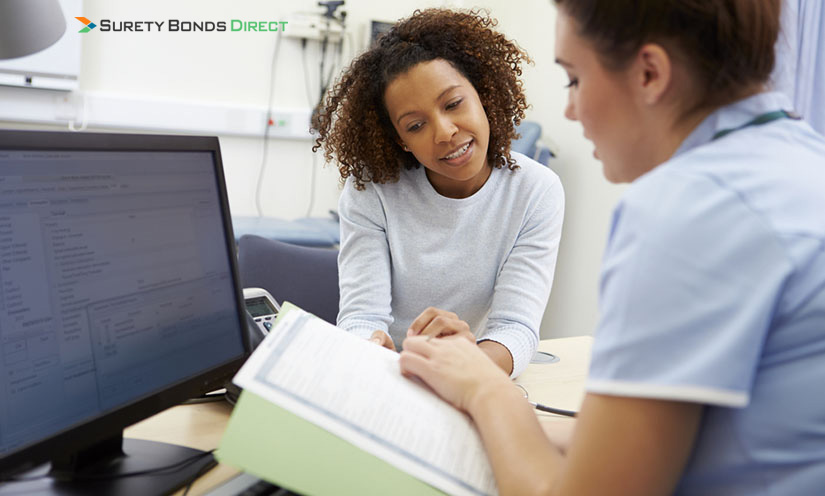 DMEPOS and Medicare/Medicaid Billing
When Medicare beneficiaries receive covered services and goods such as treatments, medications, or medical equipment, the provider files a claim with CMS. CMS will then process the claim and reimburse the provider based on the current version of the Physician Fee Schedule Final Rule. Medicaid's reimbursement process follows a similar outline, but providers file claims with the government agencies that regulate Medicaid in their states.
DMEPOS, as defined by CMS, is a category of medical equipment that includes all of the following types of devices, among many others:
Diabetes maintenance and testing devices
Knee and back braces
Canes, walkers, and crutches
Stair and bed lifts
Limb and voice prosthetics
Continuous Positive Airway Pressure (CPAP) machines
Oxygen tanks and equipment
Manual and powered wheelchairs
Hospital beds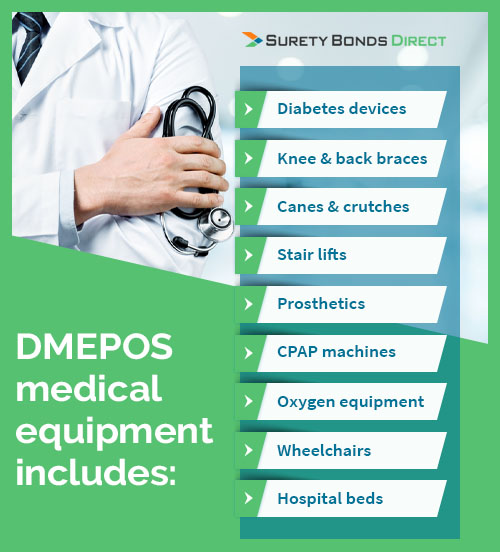 Many DMEPOS providers want to accept Medicare and/or Medicaid so that they can expand their base of patients and serve their communities better. However, CMS and state government agencies require providers to become accredited and to follow certain essential standards in order to accept Medicare and/or Medicaid, including obtaining DMEPOS surety bonds.
DMEPOS Supplier Standards and Accreditation
Every DMEPOS supplier that wants to enroll in Medicare or Medicaid billing must follow DMEPOS supplier standards developed by CMS and by state Medicaid agencies. These standards specify a variety of requirements, including provider location, types of services offered, information disclosure, and surety bonding requirements. The full Medicare DMEPOS supplier standards are available from the CMS website, and each state also has its own set of standards for Medicaid DMEPOS providers.
Before a DMEPOS provider can begin accepting Medicare, the provider must become accredited through any of several national Medicare accrediting organizations. The accrediting organization must conduct an inspection of the DMEPOS provider's facilities and certify that the provider meets the DMEPOS accreditation standards before the provider can complete their enrollment in the National Supplier Clearinghouse (NSC) and the Medicare billing system.
The requirements for Medicare and Medicaid billing are numerous and complex. Unfortunately, some DMEPOS providers choose to ignore or exploit the rules for financial gain. To help protect the Medicare and Medicaid programs and ensure that taxpayer dollars are used responsibly, the government requires DMEPOS providers to obtain surety bonds that guarantee that the provider will follow all relevant billing rules from CMS when filing Medicare and Medicaid claims.
What Are DMEPOS Medicare and Medicaid Surety Bonds?
Surety bonds are three-party contracts in which one party (the obligee) requires a second party (the principal) to financially guarantee the principal's performance or compliance with a law, contract, or set of ethical standards. The principal pays a premium to a third-party guarantor, called a surety, who provides this financial guarantee. Our article, Understanding the 3-Party Agreement of Surety Bonds, provides a more in-depth into how surety bonds work.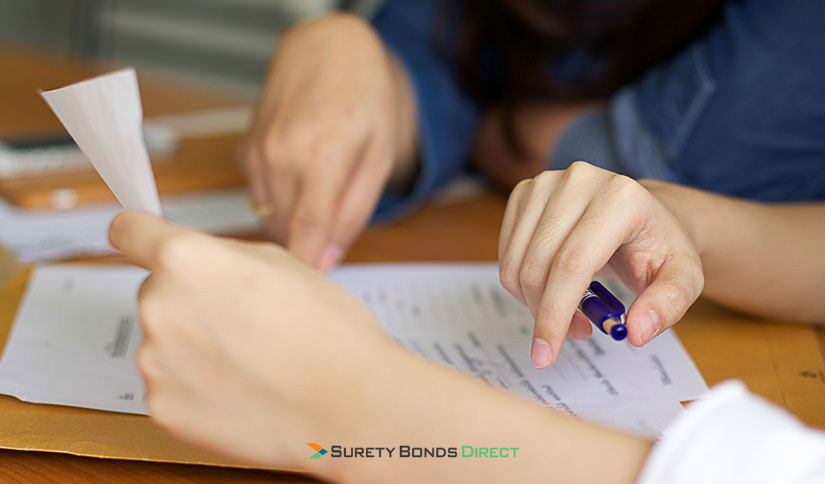 Many different kinds of businesses, from vehicle dealerships to mortgage brokers, are required by the government to obtain surety bonds. In the case of DMEPOS surety bonds, the Center for Medicare and Medicaid Services (CMS) or a state Medicaid agency is the obligee, and the principal is a DMEPOS provider that accepts Medicare or Medicaid. If the government believes that a provider has failed to follow the rules when submitting claims, the government can submit their own claim to the surety with evidence of the provider's violations of the rules. The surety will then pay a valid claim up to the bond's coverage amount (also called a penalty sum).
The purpose of a DMEPOS Medicare surety bond or DMEPOS Medicaid surety bond is to guarantee that a DMEPOS provider will obey all relevant laws in filing claims with Medicare or Medicaid. Surety bonds help ensure that the resources of the Medicare and Medicaid programs are allocated appropriately and honestly. The surety bond requirement helps prevent providers from using dishonest billing practices, and surety bonds provide the government with a way to recover compensation from a surety company and the bonded provider that is found to have violated the rules.
Medicare DMEPOS Surety Bonds
Medicare, the U.S. national healthcare system for seniors and people with certain disabilities, provides hundreds of millions of dollars' worth of durable medical equipment to its beneficiaries every year. Unfortunately, billing fraud is a persistent problem in the DMEPOS category. Thus, since 2009, CMS requires DMEPOS suppliers to obtain Medicare surety bonds before they can bill Medicare for covered devices.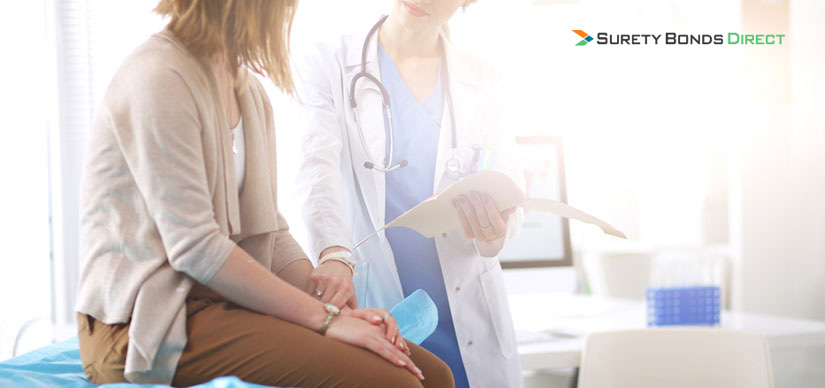 Any supplier in the DMEPOS category which intends to start accepting Medicare must go through the steps to become covered by a surety bond with a penalty sum of $50,000—or more if the provider has been previously penalized for billing violations. Since the federal government administers Medicare, DMEPOS surety bonds are required by law in all 50 states, and requirements are the same in every state. A DMEPOS bond must have a $50,000 penalty sum amount, and the bond must be submitted to the National Supplier Clearinghouse (NSC).
For providers with multiple locations, note that federal law requires an additional $50,000 DMEPOS bond for every active NPI (National Provider Identification) number. A provider with six locations, for example, would need a total of $300,000 in surety bond coverage, with each bond issued separately.
Medicare DMEPOS Competitive Bid Bonds
There's one other type of Medicare DMEPOS surety bond that providers may need to be familiar with: DMEPOS Medicare competitive bid bonds. Medicare uses a competitive bid process, split up across 130 different Competitive Bid Areas (CBAs), to set its fee schedule for DMEPOS devices. In order to submit a bid, a provider first needs to obtain a DMEPOS competitive bid bond.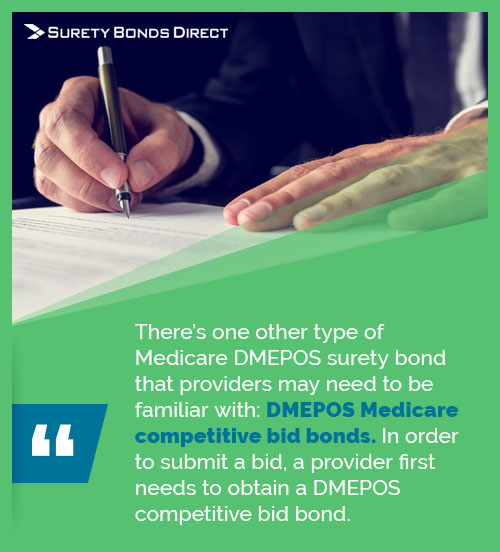 DMEPOS competitive bid bonds help ensure a fair and honest competitive bidding process by guaranteeing that DMEPOS providers who place bids won't use illegal and/or unethical tactics, such as submitting bids that they don't have the capability to fulfill.
These surety bonds must be issued by an authorized surety provider, such as Surety Bonds Direct, who works exclusively with surety companies on the US Treasury Department's List of Certified Companies.The bonds must also fulfill several other requirements listed on the program's Bid Surety Bond Checklist. One $50,000 bond is required for every CBA in which a provider submits a bid, and providers submit bond paperwork as part of their bids.
The current round of DMEPOS competitive bidding is known as Round 2021, and contracts from this round will be in force from January 1st, 2021 to January 1st, 2023. The bid submission window for Round 2021 ended in September 2019. Providers interested in submitting competitive bids in future bidding rounds should read the Round 2021 bidding requirements to get an idea of what will likely be required while keeping in mind that CMS can change bid requirements substantially from round to round.
Surety Bonds Direct will offer DMEPOS competitive bid bonds for future rounds, so make sure to reach out and secure a great rate as soon as you start preparing your bid.
State Medicaid Surety Bonds
Medicaid, the federally funded, state-administered health insurance program for low-income people, also requires providers to file claims with the government to receive their reimbursements. Because the Medicaid claim process also requires adherence to complex billing standards, some states also require Medicaid providers, and DMEPOS providers, in particular, to obtain surety bonds.
Since Medicaid is administered through state governments, Medicaid surety bond requirements often differ substantially from one state to another. Businesses that need Medicaid surety bonds should make sure to check their state's laws in detail to learn about state-specific requirements.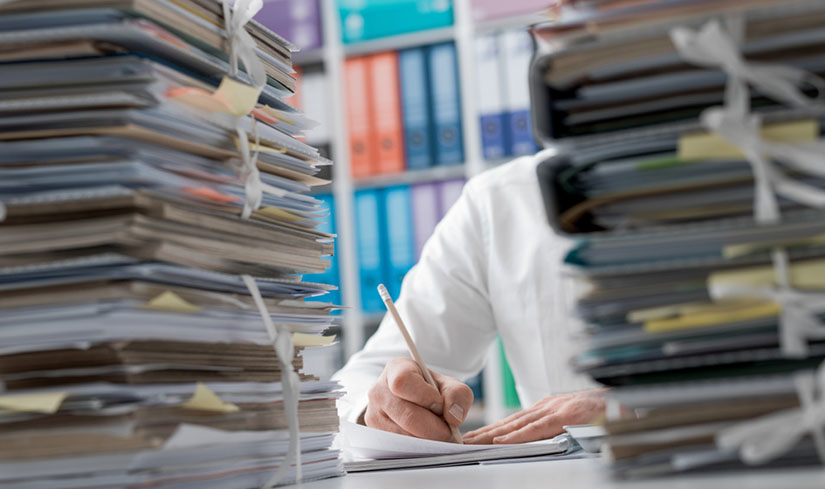 Not every state requires Medicaid provider surety bonds. Some states require them not only for DMEPOS providers but for all Medicaid providers. The following states all require various types of surety bonds providers that bill Medicaid:
Alabama Medicaid Provider Bonds: A $50,000 bond is required for any kind of Medicaid provider in Alabama.
Florida Medicaid Provider Bonds: A $50,000 bond is required for any kind of Medicaid provider in Florida. DMEPOS providers must also obtain a $50,000 Florida Home Medical Equipment Provider Surety Bond whether they accept Medicaid or not.
Georgia Medicaid Provider Bond: A $50,000 bond is required for any kind of Medicaid provider in Georgia.
Indiana Medicaid Transportation Provider Bond: A $50,000 bond is required for providers that bill transportation services to Medicaid.
Minnesota Durable Medical Equipment Suppliers Bond (DMEPOS): Minnesota requires either a $50,000 bond (if a provider billed $300,000 or less to Medicaid last year) or a $100,000 bond (if a provider billed over $300,000 to Medicaid last year) for DMEPOS providers.
Texas Medicaid Provider (DME) Bond: A $50,000 bond is required for Medicaid agencies and DMEPOS providers in Texas.
Other Key Facts About DMEPOS Surety Bonds
Certain Medicare providers are exempt from the requirement for DMEPOS surety bonds. The list of exempt providers includes some types of sole proprietorships, government-owned providers that have already obtained surety bonds for their states, and some physicians and physical therapists who provide medical equipment as part of their other services. Any provider that thinks they might be exempt from DMEPOS surety bond requirements should research carefully whether they meet the criteria, as exemption standards are strict and specific.
Providers should be aware of factors that can raise surety bond premiums. Service providers that have had disciplinary action taken against them by CMS or state Medicaid authorities within the last ten years will have to obtain surety bonds that cover higher penalty amounts. Disciplinary actions include license suspensions or revocations, felony convictions, or being stripped of Medicare or Medicaid billing privileges.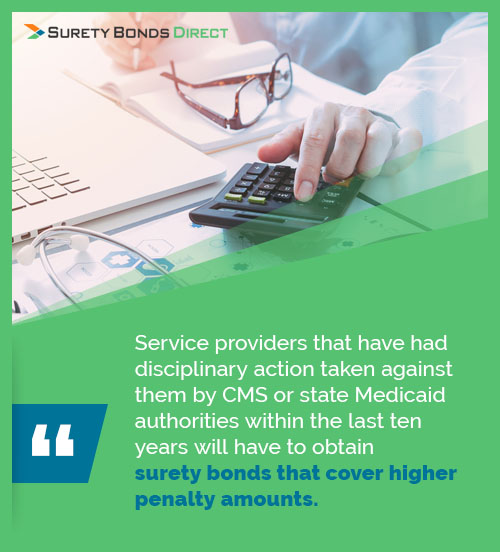 Credit scores also play a significant role in determining a provider's premiums for DMEPOS surety bonds. Individuals with credit scores below 625 will usually pay higher premiums for their bonds. However, Surety Bonds Direct specializes in assisting customers across the credit spectrum in finding the most competitive bond premium in the market for their unique situation. We can also offer other options for securing a surety bond at an affordable rate, including installment payment plans, co-signers, and working with a surety that specializes in affordable rates for applicants with bad credit, limited credit, or adverse credit history.
Every day, Medicare and Medicaid providers must meet the challenges of handling masses of paperwork and ensuring that patients get the best care possible. Obtaining a DMEPOS surety bond can be a difficult process without the assistance of someone who knows the system, particularly when it comes to finding an affordable rate, but Surety Bonds Direct is here to help.
Thanks to our industry-leading network of bond providers and our direct-to-customer rates, Surety Bonds Direct can help you get a DMEPOS Medicare surety bond or DMEPOS Medicaid surety bond at a premium you can afford. Just contact our experts at 1-800-608-9950 or use our online surety bond quote tool to get your free quote in minutes.
December 28, 2020

Jason O'Leary