By the numbers, Oklahoma has a lot of room for the used motor vehicle market to grow. As of 2022, Oklahoma has 366 used vehicle dealers statewide. This is about 9.24 dealers for every 100,000 residents. And according to Stacker, this is a 2.5% increase from the prior year. It's a good time to get into the business and Oklahoma has an easy to understand license application process.
This short article will help you:
Understand the nine steps to getting your license
The surety bond requirement and how to fulfill it
Liability insurance requirements
Additional laws and resources you need to know as a dealer
The 9 Steps For The Oklahoma Auto Dealer License Application
Before we get into the steps, all Oklahoma dealer licenses, including wholesale licenses, expire on December 31 on odd numbered years (2023, 2025, 2027...).
The process of getting a wholesale license is very similar. The biggest difference is understanding what a wholesale dealer license allows you to do.
Wholesale auto dealers are only allowed to sell vehicles to other dealers, no retail sales to consumers.
Only one person can act as a dealer under a wholesale license
Wholesale dealers cannot employ salespersons
The rest of this article also applies to wholesale dealers.
Application Fees
Here are the application fees associated with getting your used dealer and wholesale license:
| License | Application Fee |
| --- | --- |
| Used motor vehicle dealer | $600 |
| Used motor vehicle auction | $600 |
| Franchised used motor vehicle dealer | $200 |
| Secondary location (per location) | $200 |
Step 1 - Business Entity And Owner Information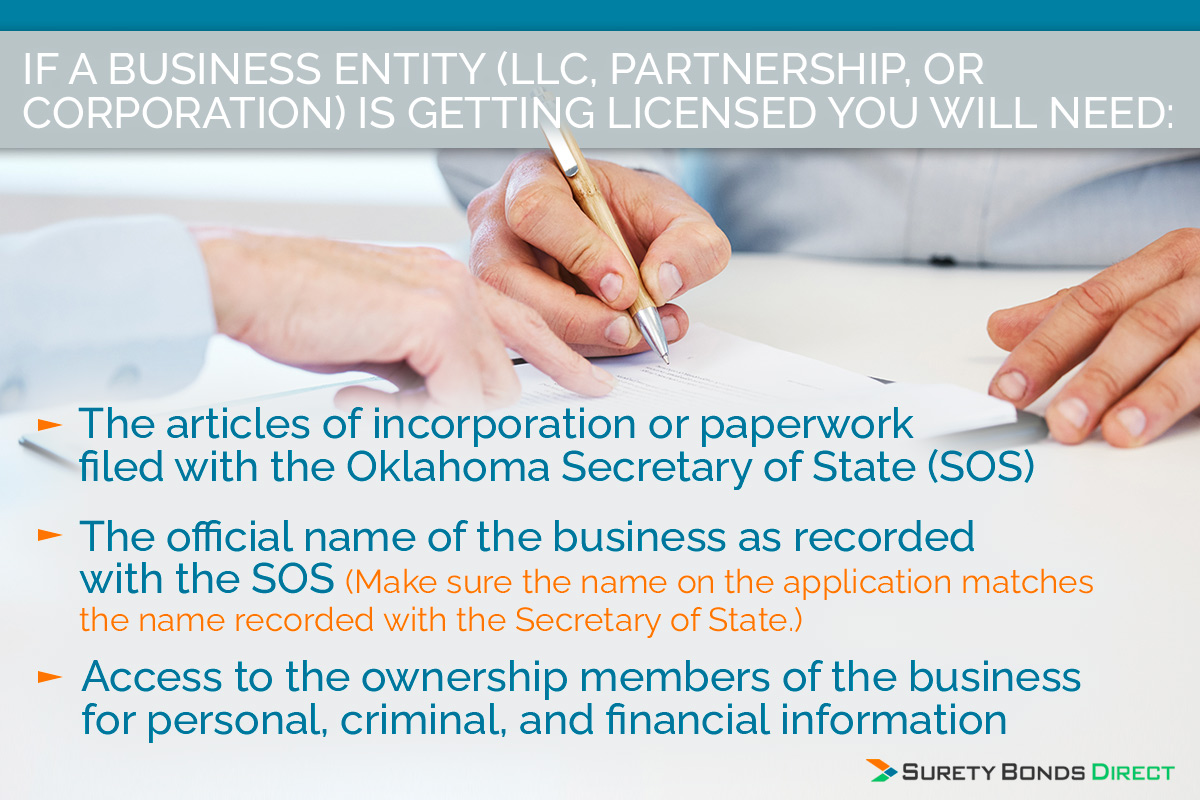 If a business entity (LLC, partnership, or corporation) is getting licensed you will need:
The articles of incorporation or paperwork filed with the Oklahoma Secretary of State (SOS)
The official name of the business as recorded with the SOS
Access to the ownership members of the business for personal, criminal, and financial information
Step 2 - Criminal Background Check
The Oklahoma Motor Vehicle Commission (the Commission) requires individuals seeking their auto dealer license and all owning members of a business entity getting licensed to submit a report to the Oklahoma State Bureau of Investigations (OSBI). This report must include all three criminal background searches:
Legal name based search
Sex offender search
Violent offender search
Applicants who have a felony must submit complete copies of the Judgement and Sentencing documents for all convictions. Felony applicants are required to make a personal appearance before the Board of Commissions once the paperwork is gathered. Having a prior felony does not exempt you from getting your license.
Just to reiterate, all owning members of a business entity must complete all three searches of the criminal background check.
Step 3 - Personal History Questionnaire
Every individual and owner of a business entity must complete the personal history questionnaire. This form includes questions such as:
General information about each individual
Residential addresses
Employment information
Conviction information
Information about personal or family history in the alcohol or liquor business
Employment history if any in political or state government jobs
Plus additional business ownership information
Just to reiterate, every owning member of a business entity must complete this questionnaire
Step 4 - Financial Statement
Individual licensees must submit a personal financial statement calculating individual net worth.
Corporations must submit a business financial statement and a financial statement of the majority stakeholder.
All other entities, such as LLCs and Partnerships, must have all ownership members submit a personal financial statement.
This financial statement does not need to be certified or prepared by a certified public accountant. However, it is subject to verification if the Commission deems it necessary. This most likely would be an internal audit by a certified accountant.
Step 5 - Motor Vehicle Dealer Bond Requirement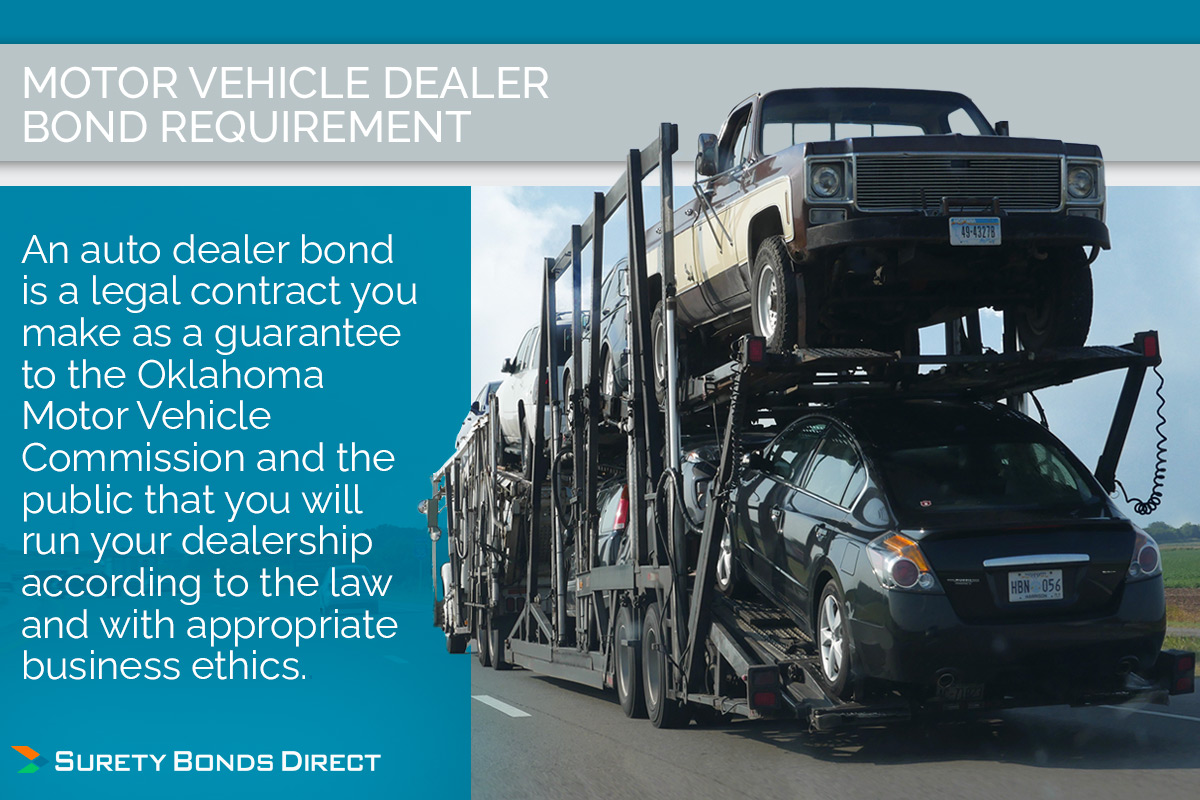 Used auto dealers are required to maintain an active $25,000 surety bond, typically called an auto dealer bond.
A surety bond, similar to an insurance policy, is purchased for the protection of your dealership's customers and to ensure you pay state and local sales taxes levied on sold vehicles.
Think of a surety bond as a legal contract you make as a guarantee to the Oklahoma Motor Vehicle Commission and the public that you will run your dealership according to the law and with appropriate business ethics.
Specifically an auto dealer surety bond protects the state and public from purposeful misconduct and fraud such as:
Improperly transferring vehicles titles
Selling vehicles without proper title
Lying about vehicle history or odometer readings
Stealing money from customer deposits
Purposefully failing to pay appropriate sales tax on sold vehicles
Oklahoma requires used auto dealers to purchase a $25,000 auto dealer bond
Each secondary sales lot a dealer opens requires an additional $25,000 dealer bond.
Wholesale licensees are required to purchase a $25,000 bond.
Used motor vehicle dealer auction licensees are required to purchase a $50,000 bond.
Find all of these options on our Oklahoma auto dealer bond page.
How Much Does a $25,000 Auto Dealer Bond Cost?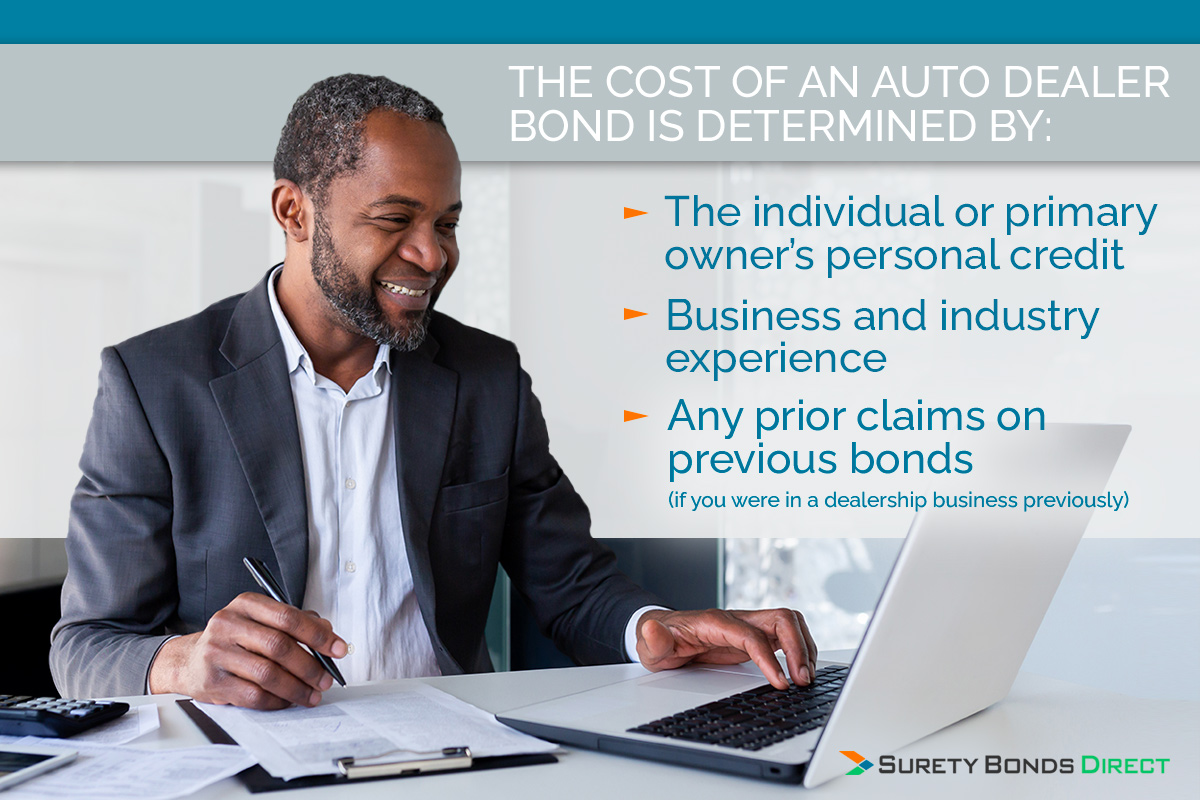 $25,000 is the bond amount. This is called the bond limit or bond penalty. The bond amount is the maximum amount that can be paid out for any successful claims against your bond.
The cost of an auto dealer bond is determined by:
Primarily the individual or primary owners personal credit
Business and industry experience
Any prior claims on previous bonds (if you were a dealership business previously)
Insurance companies, called sureties, use this information to quote a rate based on their perceived risk assessment.
The rate the surety quotes multiplied by $25,000 is the price you pay for a two year term.
This bond expires with your license on December 31st of odd numbers years. This means the price you pay would be prorated to that expiration date.
Here's a table with prices based on good rates and higher rates. (This does not mean your price is guaranteed to fall within this table. This is for example only.)
| Bond Amount | Surety Bond Rate | Price You Pay |
| --- | --- | --- |
| $25,000 | 0.5% | $125 |
| $25,000 | 1% | $250 |
| $25,000 | 2% | $500 |
| $25,000 | 3% | $750 |
| $25,000 | 4% | $1,000 |
| $25,000 | 5% | $1,250 |
Rate quotes from the sureties vary wildly. This is why you should use a specialized surety agency to purchase an auto dealer bond.
How To Purchase the $25,000 Auto Dealer Bond
Surety Bonds Direct is a specialized surety agency. We work with multiple A-rated sureties for three reasons:
One, to find you the lowest possible price on your dealer bond
Two, to guarantee your bond will be accepted by the Oklahoma Motor Vehicle Commission
Three, A-rated sureties have better claims departments and are unlikely to pay out frivolous claims against you
Getting a quote is free with no obligation to purchase. You can use our online quote form to start the quote process. It takes 90 seconds to complete. A bond specialist will reach out to you when rates have been collected. This typically takes one business day or less.
You can also call 1-800-608-9950 and speak with a bond specialist directly to start the quote process.
Once you have pricing and purchase your bond, it can be issued and emailed to you within one business day.
If your bond lapses, your dealer license will be immediately revoked. Surety Bonds Direct will compare rates 60 to 90 days before your bond renews and notify you well in advance. We won't let your bond lapse.
Step 6 - $25,000 Garage Liability Insurance
All used dealers and wholesalers are required to purchase a minimum of $25,000 in garage liability insurance. This is specialized liability insurance designed for businesses in the automotive industry.
This type of liability insurance covers scenarios like accidental customer injuries while at your dealership or accidental damage to a customer vehicle while at your dealership.
If this insurance policy lapses, your dealer license will be immediately revoked.
Step 7 - Sales Office & Signage Requirements
Below are the requirements your sales office must meet to pass inspection by the Commission inspector.
Must be a permanent building not attached to any residence or other business.
The facility must have an accessible restroom for the public.
No square footage requirements stated (double check with the Commission)
This should be where the financial books and records are kept (double check with the Commission)
The dealership sign must be the same name as the name listed on the application
The sign must be 32 square feet in size... (a little over 4 feet x 7 feet or 6 feet x 5 feet)
Sign must be permanently mounted
The lettering must be at least 6 inches tall and visible from the nearest public roadway.
They don't stipulate but most states also require a high contrast from the lettering and the background of the sign.
Banners are not counted as permanent signs
You must provide the lot/sales office address and proof of any local zoning permits. If there are no zoning requirements, you need to show proof from the country or city of this fact.
After you submit your application, the Commission will schedule an inspection of the property before a license will be issued.
Step 8 - Education Requirement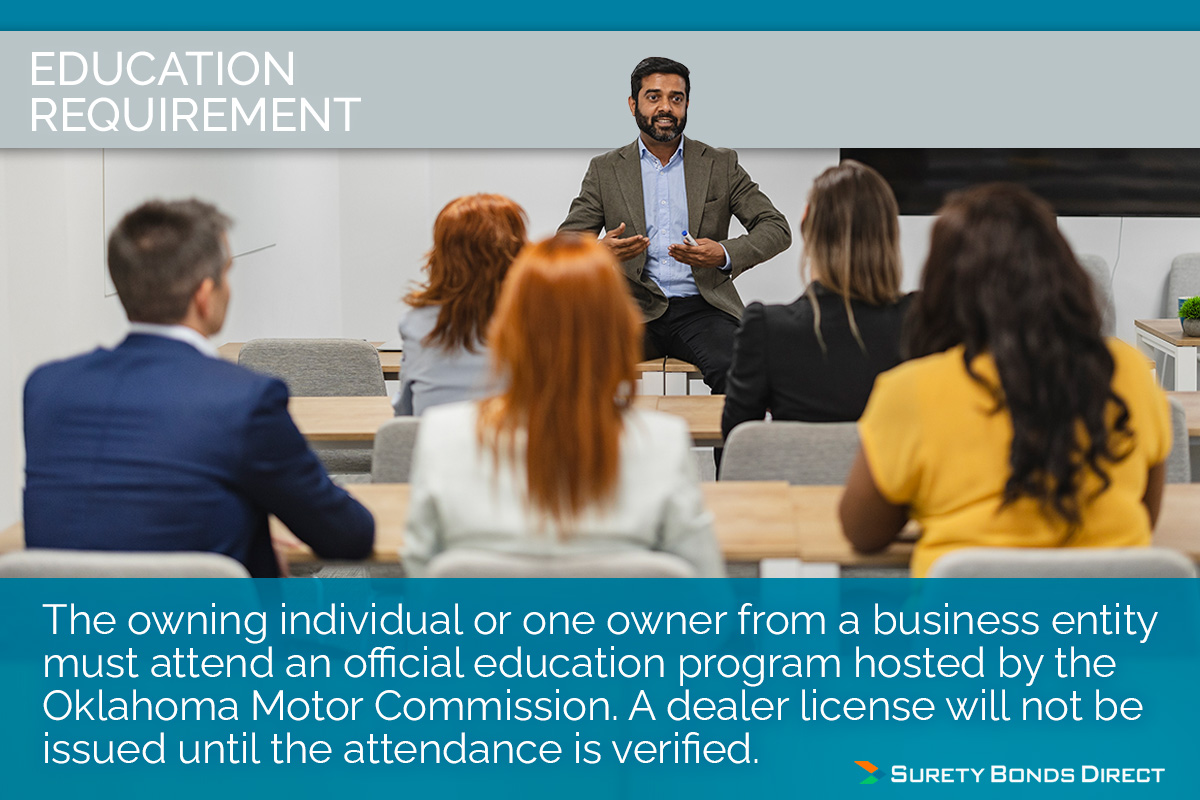 At least on owner from the business entity's membership must attend the education program put on by the Oklahoma Motor Vehicle Commission. This is mandatory and a license will not be issued until the attendance is verified.
This class is held from 9:00am to 12:30pm the Monday prior to the monthly meeting of the Used Motor Vehicle and Parts Commission.
Step 9 - Registering Salespeople
Finally, if you plan on have any salespeople, they must be registered. This includes:
A salesperson application
An application fee of $50 per salesperson paid by the employing dealership
Submitting to all three searches in the criminal background check
Copy of each salespersons driver's license
Remember, wholesale licensees are not allowed to hire salespersons.
And to reiterate, Oklahoma auto dealer licenses expire on December 31st of odd number years. This means you'll need to renew your license and renew your surety bond.
Surety Bonds Direct Is Ready To Help You Purchase Your Oklahoma Dealer Bond

Don't wait to get your auto dealer bond. It's easy to push off, but you don't want to be rushing to submit your application and have to wait for a quote.
Start the quote process now. Surety Bonds Direct guarantees all quotes remain valid up to 30 days. Plus the dealer bond can be issued with a future effective date. So if you know you'll get your application completed in 20 days, you can future date the effective date of the bond to match this date.
Use our easy online quote form. It takes 90 seconds to complete and get your quote process started. You can also call a bond specialist directly at 1-800-608-9950. Remember, there is no obligation to purchase a bond when you request a quote. You have nothing to lose by requesting a free quote today.
SOURCE: https://stacker.com/oklahoma/there-are-about-26500-used-car-dealerships-america-see-how-many-are-oklahoma