The Massachusetts cannabis industry is booming. According to the Boston Globe, as of late 2022, recreational sales were nearing $4 billion. More than 225 retailers are thriving in communities across the state.
It seems like the demand for new licenses will continue to grow through 2023. But getting a cannabis license is a complicated process. Among the large list of license types, the required bond or escrow account is not explained in detail on the state's website.
This article will cover:
A brief explanation of the 15 licenses available in Massachusetts
What a surety bond or cannabis license surety bond is
The purpose of a cannabis bond
How a bond compares to an escrow account
How much a cannabis bond costs
How and where to purchase the bond
The 15 Marijuana Licenses Offered In Massachusetts
This is a quick review of the possible licenses available in Massachusetts. The full licensing process will explain the steps required to obtain the license of your choice.
1. Medical Marijuana Treatment Center (MTC)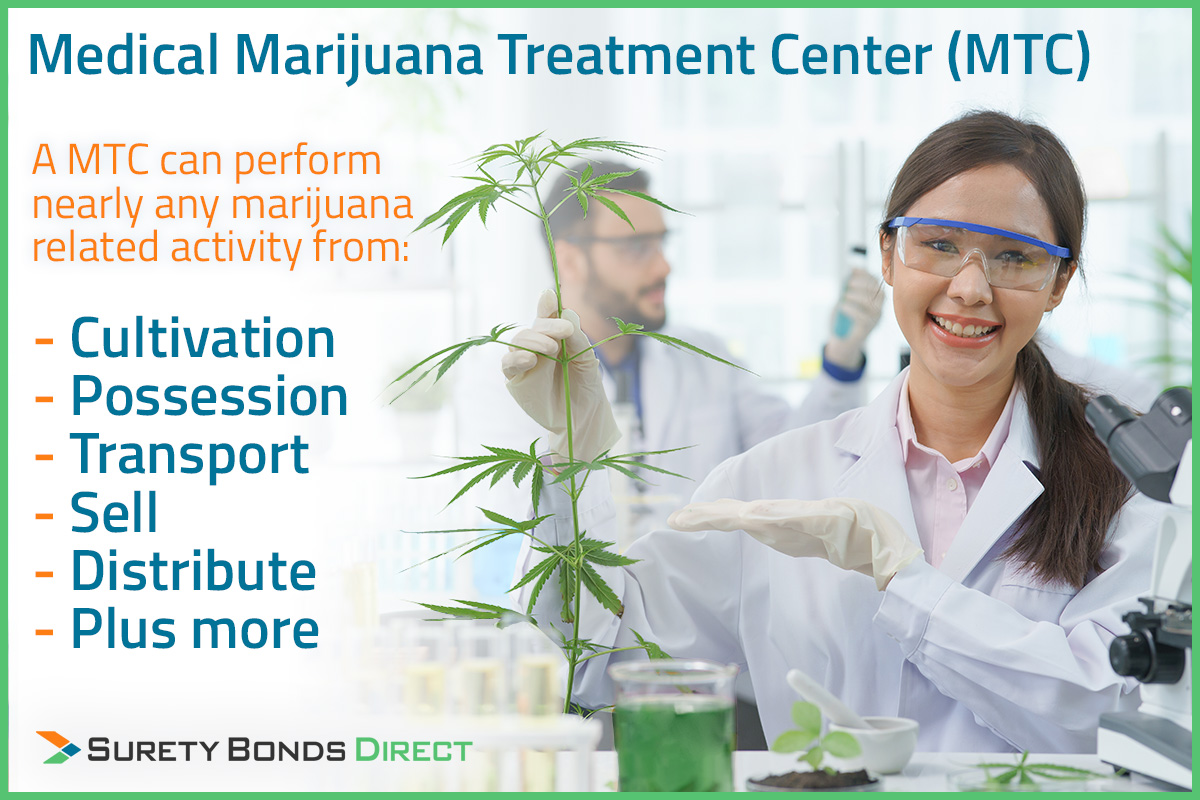 A MTC can perform nearly any marijuana related activity from:
Cultivation
Possession
Transport
Sell
Distribute
Plus more
A treatment center license is called a vertically integrated license as it allows and requires the licensee to perform all associated marijuana operations.
2. Marijuana Cultivator
This license can cultivate, process, and package marijuana for distribution to other marijuana establishments. This license cannot sell directly to consumers.
Cultivators must select a tier to determine the total canopy that will be cultivated. There are 11 different tiers with canopy sizes ranging from up to 5,000 square feet to 100,000 square feet.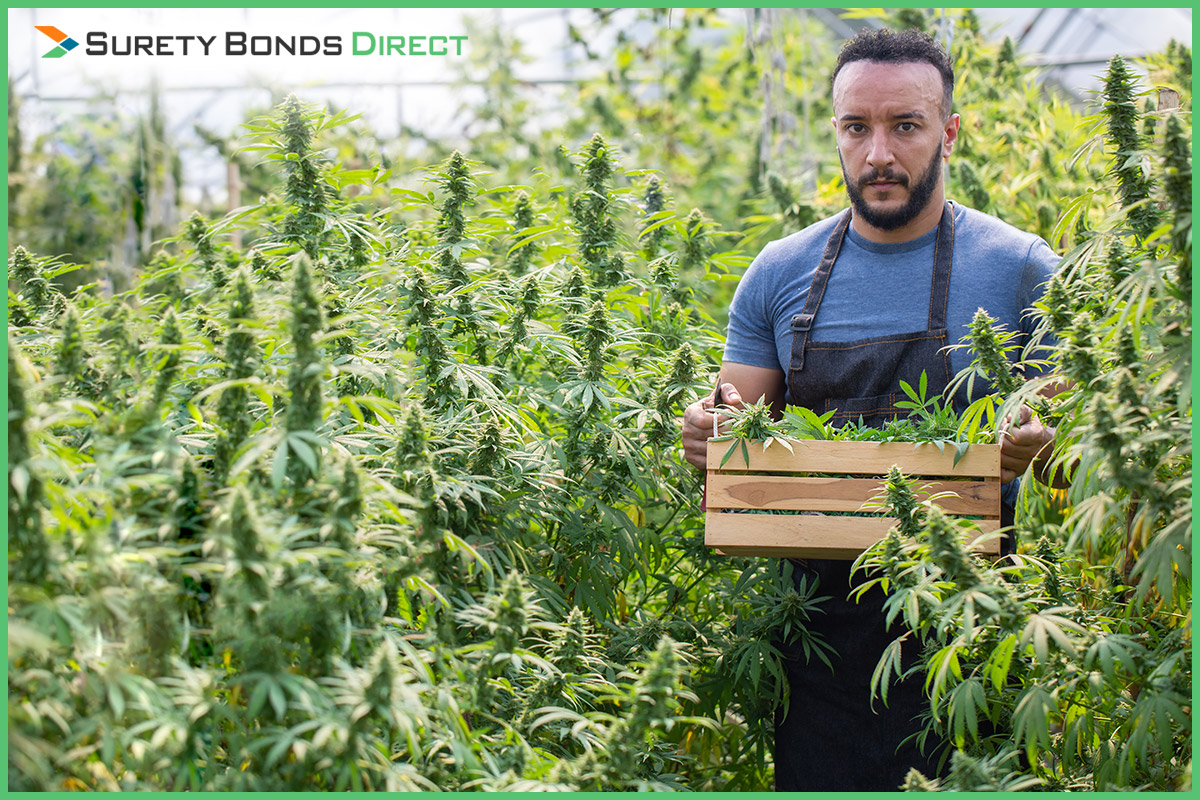 3. Craft Marijuana Cooperative
This license is a special type of cultivator license which can cultivate, obtain, manufacture, process, package, and brand marijuana and products to sell to establishments.
This license cannot sell directly to consumers.
4. Marijuana Product Manufacturer
This license is authorized to obtain, manufacture, process, and package marijuana and products to transport to other marijuana establishments. No direct sales to consumers.
The difference between a Craft Marijuana Cooperative and a product manufacturer is the product manufacturer cannot cultivate a crop.
5. Marijuana Retailer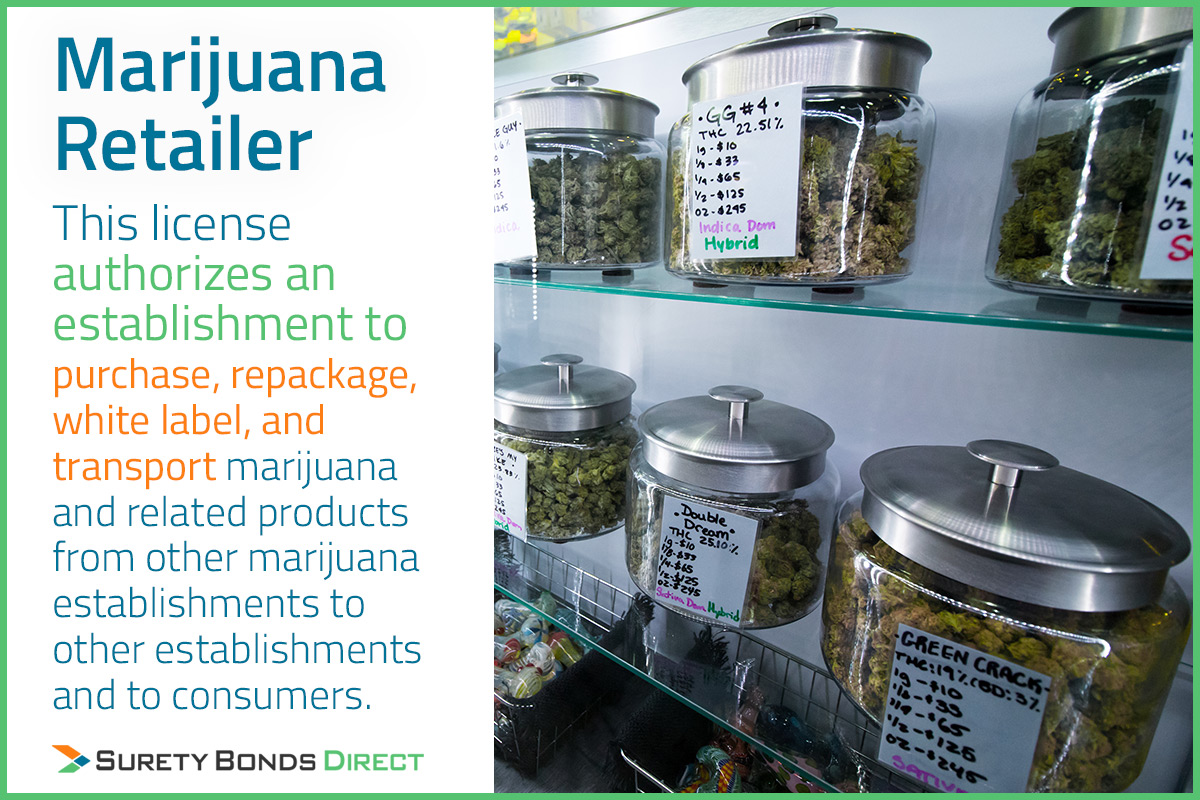 This license authorizes an establishment to purchase, repackage, white label, and transport marijuana and related products from other marijuana establishments to other establishments and to consumers.
A retailer has a physical location which can be accessed by consumers 21 years of age or older. Unless separately licensed as a Social Consumption Establishment, no marijuana can be consumed at this location.
6. Existing Licensee Transporter
This is a license allowing a marijuana establishment already licensed by the Commission to purchase, obtain, and possess marijuana for the sole purpose of:
Transporting
Temporary storage
Sale and distribution
...on behalf of other establishments or MTCs to other establishments. No direct sale or transport to consumers.
7. Third Party Transporter
This license is used to only transport marijuana or marijuana products between establishments or treatment centers.
8. Marijuana Research Facility
This license is for an academic institution, non-profit, domestic corporation, or entity authorized to do business in Massachusetts. A research facility can cultivate, purchase, or acquire marijuana for the purpose of researching marijuana and products.
However, the licensee must either have the appropriate license to cultivate or acquire marijuana or obtain a Research Permit. It's confusing because Research Permits are required for each individual research project conducted. This permit indicates approval from the Cannabis Control Commission to conduct specific research over a finite period of time.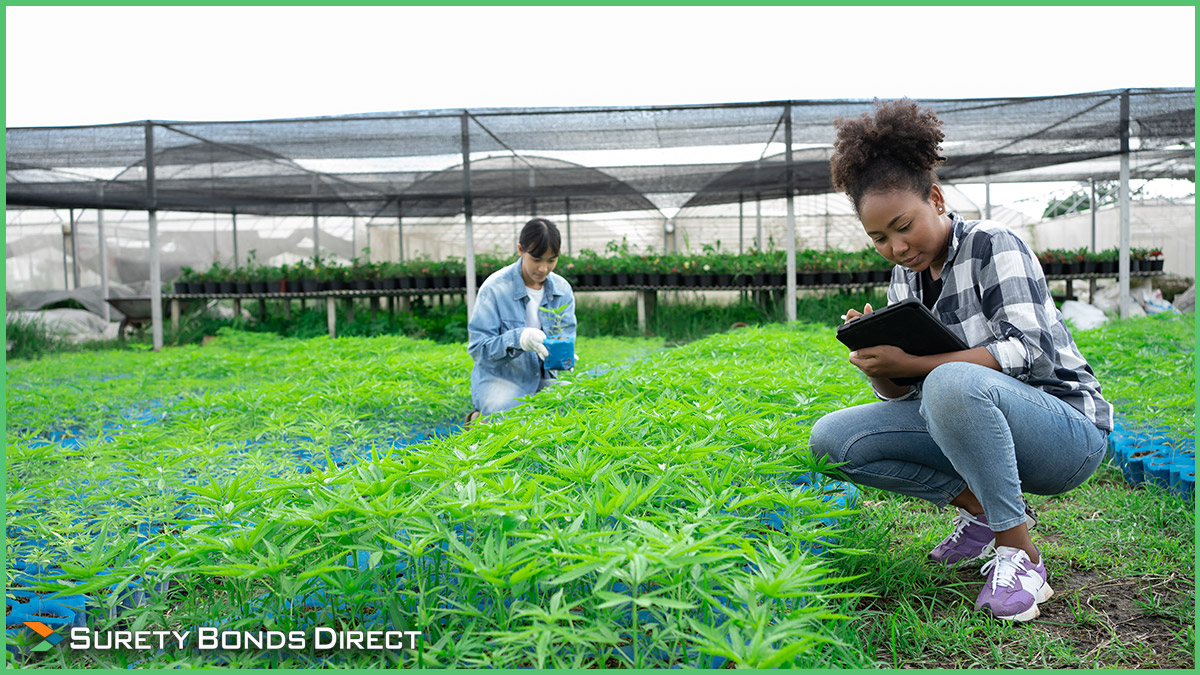 9. Independent Testing Laboratory (ITL)
This license does not hold any other type of marijuana license privilege. Yet, it's properly accredited to perform tests in compliance with the requirements of the Commission's protocols. This license allows for testing marijuana and marijuana products in the adult and medical use markets.
10. Standards Testing Laboratory
This license would normally qualify as an Independent Testing Laboratory, but performs blind tests to verify results of the Independent Testing Laboratories at the request of the Commission.
11. Microbusiness
A micro business is a colocated (share a location) Tier 1 Marijuana Cultivator and/or Marijuana Product Manufacturer limited to purchase 2,000 pounds or marijuana from other licensed establishments in one year.
A majority of Microbusinesses members must have been residents of Massachusetts for no less than 12 months prior to application. Microbusinesses can sell and deliver marijuana and/or products at its licensed location directly to consumers if they have a Delivery Endorsement.
12. Marijuana Courier License
A courier license allows the licensee to deliver marijuana and/or products directly to consumers of patients at a residential address from a Marijuana Retailer or treatment center.
This is not a retailer license and the licensee cannot have a retail location accessible to the public unless they are also licensed as a Marijuana Retailer.
13. Marijuana Delivery Operator License
This license allows for the wholesale purchase and warehousing of finished marijuana or products acquired from a cultivator, product manufacturer, Microbusiness, or Craft Marijuana Cooperative. They may use this marijuana to sell or deliver directly to consumers. This license is not considered to be a Retailer, but must adhere to all applicable Department of Revenue requirements for retail sales.
14. Social Consumption Establishment
A license allowing an entity to sell marijuana and/or products and allow consumers to use the product on the premises.
This license is only made available only after 6 communities have been selected to participate in the Commission's Social Consumption Pilot Program.
15. Delivery Endorsement
This is a special license only for licensed marijuana establishments allowing the licensee to sell and deliver marijuana and/or products directly from the licensee's establishment to consumers.
These are brief explanations of each license type. There are further limits and restrictions. It is complicated learning about each license type and choosing which applies to your business goals. Page 13 of Massachusetts's License Guide helps lay out the limits of each license.
Marijuana Licensing Fees
There are a range of fees associated with each license. Licenses such as Marijuana Cultivator and Craft Marijuana Cooperative have fees associated with the size of the canopy and number of locations.
It's possible to waive specific fees based on Economic Empowerment Priority Applicants, Social Equity Program Participants, and Minority-, Women-, Veteran- owned businesses that meet eligibility requirements.
In addition to license fees, other fees include:
Name change (requiring a new bond as well)
Location change
Building structure change
Ownership or control change
Architectural review request
Packaging and labeling pre-approval application
Plus a more
Refer to the guide (page 19) for additional fees. To download this guide, click "Guidance on Licensure" in the header.
Surety Bond or Escrow Account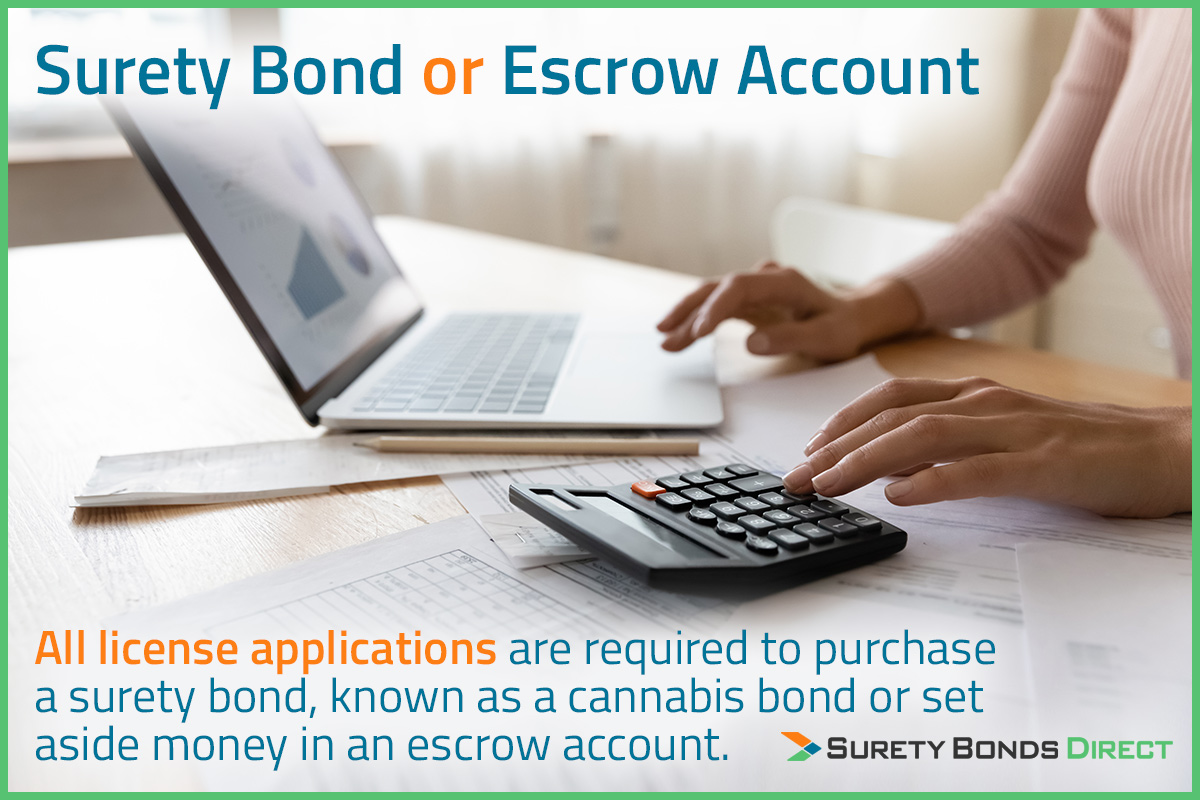 All license applications are required to purchase a surety bond, known as a cannabis bond or set aside money in an escrow account.
The amount must be sufficient to:
Cover dismantling and winding down of the Marijuana Establishment or Marijuana Treatment Center
Cover the cost of satisfying the state excise tax (10.75%) on transfers for marijuana and products from a retailer
Cover the cost of satisfying any outstanding sate or municipal sales tax (6.25%) obligations (click here to see sales tax schedule)
Cover the cost of an optional city or town tax (up to 3%) of marijuana sales
Costs incurred securing the licensee's facility
And costs incurred destroying the marijuana and marijuana products remaining in inventory
The specific amount will be determined during the application process. Based on the business plans and projected sales, the Commission will set the surety bond amount required.
Regardless of whether you choose to purchase a surety bond or set up an escrow account, you're required to set aside in cash the total amount of licensing fees even if the fees have been waived. There is no bond to cover this requirement.
What Is a Surety (Cannabis) Bond?
The difference between a surety bond and an insurance policy is the beneficiary. In most situations, a surety bond protects a business customer base from fraudulent or incomplete work performed by the business.
In the case of a cannabis bond, the surety bond is protecting the Massachusetts state Commission from:
Incomplete or improper disposal of marijuana and/products after a business shuts down.
Any outstanding tax obligations owed to to the state or municipality on the corresponding sales tax schedule.
As the cannabis industry evolves this surety bond, similar to California's cannabis bond, will probably protect consumers from:
False product information
False or misleading advertising
Marijuana and marijuana product quality
The Difference Between a Surety Bond and Escrow Account
An escrow account is similar to an escrow account when purchasing real estate. It's a bank account that holds funds for a future use.
If you were to choose an escrow account, you would have to come up with the required amount in cash. Not only would this be a financial hit on your available capital to get your business off the ground, this money needs to remain in the escrow account, meaning it's not capital you can access.
Because a surety bond is similar to an insurance policy, once you have your required bond amount, you'll be quoted a rate (usually 1-3% of the bond amount) and you only pay the rate multiplied by your bond amount (premium).
It makes business sense to purchase a surety bond. You don't have to come up with initial capital and you don't have to tie up your capital for the life of your business.
How Much Does a Cannabis Bond Cost?
The cost of your cannabis bond will be determined by two things:
The bond amount determined by the Cannabis Control Commission
The rate quoted to you by the surety company
The Bond Amount
As you go through the license and application process, the Cannabis Control Commission will tell you the bond amount you're required to purchase.
This will be based on:
The type of license you're applying for
Your business structure
Your business plan and projected revenue
Whether you're included in any special groups
Plus other considerations
The Rate
You will be quoted a rate based on:
Personal credit history
Business experience
Business financials
Industry experience
The personal credit history is typically based on:
The primary LCC member with the most ownership and/or all members
The primary Partner and/or all Partners if your business structure is a Partnership
You as a sole owner or proprietor
All of these factors determine a rate which when multiplied by the bond amount determines the premium.
This premium is what you pay to purchase the cannabis bond.
Cannabis bonds in Massachusetts must be renewed on a yearly basis. When you work with a surety bonding service like Surety Bonds Direct, we'll make sure you have updated pricing well in advance of your bond expiring.
The renewal bond amount may change based on how your business is growing. The more revenue and product you mange, the higher the Commission will make your bond amount for the year.
Where Do You Purchase a Cannabis Bond?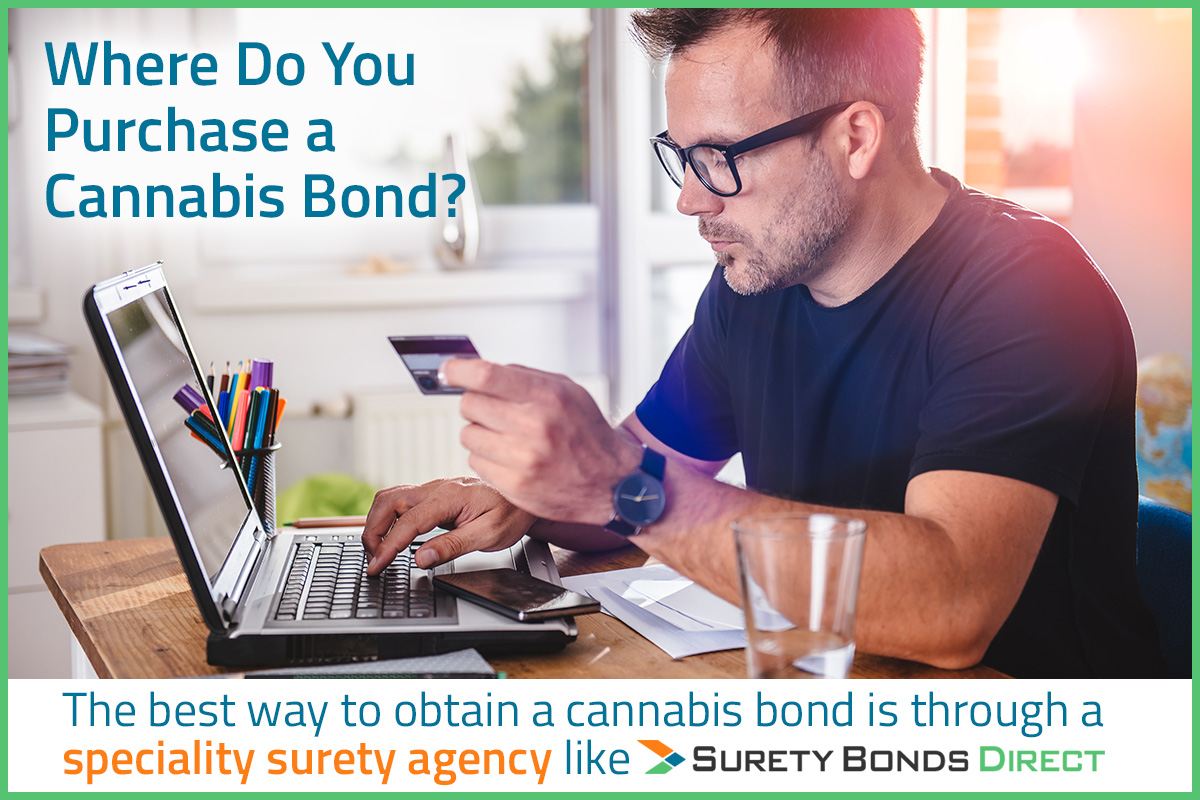 While surety bonds are written by specific insurance companies, the best way to obtain a cannabis bond is through a speciality surety agency like Surety Bonds Direct for time and cost savings.
Get The Lowest Bond Rate
Specialty surety agents have relationships with multiple insurance companies who write surety bonds. When you know the bond amount you're required to purchase, a specialty agency will get quotes from as many insurance companies as possible to deliver the lowest possible quote to you.
You're not only saving time having to locate insurance companies (not all insurance companies write surety bonds and fewer write bonds for the cannabis industry), but most insurance companies do not work directly with consumers.
Get The Best Customer Service
Plus Surety Bonds Direct has bond specialists ready to help with bond riders (changes). Cases where a bond rider is required:
Business name changes
Member or business structure changes
Bond renewal
A bond specialist makes this process easy.
When you're ready to obtain quotes for your cannabis bond, make sure you use Surety Bonds Direct's free online quote system. Once you fill out a short form, you can expect a quote within a few business hours. If your cannabis bond amount is over $250,000, it may take additional information.
If you would rather speak with a bond specialist, call us at 1-800-608-9950.