Many Americans rely on their automobiles for just about every aspect of daily life. So it's incredibly important that the vehicles which take parents to work and kids to school be sold and serviced by licensed, responsible business people.
Surety bonds are a common requirement for many kinds of businesses that deal with automobile sales and service. These bonds help protect the customer and driver while keeping auto industry businesses accountable. Businesses including new and used motor vehicle dealers, brokers, wholesalers, and auto parts dealers may have to purchase any of the different types of surety bonds before they can obtain a license from state or local authorities.
What are the major types of surety bonds that an auto industry business should be familiar with? Below, we'll discuss five important types of surety bonds for the auto industry.
How Surety Bonds Protect Auto Industry Customers
A surety bond is a type of three-party contract that guarantees an obligation such as performance, payment, or lawful conduct. In the case of auto industry surety bonds, the bond financially protects the business's customers and creditors, as well as the state government, from illegal or unethical conduct by an automobile business. For an in-depth guide to the basics of surety bonds, see What Is a Surety Bond?
Typically, the state government is the party that requires an auto business to purchase a surety bond. Once the business has purchased the bond, they must submit the bond paperwork along with their application for state licensure. Then, should a customer or the government believe that the business has broken the law or acted unethically, they can submit a claim to the surety for financial compensation.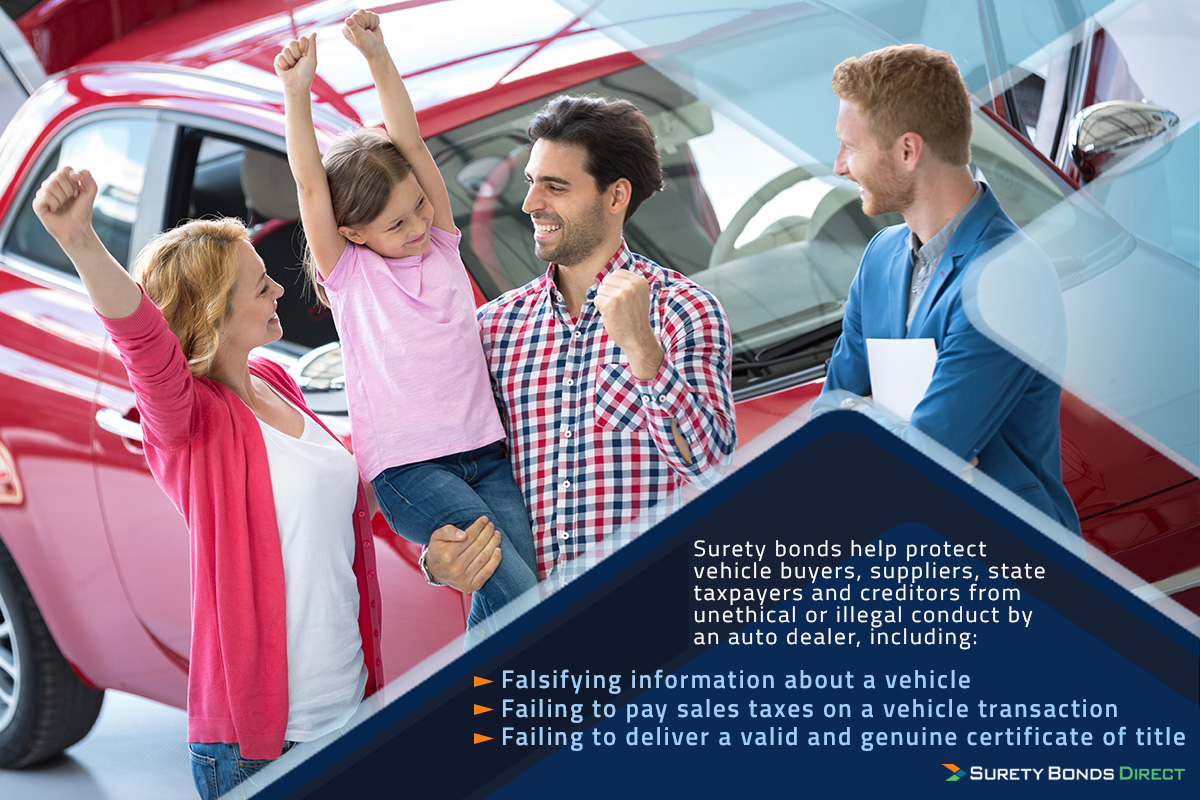 Motor Vehicle Dealer Surety Bonds
Auto dealer bonds are the most common type of auto industry surety bond. Most states require motor vehicle dealers to get a surety bond to get their auto dealer license. These bonds help protect vehicle buyers, suppliers, state taxpayers and creditors from unethical or illegal conduct by an auto dealer, including:
Falsifying information about a vehicle
Failing to pay sales taxes on a vehicle transaction
Failing to deliver a valid and genuine certificate of title to a vehicle buyer
Each state requires different terms and bond amounts for an auto dealer surety bond, and many states also require slightly different bond types for various types of auto dealerships. Used vehicle dealerships, new vehicle dealerships, salvage dealerships, and auto auctions all typically fall into different categories. A business purchasing an auto dealer surety bond should be sure to check the specific bond requirements for their business category.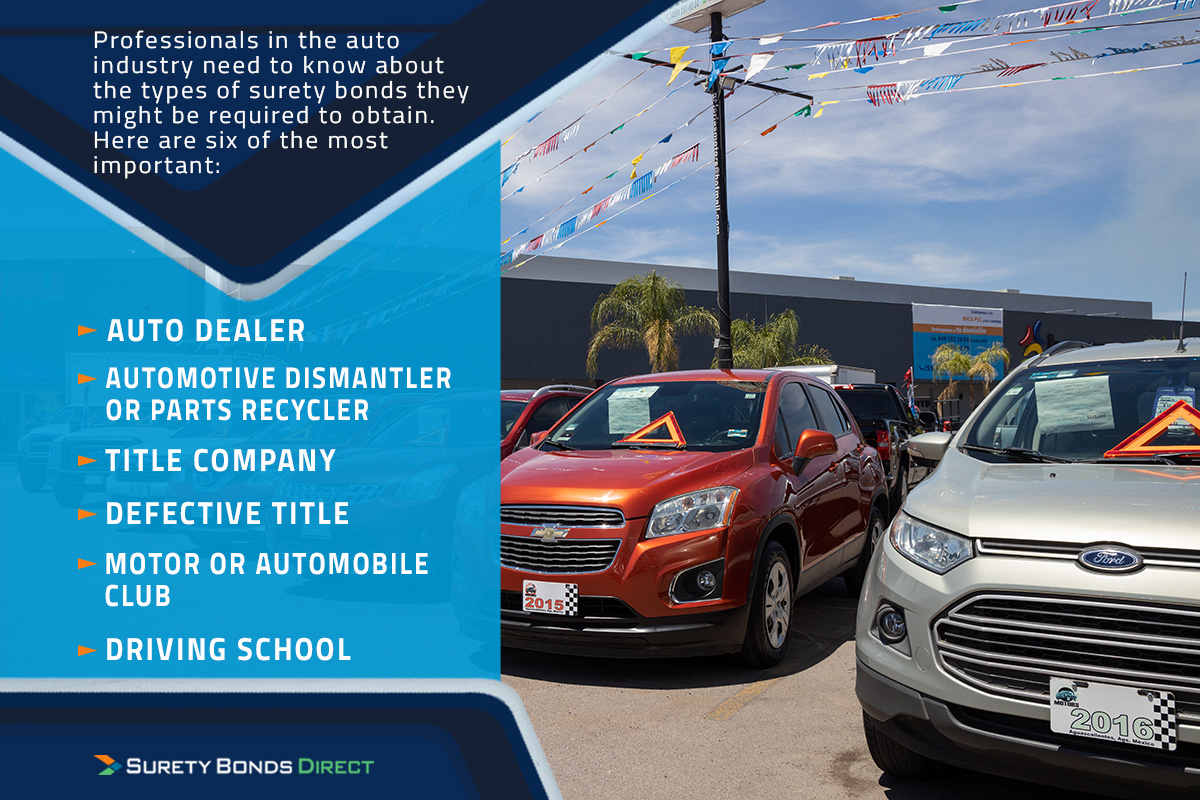 Other Important Types of Surety Bonds for the Auto Industry
Motor vehicle dealer bonds are the most common type of auto industry surety bonds, but many other types also exist, including:
Whatever types of surety bonds your auto business needs, Surety Bonds Direct provides customer-friendly service that will have your business on the road faster. If you're ready to get started on getting your surety bond, call our experts at 1-800-608-9950 or get a free online surety bond quote in just minutes.