15 Changes Coming to the Trucking Industry in 2019
New technology, higher customer expectations, and a driver shortage: are you prepared?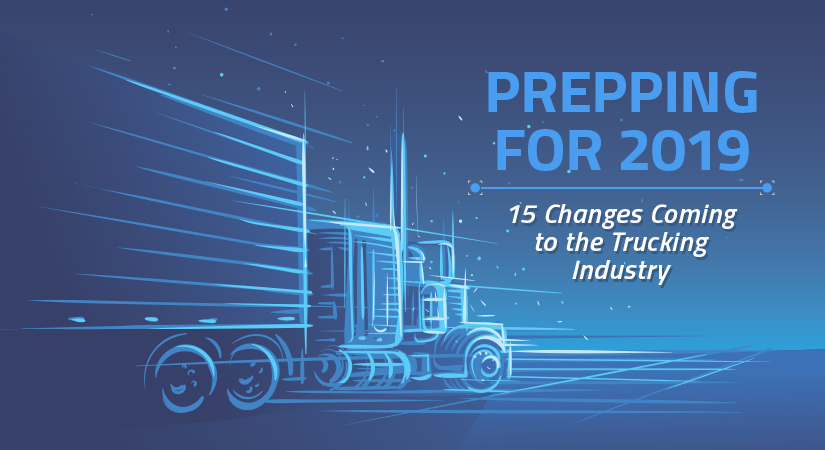 As the world becomes more and more globalized and eCommerce continues to grow, transport professionals need to be ready to adapt to the ever-changing landscape or risk becoming obsolete. Consumers and businesses not only expect, but demand, fast, reliable shipping and strong communication along the way. The industry needs to be ready to offer real-time play-by-plays of a shipment's whereabouts, one- and two-day standard shipping and reliable customer experiences to boot. And they have to be able to do it all in the face of a looming trucker shortage and fast-growing transport costs.
There's a big silver lining, though: the industry is booming. In fact, the trucking sector is reporting unprecedented growth in 2018, and forecasts suggest the coming years will continue to safeguard the industry. Trucking economists predict a steady growth of 2.8 percent per year from 2019 through 2024 in U.S. truck transportation volume. The industry will continue to expand thanks in part to a recovering economy and flourishing industry drivers like manufacturing, consumer spending and construction. That equals more jobs, more security and higher pay for those in the trucking field.
As we head into the New Year, trucking industry professionals must be ready to embrace and help implement these new changes with enthusiasm. Whether you're a freight broker, a logistics provider, a shipper or a trucker, you might need to make fast changes to remain in the game for the next year or so. Here are some of the main changes we can expect within the next 12 to 19 months and some information on how they will affect trucking for the long-term beyond next year.
Big-Picture Trucking Industry Changes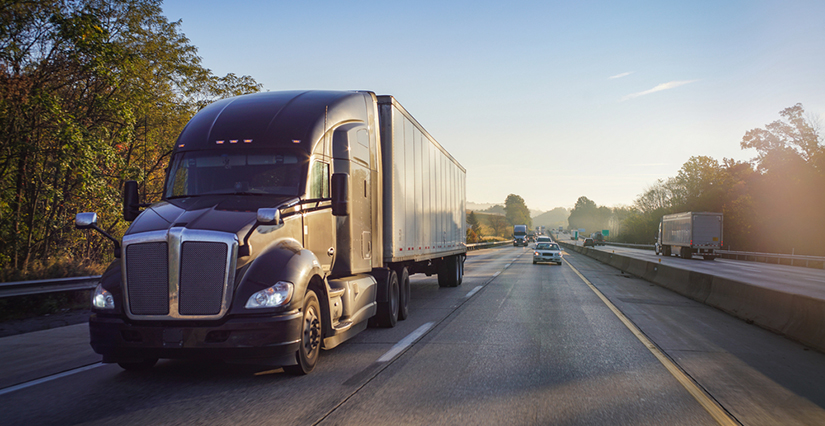 The following big-picture trucking industry changes will help shape the way the industry performs in the next decade or so.
Higher Prices Per Truckload - Ask any industry analyst the No. 1 most important thing to know about this sector going into 2019, and they're most likely to talk about rising prices. U.S. surface transportation rates have been rising steadily, with costs doubling in 2018 alone, and they are expected to climb further in the coming months. FedEx recently announced that it would hike its shipping rates by as much as 5.9 percent in 2019, and other carriers are expected to follow suit with announcements coming before the new year.
Issues with the Driver Shortage - There is a palpable truck driver shortage plaguing the industry, and it's bringing both positive and negative changes. On one hand, the shortage means that truckers are getting paid more and that there are more trucking jobs available than ever before. On the other hand, it means that costs are rising, and companies are struggling to keep up with the demand. The American Trucking Associations (ATA) says that an estimated 50,000 more drivers are needed to meet the demands of the industry right now.
Higher Pay and Benefits for Drivers - The fact that the industry is growing like gangbusters but there still aren't enough drivers is good news for those of us on the ground. To attract more drivers to the industry, carriers are sweetening the deal for the talent pool. In fact, the U.S. Bureau of Labor Statistics reports that trucking company payrolls grew 2.5 percent this year and that they added some 32,000 more jobs to the economy. Still, it doesn't appear that salaries are rising fast enough to make a dent in the driver shortage. Companies will need to shell out more for their drivers to meet the demand in 2019, so we can expect to see this as growth continues to creep upward.

Rising Insurance Costs - Bonded truck drivers rely on insurance to protect them in the event of an accident. However, industry premiums are on the rise, with some drivers paying $20,000 annually for trucker's insurance. Of course, the higher insurance costs prevent many independent truckers from hitting the road, further contributing to the growing driver shortage. Truck drivers with freight broker authority are required by the FMCSA to obtain a bond as an extra safeguard to help prevent issues that may not be covered with typical trucker's insurance.
Fewer Miles Driven Per Load - The number of miles driven per load has seen a steep decline in the past 15 years, and it continues to fall. The average number of miles driven per haul dropped an incredible 34 percent last year, and the experts say the amount of miles driven per load will plummet further in 2019. Many things contribute to this drop, primarily changes in supply chain. Companies have more distribution centers than ever and are beginning to use more last-mile delivery options, effectively shortening driving distances for many.
An Increase in Regulation - As you probably know, the electronic logging device (ELD) mandate—a law requiring all interstate motor carriers to use electronic logging devices and mandating a 10-hour break for every 11 hours driven—has greatly changed the industry, with some arguing that it has worsened the shortage and prevented some companies from meeting consumer demands. We can expect the trucking industry to see more and more regulations in the coming years, some of which may increase liability or make it more difficult to lawfully compete. Carriers and shippers must be willing to make fast adjustments based on new trucking legislation.
More Focus on CSA Data - The Federal Motor Carrier Safety Administration (FMCSA) collects compliance, safety and accountability (CSA) data that essentially grades motor carriers. Like the laws, CSA rules are constantly changing, and industry professionals must be on top of them to ensure compliance. With more and more emphasis on industry safety and more stringent regulation at every turn, industry experts believe that the program will be stressed further in 2019. This, coupled with an increase in regulation, is another reason why truck drivers with freight broker authority must become bonded to protect vendors, business partners and the federal government.
More Work for Small Operators - Among the 3.5 million truck drivers in the United States, one in nine is classified as an independent operator. The rise in trucking demand has positioned these independent truckers to enjoy more and more work. In fact, the owner-operated market was named the hottest segment within trucking this year, and with the growing driver shortage and impossible demand, small and independent operators will claim an even bigger piece of the pie next year.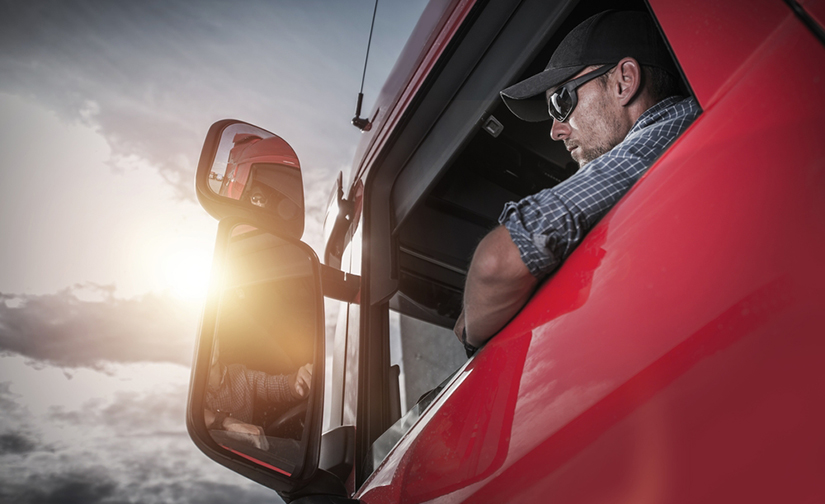 New Trucking Trends and Technologies
Transport is like any other industry in that it's constantly changing because of technological advancements. Here are some of the ways new thinking and tech will change the business, for better or for worse.
A Rise in Last-Mile Delivery - Last-mile delivery is categorized as the final leg of a shipment's journey, typically from the distribution center or warehouse to the delivery's final destination. Major eCommerce companies, including Amazon, have already begun experimenting with new ways to complete last-mile delivery to optimize shipment times and minimize hiccups that lose them money. The trucking industry will begin to see that these new options lower their miles and may help bridge some of the gaps caused by the ever-growing driver shortage.
'Uberization' Within Trucking - When we talk about something becoming "uberized," we mean transforming traditional tasks into those that can be completed on-demand (like the ride-sharing app Uber), usually through an app or website. In the trucking industry, such platforms could help prevent empty loads and ensure that no square inch of a truck is left unpacked, therefore lowering costs and simplifying the process for freight brokers. It's unlikely that this approach will take over the trucking industry in the next 12 months, but we are already seeing some pain points being addressed through apps like Uber Freight.
A Push for Cleaner Transport - Making trucking cleaner and less wasteful is certainly nothing new, especially with states tightening environmental regulations in the face of a never-more-evident environmental crisis. Companies have to make their fleets as eco-friendly as possible, or else they receive hefty fines. This, of course, has led to a push for more electric trucks. Electric truck use has already accelerated significantly in the past few years, but it expects to continue posting a 15 percent compound annual growth rate over the next 20 years. Diesel is still the big rig dominator, but with Tesla working on its own battery-powered semi, we're likely to see this sector widen sooner rather than later.
Greater Supply Chain Visibility - Logistics professionals know now, more than ever, that it's all about supply chain visibility. Simply put, consumers expect the ability to trace their shipments from original to final destination, and they want updates at every juncture along the way. There will be more tools available to trucking pros in the next year or two to help simplify this process and ensure that recipients are able to closely track their goods as they make their transport journey.
More Talk About Driverless Trucks - Driverless semi-trucks are still relatively far off in the distance, so don't panic if you or your company isn't on the bandwagon yet. With that said, as humanity becomes more accepting of driverless cars, it won't be long before the topic of driverless trucking becomes an important, and realistic, conversation within the sector. Self-driving trucks could aid in the driver shortage crisis, optimize routes, cut costs and possibly even prevent accidents. There are multiple companies that are already developing and testing driverless trucking solutions, including Tesla, Mercedes-Benz and Otto.
Advancements in Platooning - Truck platooning is poised to revolutionize the trucking industry, at least that's what its proponents are touting. During platooning, trucks travel as a convoy in groups using interconnected, automated technologies that help them operate more cleanly, safely and efficiently compared with traditional single-truck routing. Like driverless trucks, platooning is still in the early stages of advancement—exhaustive testing and perfecting of platooning technologies are still needed—but we can expect to see major headway made in the next year.
More Connected Cabs - Just as our personal vehicles are becoming more and more connected, so too are the cabs in semis. Truckers have digitally connected tools at their disposal to help with supply chain visibility, compliance, logging and route optimization. There are a variety of cool new truck technologies that should be on your radar if you intend to hit the road, including dynamic routing tools that automatically adjust your route to minimize time and cost, collision mitigation technologies, high-tech digital dash cams and much, much more.
December 28, 2020

Jason O'Leary