How to Get a Good Deal on a Used Car: Tricks of the Trade
Get a great deal on a used car by getting your used car dealer's license and learning other trade secrets.
Some say your car is the worst investment you'll ever make, and they might be right since your wheels cost you around $3,000 in depreciation per year. But most Americans have to have one to get to work, run their errands and live their everyday lives, so finding a car that's reliable, low-maintenance and affordable is extremely important. We've got a few easy tips and tricks you can employ the next time you're on the hunt for a used car, some of which may even help shatter the myth that cars are an all-around bad investment.

The Best Trick? Get a Car Dealer License
If you buy a vehicle more than the average person, or even if you just can't stomach the markup at the used car dealership every few years, consider getting a used car dealer license. Those who hold this licensure can legally enter the business of selling, displaying or buying vehicles under an established business. But for the everyday citizen who simply wants to nab a great price on a used car, the dealer license is desirable for one main reason: It provides you with access to auto dealer auctions.
What's the big deal about auto auctions, you ask? These events essentially act as wholesale marketplaces for used car dealers. The proprietors of your local used car lots and dealerships go to the auction to stock their inventory. In other words, they're able to bid and purchase cars for much lower than their market value, helping them turn a profit on each vehicle. Typically, the cars and trucks at the auto auction can be sold for much lower prices because they are off-lease returns, vehicles that were repossessed or vehicles that were seized by the U.S. government.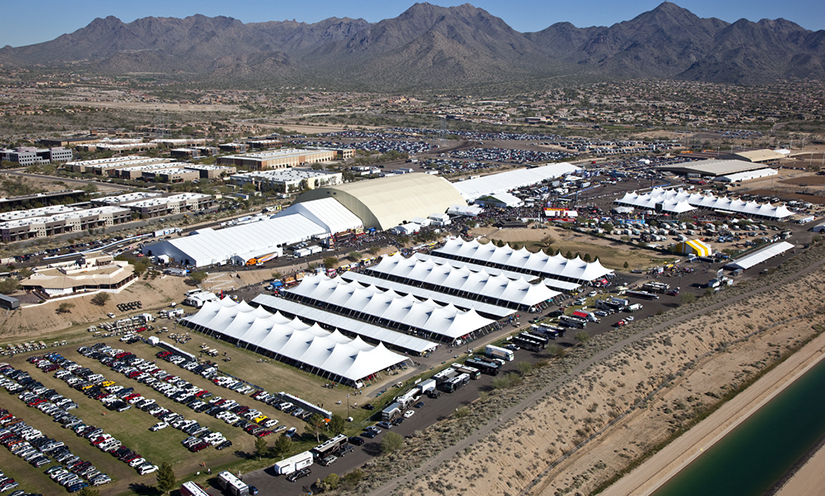 Unfortunately, these auctions are generally not open to the public but are restricted only to licensed car dealers. It generally doesn't matter if you actually have a used car lot or not. If your license is current, you will most likely be able to participate in a used auto auction. Depending on how much time you have and how many used cars you think you could reasonably nab (and possibly resell), getting your used car dealer license may be a smart option in the grand scheme of things.

How to Get a Dealer's License
So how do you go about getting licensed? The requirements vary slightly from state to state, but in general, they require you to have:
A Motor Vehicle Dealer Bond and Insurance — You must obtain a used car dealer bond and be adequately insured to get a dealer license. Your insurance protects your business from inventory-related loss, while the motor vehicle dealer bond typically ensures that the dealer complies with the specific state regulations and also engages in lawful business practices. Nearly every state requires active used car dealers to be bonded, with coverage amount requirements ranging from $10,000 to $100,000. For example, a Texas auto dealer bond must be maintained in a coverage amount, or limit of liability of $25,000 (dealer typically pays a premium of between 0.5 percent and 5 percent of the bond limit).
A Verifiable Net Worth — In most states, you will need to prove that you have a net worth of a certain amount before you enter the licensing process. The amount in which you'll need to prove varies wildly from state to state. For example, net worth requirements are as low as $10,000 in Tennessee and as high as $100,000 in Colorado. Some states may also require that dealer applicants have a high credit score (in Colorado, it's at least a 701) and a clean background check without some designated felonies and misdemeanors.
A State License Application — Once you have all the necessary documents required by your state, you can submit your application to receive a used car dealer license. Note that the state's requirements will vary widely from one state to the next, so it's vital that you check with your state's licensing body (often either the Department of Motor Vehicles or the Department of Licensing) to learn exactly what you need. You may need to attend pre-licensing classes, meet certain zoning requirements and/or register your business. Note that licensing fees vary from $50 to $800 per year, depending on the state.
Some Capital — In addition to car dealer licensing fees, you'll also be responsible for paying for some extra documentation. For example, you may need to form a business and pay filing fees with your state, pay for special dealer plates or hire an accountant to help you put together some of the necessary financial documents. Of course, you'll have to do the math for yourself based on your state's system in order to determine whether or not getting a license is worthwhile.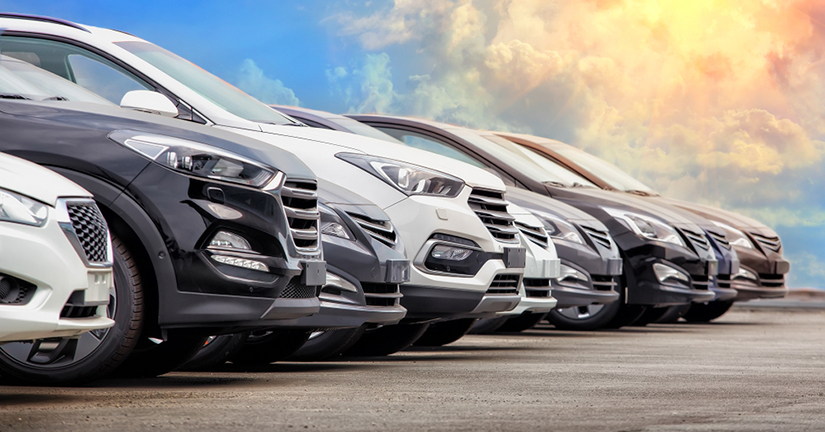 If you meet the state's minimum requirements and are happy to pay the licensing fees, you can become licensed as an official used car dealer in your state. But you can't simply waltz into your local car dealer auction and start bidding. Most auto auctions require new dealers to provide certain documents, including a W-9, a copy of your dealer license and even a signed power of attorney form if you're bidding on behalf of another person or business. Note that you may also have to complete an application with the specific auction house and pay a registration fee.

More Benefits to Getting a Car Dealer License
Besides the fact that you'll be able to get a set of wheels at a (hopefully) deep discount, getting your used car dealer license may bring you some additional benefits that help save or earn you money. Here are some more benefits to becoming an official used car salesman or woman.
You Could Make a Profit — Who says cars can't be a good investment? This is a big bonus for the newly licensed: You can now legally sell cars! In most states, you must apply for a car dealer's license if you sell over a certain number of cars per year. In many states, if you negotiate the sale of over five motor vehicles per year, you should be licensed. With your dealer's license, you can start your own small dealership and market primarily to family and friends. If anyone in your extended social circle needs a new car, you could charge a fee for buying on their behalf. You could also occasionally grab those particularly good deals and "flip" your best finds for a profit.
You Might Get a Few Tax Breaks — When you become a car dealer, your business is in cars. That means that you can write off many of your car-related purchases and take advantage of special tax breaks just for business owners. You can (and should) write off the repair and maintenance of your vehicle, mileage and all of your licensing fees as well as any other costs you might incur in relation to your small business. Some dealers may even take advantage of some tax-free purchases and services from dealers and mechanics.
You Could Get Special Dealer Discounts — Just like in many industries, you can enjoy some deep discounts just for being a licensed dealer. Many automotive repair shops, parts dealers and others in the car world will offer dealers exclusive discounts on products and services. If you've already obtained your dealer's license, make sure to always inquire with your local retailers and service providers about this perk. You might just be missing out on some big savings on your everyday purchases!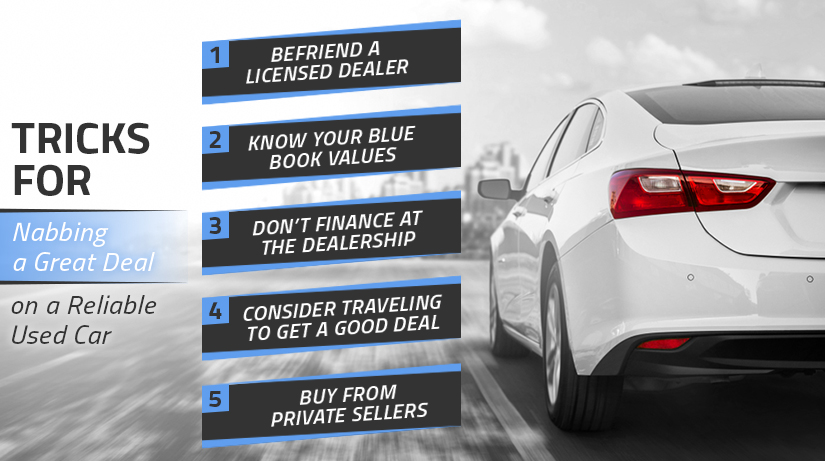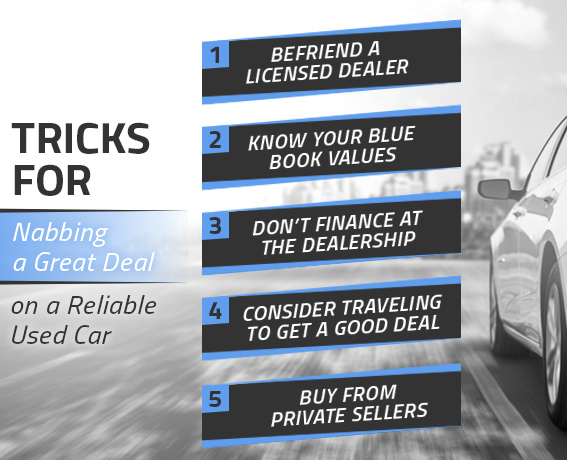 More Tricks for Nabbing a Great Deal
We know that becoming a used car dealer isn't worth the time, cost and effort for some car shoppers. Indeed, you'll need to weigh whether or not the cost of bonding, insurance, licensing and other things still equal a good deal on a used car in the end. If you decide that it's not worth it for your specific situation, there are still a few things you can do to find a reliable used car on the cheap. Here are a few ideas:
Befriend a Licensed Dealer — The second-best thing to becoming a dealer yourself? Befriending someone who's already licensed. Not only can your dealer friends keep their eyes peeled for you when they're auction-hopping—and perhaps bid on certain models on your behalf—they can also help you with the art of negotiation and accompany you to a dealership when it's time to make an offer. Note that auto auctions generally publish their inventory, so if you see something you like, let your dealer friend know to keep it on his or her radar.
Know Your Blue Book Values — Never go into any car-purchasing experience blind. There are reliable car value resources for a reason, and dealers and consumers alike rely on them to ensure that vehicles are priced right. Be sure that you know the Kelley Blue Book value of the specific car you're eyeing (and know if there are any major issues or upgrades that may affect the value) and spend some time flipping through your local used car listings to ensure that the pricing is appropriate for your area. It also doesn't hurt to bone up on your negotiating skills before you walk onto the lot.
Don't Finance at the Dealership — One major mistake many used car shoppers make is that they show up at the car lot without a secured loan. If you're financing your vehicle, it often makes more financial sense to finance through your bank or credit union.

You'll usually get a lower rate if you're a longtime customer and if you have the time to shop around. This is also a better option because it allows you to use your regular bank or a bank you know you're comfortable with.
Consider Traveling to Get a Good Deal — The fact of the matter is that some states and cities sell cars for cheaper. The three cheapest cities to buy used cars are Miami, FL, Cleveland, OH and Rochester, NY offering a discount from the national average of 6.6 percent, 5.7 percent and 5.4 percent, respectively. Taking a one-way flight to get a good deal may be worth it, depending on the cost of traveling to the desired destination. Note that you won't shave off money on your taxes by buying a car in a state with a lower sales tax rate since you pay tax in the state where you register the vehicle, not where you purchase it. Beware of the fact that you may feel more pressure to purchase a car you may not fully want if you travel far to get to it!
Buy from Private Sellers — There are pros and cons to buying used cars from a dealership, but the truth is that if your concern is cost and cost only, buying from a private, independent seller is usually your best bet. Dealers need to make a higher profit to pay for their inventory, building, land, employees and other business necessities. It is important to understand, though, that there are some specific benefits to buying from a dealer, such as in-house financing or warranties.

Making the Right Decision for You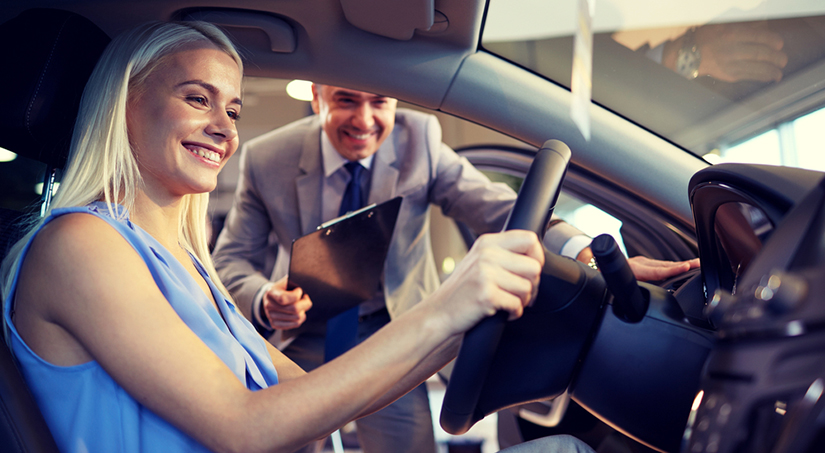 Becoming a licensed car dealer isn't for everyone, but if you have the spare time, money and patience to go through the process, it can often equal a much better deal on your new ride. If you decide to become licensed in your state, let Surety Bonds Direct assist you with getting a motor vehicle dealer bond to kick off your deal-hunting. We always strive to simplify the process and answer all of your bond-related questions.
October 9, 2019

Jason O'Leary