What's the Difference? A General Contractor vs. A Construction Manager
General contractors and construction managers might seem to have similar jobs—but actually how similar are they?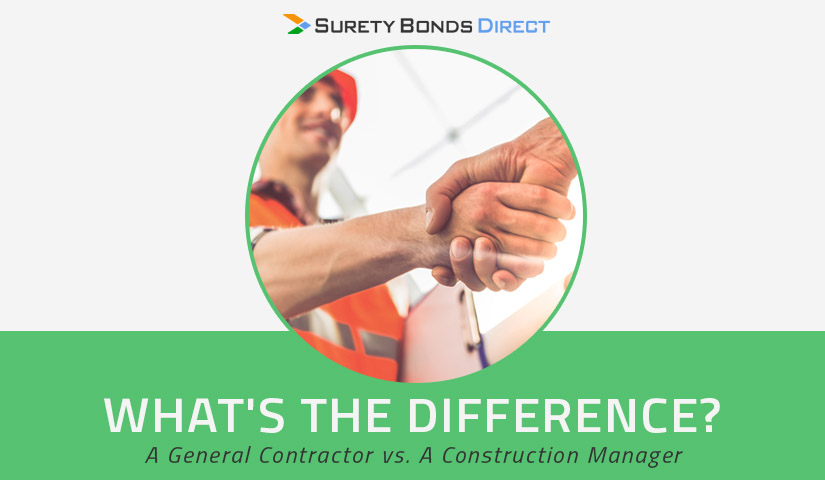 For many of our customers, achieving the desired results on a large construction project is a big challenge that they take on every day. Coordinating the many layers of subcontractors, suppliers and front office personnel is a balancing act that needs care and patience, and there are thousands of other individual factors to look after and account for. The people you'll find in charge of managing these key tasks typically fall into one of two roles: general contractors or construction managers.
The goals of both roles are the same: to put all of the pieces together and execute the design according to what the project owner wants (and what regulations demand). But they go about their roles a little bit differently, and each has its own set of unique financial structures and responsibilities that give them their own strategies for the safe and effective execution of a construction project, large or small. Some project owners may hire one or the other, while some hire both.
Today, we'll explore the similarities and differences between these two roles, look at how they're equally vital in today's world of construction and find out more about the many surety bond options Surety Bonds Direct offers that are great deals for all kinds of construction professionals.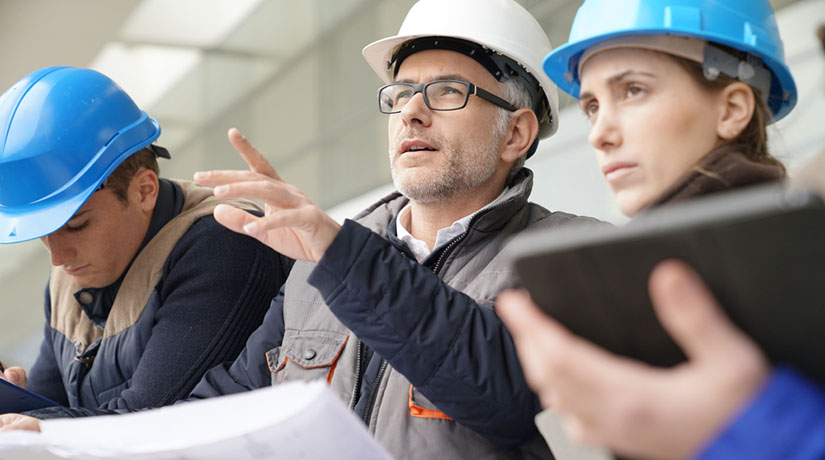 What Is a General Contractor?
General contractors are the people in charge of the day-to-day on-site operation of a construction project. They're responsible for looking at an architect's designs and using them to put together a bid package for how much they estimate the project will cost (including the contractor's own overhead, profit margin and fees) and then submitting the bid to the project owner.
A general contractor is incentivized to keep the project under budget thanks to the structure of the bidding process—should the project end with unused funds, the general contractor keeps the difference. However, if the project exceeds its allotted budget, it's the general contractor's job to request more money from the project owner.
From the beginning of the process to the end, common responsibilities of a general contractor include:
Identifying which work will need to be done by which subcontractors.
Managing bids from subcontractors, selecting winners and putting together a bid package.
Coordinating on-site work between numerous different subcontractors such as builders, plumbers, electricians and landscapers.
Communicating with the project owner about project timelines, delays and additional needs.
Coordinating with suppliers to ensure that all construction materials are ordered on time, in the correct quantities and to the correct specifications.
Communicating with architects and designers about change orders, supply issues and other potential hiccups.
Working with regulatory authorities to ensure that inspections happen on schedule and that all parts of a project are compliant with building codes.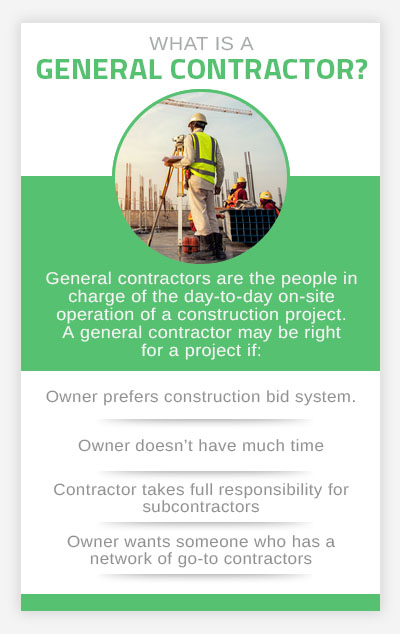 The relationships between general contractors, architects and project owners can be somewhat fraught with tension. A contractor's financial incentives mean that they sometimes develop adversarial relationships with the other project stakeholders when they make decisions that cut into the contractor's profit margin. However, these concerns are often offset by the greater degree of financial responsibility for the project that the general contractor assumes and the hands-on expertise that they bring to the table.
What Is a Construction Manager?
A construction manager typically assumes a similar role as a general contractor, but with an expanded set of responsibilities and a different financial incentive structure. Whereas a general contractor's duties are largely confined to the on-site management of subcontractors, budgets and suppliers, a construction manager provides these services while being involved in the project from the very beginning. A construction manager often provides input at the design stage and works alongside the architect and the project owner to ensure that a project's goals and financial structures are realistic and workable.
A construction manager generally works much more closely with the owner than a general contractor, and is usually considered to be part of the owner's team rather than working for themselves. Instead of being motivated by budgetary incentives like a general contractor, a construction manager is typically paid a fee by the owner. This financial structure tends to create less friction between owners and construction managers than projects using a general contractor and bid system.
There can be considerable overlap between the two roles. A project owner who has an established relationship with a trusted general contractor may bring them on in the design process in a role that's closer to a construction manager. This has a "best of both worlds" advantage for project owners in that it avoids the sometimes adversarial relationship between contractors and owners while maintaining the contractor's relationships with (and direct responsibility for) the subcontractors.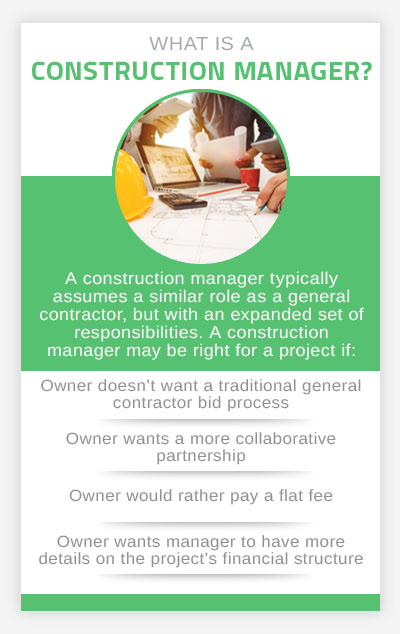 What Are the Credentials for These Jobs?
Becoming a construction manager generally requires a bachelor's degree (sometimes a master's) in construction management, plus several years of on-the-job training as a junior associate. Because of how they enter the field, construction managers often don't have the network of trusted subcontractors that general contractors do.
General contractors increasingly have bachelor's degrees, as many companies now prefer academic experience in addition to practical. However, hands-on training is still the main way for a general contractor to earn their stripes. Many general contractors have only high school degrees and have spent years working their way up through the ranks of the construction industry. This on-the-job experience is key for building up their relationships with trusted subcontractors whom they know are able to bring projects in on time and under budget. Finally, as we'll touch on later, part of how to become a general contractor is acquiring a contractor bond through a bond agency.
Which Is Right for Your Construction Project?
Whether a project owner hires a general contractor or a construction manager depends on several factors. Some common points that many project owners use to make the decision are as follows:
A general contractor may be right for a project if:
The owner prefers the traditional construction bid system.
The owner doesn't have the time to work closely with the people managing the projects.
The owner would rather have the contractor take full responsibility for their subcontractors and their work.
The owner wants to employ someone who already has a network of go-to contractors who do good work.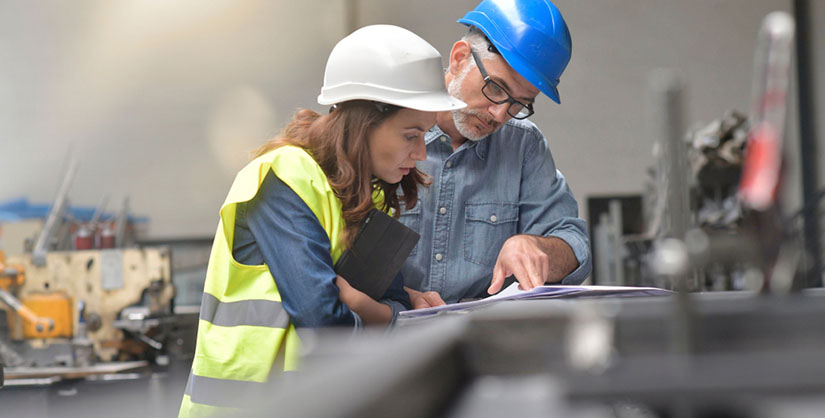 A construction manager may be right for a project if:
The owner doesn't want to bother with a traditional general contractor bid process.
The owner wants a more collaborative partnership that includes the manager's involvement at the design stage.
The owner would rather pay a flat fee.
The owner wants the manager to have a more detailed and complete picture of the project's overall financial structure.
On some projects, both a general contractor and a construction manager will be hired, with the construction manager supervising the contractor. The roles are fluid and subject to change, and the biggest points of differentiation still typically lie in compensation structures and in level of involvement with project ownership.
Common Bonds Construction Professionals Need
Depending on your situation, many different types of surety bonds can be relevant to a construction project. (Not sure what a surety bond is or why you might need one? Check out our summary of the basics on our page What is a Surety Bond?) Both general contractors and construction managers may have to deal with some or all of these bonds. The most common types include:
Dealing with these numerous types of bonds can be a headache and can also result in considerable financial expenditures. These are the problems that Surety Bonds Direct addresses for our clients by providing an easy way to procure a surety bond at a competitive rate. For construction managers and general contractors alike, Surety Bonds Direct has the bond solutions you need.
Why Surety Bonds Direct Provides the Best Surety Bond Solutions
So, why does Surety Bonds Direct make it simpler, faster and often less expensive to get the bonds that construction professionals need? Because we've designed every aspect of our business to do just that: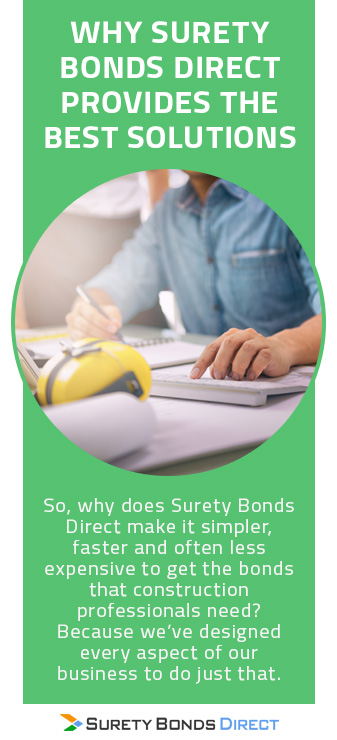 Surety Bond Specialists: Many insurance companies that sell surety bonds also sell other insurance products such as auto or home insurance. Surety Bonds Direct is different—we're a specialized provider of surety bonds, and we know the industry inside and out.
Bonds Directly from Sureties: Often, buying a surety bond involves working with multiple agents and brokers between you and the surety, and each one takes their cut. Surety Bonds Direct is built on the idea that it's better to cut out the middleman. We offer our customers great rates by working with sureties directly to get the best rates possible.
Trusted by Customers: Surety Bonds Direct is proud to maintain a five-star rating on Trustpilot and has thousands of satisfied customers.
Reliable Bond Companies: Surety Bonds Direct works exclusively with bond providers who maintain an A rating with the A.M. Best Rating Agency. You can count on our surety bond providers to provide the reliable protection you and your clients need.
Lightning Fast Service: Our systems are designed to provide the optimal match between principals and sureties in all 50 states, meaning that most buyers can get a quote on the bond they need in just a few minutes. And once you've gotten your quote, you can pay your premium the same day and have your surety bond on its way immediately.
Credit Help Options: Surety bonds are often more expensive if you're a new business or have had credit issues in the past. That's why we work with surety bond providers who specialize in offering bonds for new businesses or businesses with credit problems. We also offer co-signer and payment plan options to give our customers a wide variety of ways to find an affordable solution.
Friendly and Knowledgeable Team: Have questions about what kind of surety bonds you need or how to afford them? Our friendly team of surety bond experts will be there to help you find the right bond and get the best deal.
Many different types of surety bonds are required (or can be useful) on today's construction site. Surety Bonds Direct is your all-in-one source for reliable surety bonds across the USA, whether you're a contractor, construction manager, supplier or another type of construction professional.
Whatever your responsibilities on a construction project are, Surety Bonds Direct offers a faster and easier way to get the bonds that help protect everyone. We're a fully-licensed surety bond dealer and have the expertise to give you the key information that you need to make the best decision—and we offer contractor bonds, performance bonds and more at prices that won't break your budget. To get started on finding the right bond for you, call our surety bond experts at 1‐800‐608‐9950 or check our website for a fast quote on the surety bonds you need.
December 28, 2020

Jason O'Leary