8 Ways Freight Broker Software Can Reduce Company Costs
Great rates on freight broker bonds aren't the only way for brokers to reduce their costs.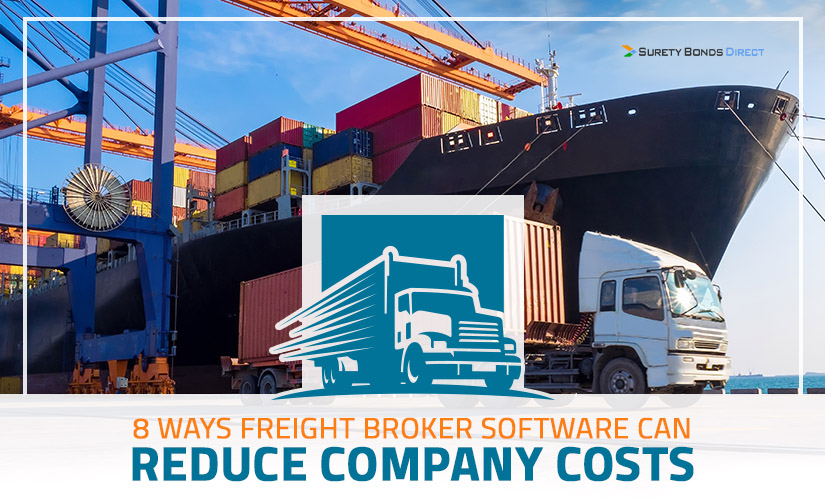 At Surety Bonds Direct, we work with numerous freight broker clients and help them find the most competitive rates on freight broker bonds. A freight broker bond is a key part of getting a freight broker license, so getting the best rate is important for establishing a solid financial foundation. But there are numerous other cost saving measures that the top brokers in the industry employ, and one of the best is to use the new wave of powerful freight brokerage software.
With demand for logistics services at an all-time high, freight brokerage is once again a booming industry. However, the business has always been highly competitive, and the operators who are able to stay on top are often the ones who can cut their costs the most while maintaining a high standard of quality. Investing in robust freight brokerage software (sometimes called a transportation management system or TMS) is one of the smartest moves a freight broker can make toward achieving these goals.
So, how does freight brokerage software work to expand your capacity and make your operations smoother? We'll take a quick tour through eight ways that TMS can benefit your bottom line and make your brokerage business stronger, more agile and more profitable.

EDI compatibility allows brokers to work more smoothly with the upper echelon of freight shippers and carriers.
Paperwork and documentation are a necessary evil in the freight brokerage industry, and they can create huge headaches when not properly managed. However, you can seriously cut down on the time and costs associated with these documentation issues by using Electronic Data Interchange (EDI) software that automatically generates, fills and exchanges shipping data with shippers and carriers in a common format.
EDI is so important because it automatically takes care of complex data interchanges and ensures that they're in the standard ANSI format that most automated systems understand. Most of today's top brokerage software suites include an EDI component that integrates with the rest of their systems. These advanced systems can automatically create, send and receive common paperwork such as bills of lading, load tenders, invoices and payment orders. Most impressively, they do it all with minimal human input, cutting down the need for data entry and the capacity for human error.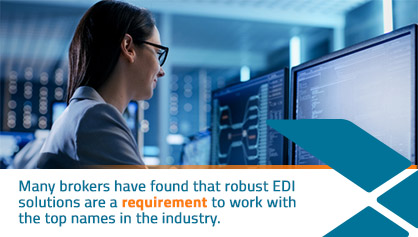 Many brokers have found that robust EDI solutions are a requirement to work with the top names in the industry. The truth is that many large shippers and carriers simply aren't willing to deal with physical paperwork and constant e-mail, and it's hard to blame them. Thus, EDI capability is often one of the factors that separates lower level freight brokers from the power players—if your brokerage doesn't have EDI capability, you could find your business locked out of many of the most lucrative contracts. Beyond that, EDI also provides an efficiency advantage by greatly reducing the amount of paperwork that employees have to deal with, allowing them to focus their efforts in other areas.

Greater access to load boards creates more flexible scheduling, cutting idle time and redundant trips.
Taking advantage of load boards is a key element of success in freight brokerage. The top names like DAT, 123Loadboard and Truckstop.com can serve you well, but to truly excel, it's important to have your loads posted where they'll be seen by as many truckers and carriers as possible. The best freight software is integrated with numerous load boards, including smaller, specialty and intermodal boards that may give you a better deal.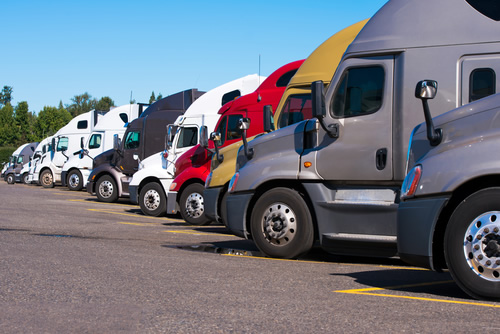 More load boards equals more options, which equals more flexibility, which often equals cost and time savings. By choosing software that provides your business with the broadest range of choices possible, you can often reduce the time that loads spend idle and redundant trips that truckers have to make. Best of all, many software options offer direct load board integration, allowing brokers to manage board postings through the same interface that they use for all of their other work.

Analytics capabilities empower brokers to create new business strategies.
Freight brokerage requires coordinating carriers, shippers and receivers across hundreds or thousands of miles, and that means that seeing the big picture is a necessity. To get all of those pieces working in the correct order, it's important to get a better look at the numbers behind your business.
However, it can be very challenging to consolidate all the data you need onto one platform, to say nothing of analyzing it for cost savings and efficiency improvements. That's why you need the powerful built-in tools of a freight brokerage software suite. Since most functions of the business can be operated through a single interface, data flows directly into storage, with significantly reduced need for time-consuming data maintenance tasks.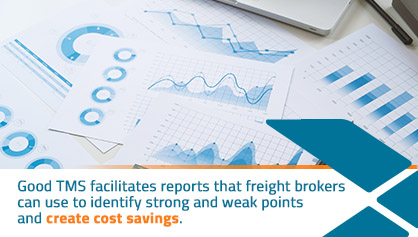 Good TMS includes the ability to generate robust reports on key data points such as lane profitability, carrier performance and payload optimization. Even more importantly, it facilitates the generation and management of reports that freight brokers can use to identify strong and weak points and create cost savings. Which reporting and analysis system works best for your business will often be a matter of personal preference, so this is a great area to spend some time with when requesting a trial or demo of a TMS. But the important thing is that you have one and that your staff finds it comfortable to use.

All-in-one financial systems reduce accounting errors and redundancies.
Errors in a freight broker's financial system can be extraordinarily costly. Many brokers deal with millions of dollars' worth of goods every day, so even a small error can be disastrous if it goes unnoticed. That's why the integrated accounting features in a TMS can save you a great deal of money and effort.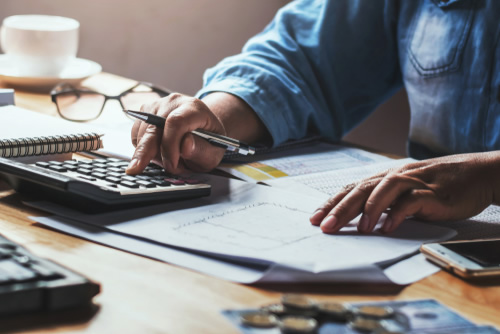 By reducing manual data entry and automatically coordinating key accounting functions like invoicing, accounts payable and receivable and profit and loss reporting, TMS software makes it much harder for errors to creep into your accounting. Most TMS software also now includes graphic interfaces (a la Quickbooks) that make accounting data easier to visualize and work with. Finally, many models can also integrate with a business's existing accounting software, making data migration unnecessary. Thus, it's much easier to avoid accounting errors that hurt your bottom line and erode your clients' trust when you have so many integrated accounting options at your fingertips.

Load management tools create more streamlined and profitable operations.
Bookkeeping software is all well and good, but operations is the bread and butter of a profitable freight brokerage. And for agile and aggressive operations, you need good load management tools. That typically includes functions such as tracking the status of each load, contact information for drivers and carriers, equipment required for each load and much more.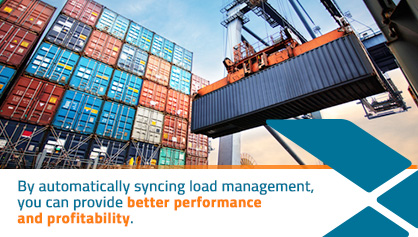 Load management is a standard function that almost every freight broker has access to through software, but it's another area in which the integrated approach of TMS software will serve you well. By automatically syncing load management with accounting, analytics and every other element of your system, you can reduce errors elsewhere in the system and provide better performance and profitability.
Tracking functions are one particularly important area that you should pay attention to when selecting TMS software. Load tracking is key for having an on-the-ground awareness of where each load is and for coordinating operations with your freight carriers. Most TMS products' load management tools include load tracking functions, but it's important to test out various options and find one that allows your team to manage logistical workflows effectively. Perhaps most importantly, a good load tracking system should enable you to easily update your clients on the status of each load and monitor them for problems. That trust between broker and client can be what makes or breaks a brokerage business, and load tracking is one of your most critical tools for maintaining it.

Cloud-based brokerage software offers full-featured performance with lower upfront hardware costs.
Quality brokerage software usually requires a sizable financial investment, but with the advent of cloud-based software, it's become dramatically more affordable. Cloud-based brokerage platforms reduce or eliminate your need to buy your own server equipment—a challenge that can eat up many resources for smaller businesses.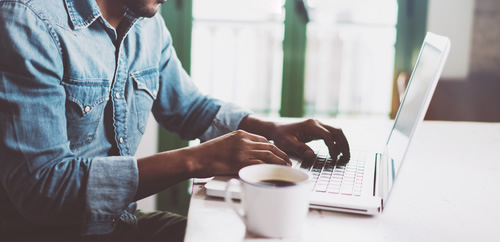 Many cloud-based TMS companies also now offer extremely competitive monthly rates. Some of the most popular TMS options offer basic plans priced at $100 per month or less, and many also offer free trials so you can take the software for a test drive. These also offer a scalability advantage as your business grows, since you can upgrade to an enterprise-tier solution with massively reduced hassle compared to a traditional on-premises software model.
Newer cloud-based models also include a variety of other benefits, such as automatic software updates pushed from a central server. Plus, you'll have the benefit of storing your data on multi-client cloud servers that have the kind of robust security infrastructure most brokers don't want to invest in. Your business is a freight brokerage, not a data warehouse—so let someone else take on the burden while you focus on what you do best.

Sales rep tools give you faster and more accurate quotes.
A freight brokerage sales representative depends on their ability to offer quick and accurate quotes, and the robust data features of freight broker software can help them offer that. TMS software provides access to a wide range of data instantly and the ability to quickly manipulate variables, creating quotes more quickly and more accurately.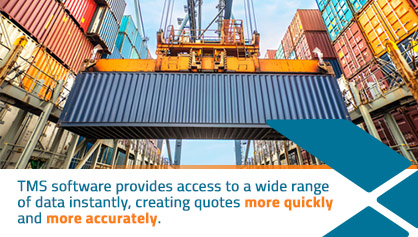 Mobile integration is another element that makes TMS software a great tool for sales reps. Most of the leading TMS options offer companion mobile apps that allow reps to access key capabilities from wherever they are. When properly employed, these tools can help your reps secure more contracts, provide more accurate quotes and keep your clients happy.

Using an integrated software solution reduces the need to add new system elements (and the potential compatibility issues that come with it).
Freight brokers using a patchwork system cobbled together from different kinds of software are at a big disadvantage compared to brokers who use an all-in-one integrated system. Systems that aren't built on a unified architecture often have issues with updating their various software elements and adding new ones to the infrastructure, creating a cascade effect of outdated versions and compatibility problems.
Many freight brokers even offer modular software designs so that should the broker's needs change later, they can add another module relatively painlessly. For example, a broker implementing a cross-docking system in their warehouse could work with their TMS provider to add a cross-docking module in the existing system rather than buying new software from a different provider. Modular systems reduce costly downtime, compatibility issues and IT person-hours associated with software changes.
Of course, there are also some situations in which it's necessary to integrate TMS software with existing systems. That's why many of today's leading TMS solutions now provide integration with common software products such as Quickbooks, Microsoft Dynamics and others. Thus, when you're considering choices for freight broker software, you may want to look for one that can be integrated with what you're currently using—there's a good chance that it's available.
With recent advances in the technology available, freight brokerage software is now a key tool for just about anyone in the business. The functionality of these high-powered software suites can extend to nearly every area of the freight broker's business, and there are enough options that any broker can find a solution that fits their needs. Choosing the right technology can often determine whether a freight brokerage business struggles or soars, and a freight brokerage software solution that fits your needs will help reduce your costs, streamline your operations and make the right choices.
At Surety Bonds Direct, we have numerous freight broker clients thanks to our outstanding rates on freight broker (BMC-84) bonds. For more information on freight broker bonds, including how we help our customers get lower rates on surety bonds, give our surety bond experts a call at 1-800-608-9950 or get a quick and easy surety bond quote from our online service. We work directly with surety bond providers to secure the best rates on freight brokerage bonds for your business, so you can spend the time focusing on your logistics expertise. However you choose to run your freight brokerage, you can be sure that Surety Bonds Direct will be there to protect it!
December 28, 2020

Jason O'Leary