A Dentist's Guide to Understanding DMEPOS Bonds
Everything you need to know about getting a DMEPOS surety bond for your dental practice, from the general basics of surety bonds to how to apply for and file a DMEPOS bond.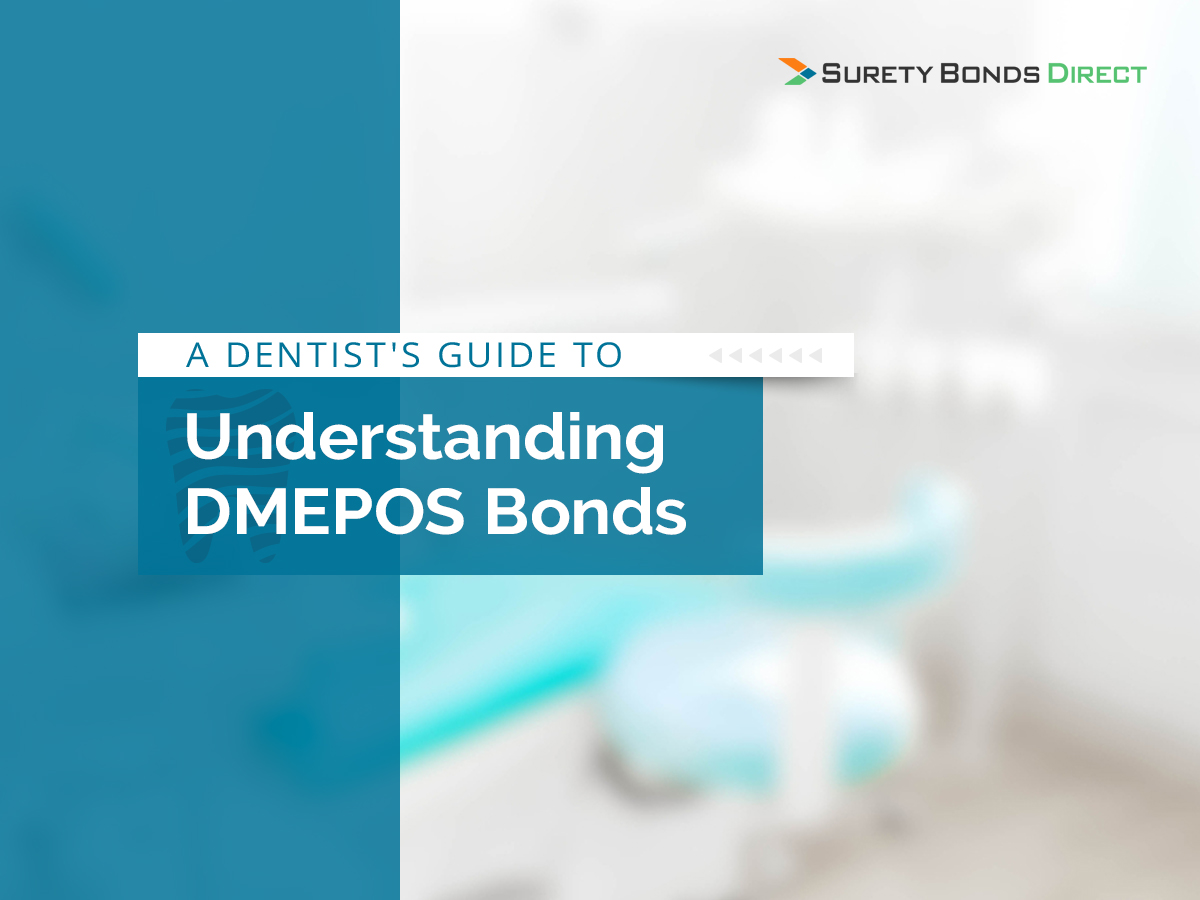 Durable medical equipment (such as prosthetics, orthotics, pacemakers, and sleep apnea devices) is a critical element of medical care for millions of Americans. Many of these patients are seniors or people with disabilities who rely on Medicare to help them afford their medical devices. Often, medical professionals who want to accept Medicare for durable medical equipment need to first obtain durable medical equipment provider or supplier (DMEPOS) surety bonds.
DMEPOS bonds protect against Medicare billing fraud for medical equipment. While physicians and physical therapists are the most common types of medical providers who need DMEPOS bonds, dentists who prescribe certain types of medical equipment have been required to obtain DMEPOS bonds since November 2018.
The process of how to get a DMEPOS bond can seem intimidatingly complex, particularly for dentists, who may be less experienced at navigating the Medicare system than other providers. In this guide, we'll show you everything you need to know about getting a DMEPOS surety bond for your dental practice, from the general basics of surety bonds to how to apply for and file a DMEPOS bond.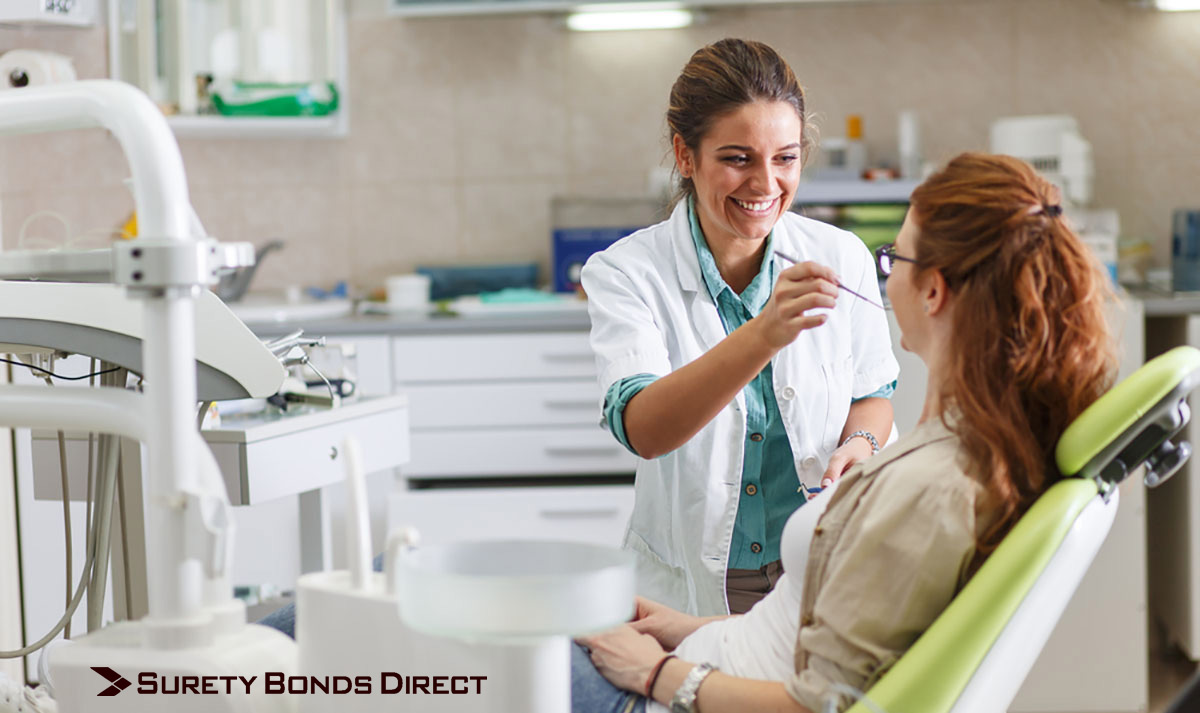 What is a DMEPOS Surety Bond?
What is a surety bond? That's one of the first questions that many dentists will ask when learning about the requirements for becoming an accredited DMEPOS supplier. Fortunately, it's a relatively simple concept.
Surety bonds are three-party agreements that provide a financial guarantee for an obligation or contract. They're commonly required for many types of government licensure. The parties in a DMEPOS surety bond are:
Principal: The party whose obligation is guaranteed by the surety bond—in this case, the DMEPOS provider
Obligee: The party that requires the principal to obtain the bond—in this case, the Center for Medicare and Medicaid Services (CMS)
Surety: The party that provides the financial guarantee, usually an insurance company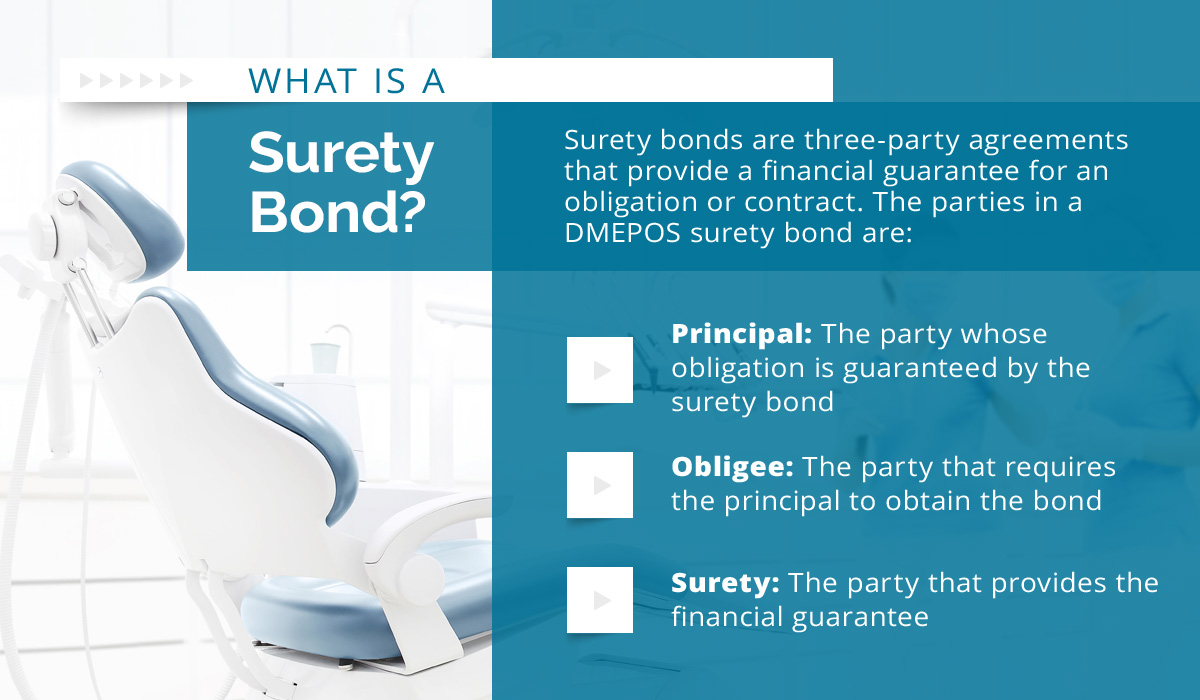 A DMEPOS surety bond is a specific type of surety bond that's required for any supplier of durable medical equipment who wants to bill Medicare.
If CMS believes that a DMEPOS provider has used fraudulent practices in billing Medicare, they'll first reach out to the provider and request payment of a financial penalty. If the provider is unable or unwilling to pay, CMS can file a claim with the surety. The provider is required to pay the surety back for any funds that the surety pays to CMS for a valid surety bond claim.
The maximum amount that the surety will pay is called the penalty sum or coverage amount. Different types of surety bonds require different penalty sums, but a DMEPOS bond's penalty sum is usually $50,000.
Why Are DMEPOS Surety Bonds Required for Dentists?
The purpose of DMEPOS surety bonds is to ensure that providers use honest and transparent billing practices when billing Medicare for durable medical equipment. Medicare fraud and abuse by providers is a significant problem that costs Medicare billions of dollars every year.
Medicare fraud and abuse is a particular problem in the DME sector. Common types of fraud involving DME include:
Billing Medicare for DME devices that patients never receive (and in some cases have not ordered at all)
Billing Medicare for DME devices that aren't approved by the FDA
Organizing kickback or referral fee schemes with other providers to prescribe unnecessary DME devices
"Upcoding" Medicare billing items by using a more expensive billing code than is actually needed
A DMEPOS bond guarantees a provider's compliance with the federal government's billing standards. This helps keep Medicare costs down for patients and providers, and it also protects taxpayers from paying for fraudulent medical care.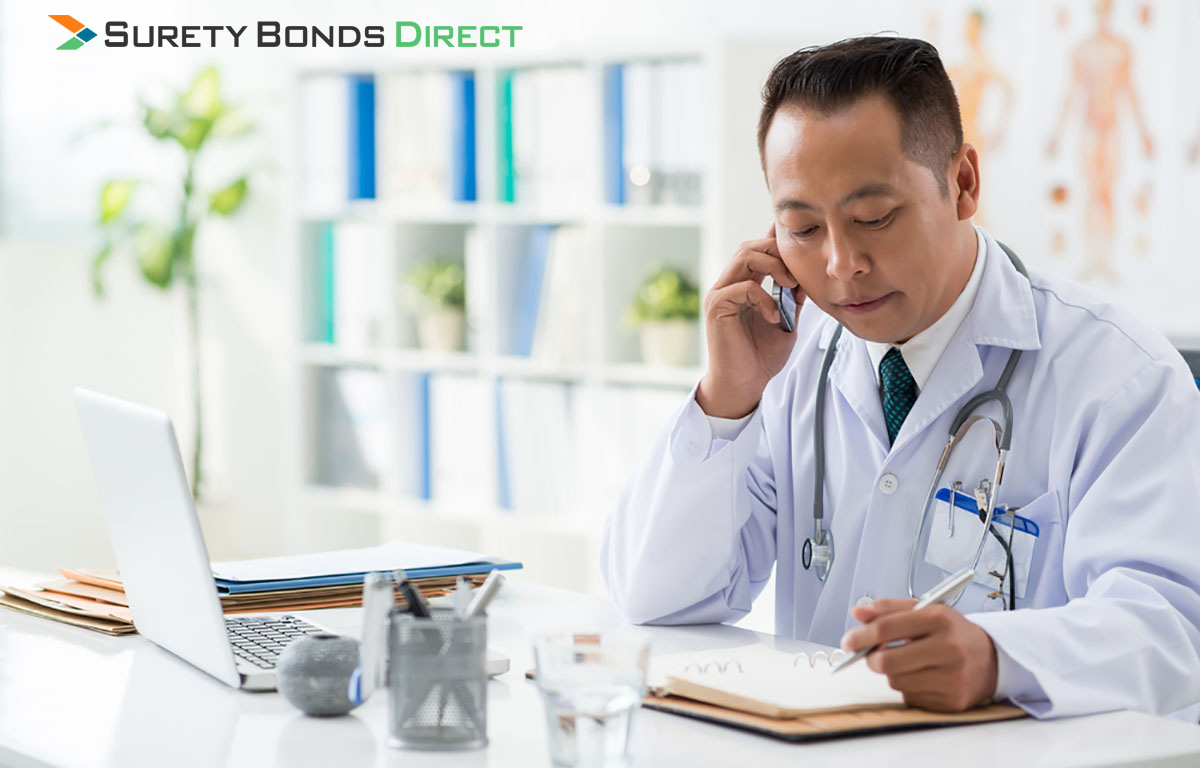 The penalties for Medicare fraud and abuse are steep, including heavy fines and the loss of Medicare billing privileges. Thus, it's important that all providers who accept Medicare (including dentists) be familiar with Medicare billing laws so that they can avoid anything resembling fraud or abuse in their billing practices. For more information on what CMS considers Medicare fraud and abuse, plus tips on how to prevent it in your practice, see the CMS brochure on Medicare fraud and abuse.
Dentists, DME, and Medicare
Since Original Medicare does not cover dental work in most cases, most dentists don't accept Medicare or have to deal with Medicare billing. Thus, the average dentist does not need a DMEPOS bond, even if they sell items such as dentures that could be considered durable medical equipment. However, there are some specific circumstances in which a dentist who sells durable medical equipment may want to accept Medicare. Under these conditions, a dentist will need a DMEPOS surety bond.
The major change to dentists' relationship with Medicare came in 2011, when Medicare approved reimbursement for dentists who sell custom oral appliances for managing obstructive sleep apnea (OSA). (Prefabricated OSA oral devices sold by dentists are still not covered by Medicare.)
Dentists are not permitted to prescribe OSA devices themselves since they cannot perform and interpret the sleep tests required to diagnose OSA. However, a dentist can be considered a DMEPOS provider when they perform measurements and fittings required for a custom OSA device prescribed by another medical practitioner.
Up until 2018, dentists who accepted Medicare and sold durable medical equipment were exempt from DMEPOS bond requirements. However, since November 2018, dentists have been required to obtain DMEPOS surety bonds like any other DMEPOS supplier. This requirement helps ensure that dentists follow the rules of Medicare billing.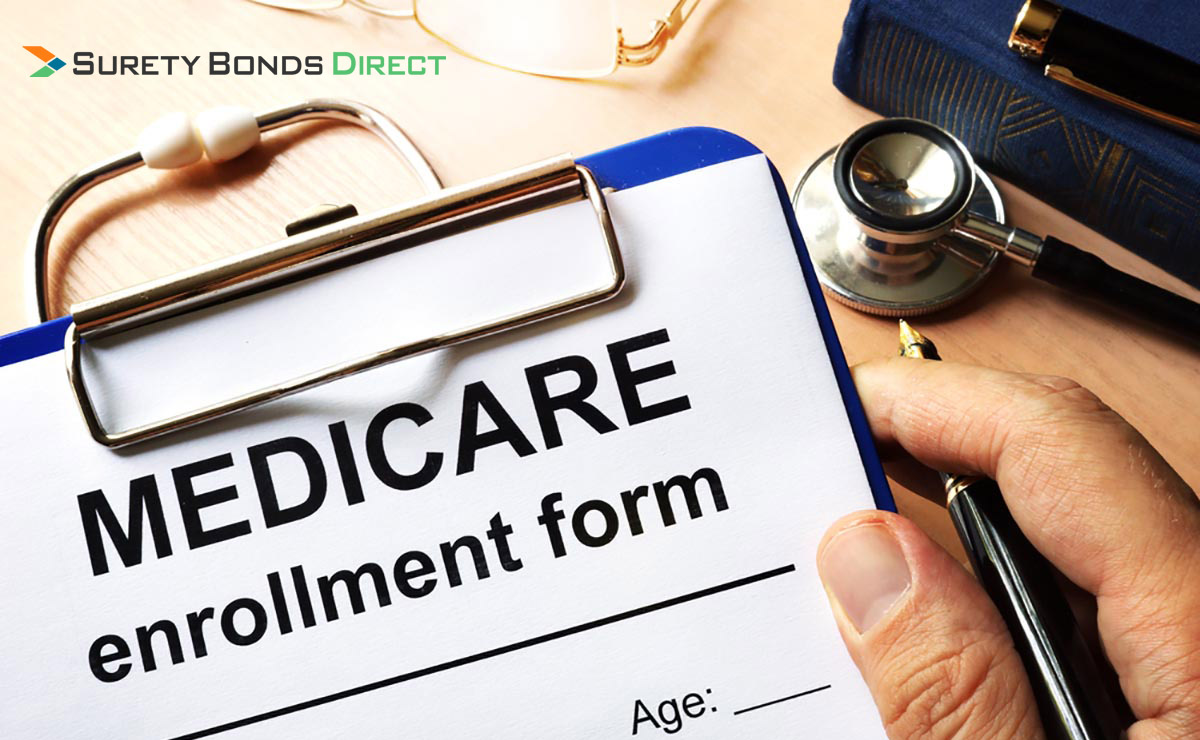 In addition to obtaining DMEPOS surety bonds, dentists who want to enroll as DME suppliers will also need to follow the CMS rules outlined in 42 CFR §424.57. This section of federal law regulates who is considered a DMEPOS provider, who is exempt from DMEPOS provider requirements, and the provider registration process.
DMEPOS Bond Requirements for Dentists
The DMEPOS surety bonds required for dentists are the same as DMEPOS surety bonds for any other DME supplier. Since DMEPOS bonds are required by federal law, their terms are the same no matter which US state you're located in.
Bond must cover a penalty sum of $50,000 (more if the provider has a felony record, has had their license suspended in the past, or has lost Medicare billing privileges in the past)
Bond must have a term of at least 1 year
Provider must post a separate bond for each location that has its own National Provider Identification (NPI) number
CMS and CMS contractors must have the right to file claims against the bond
Provider must furnish proof of their surety bond to CMS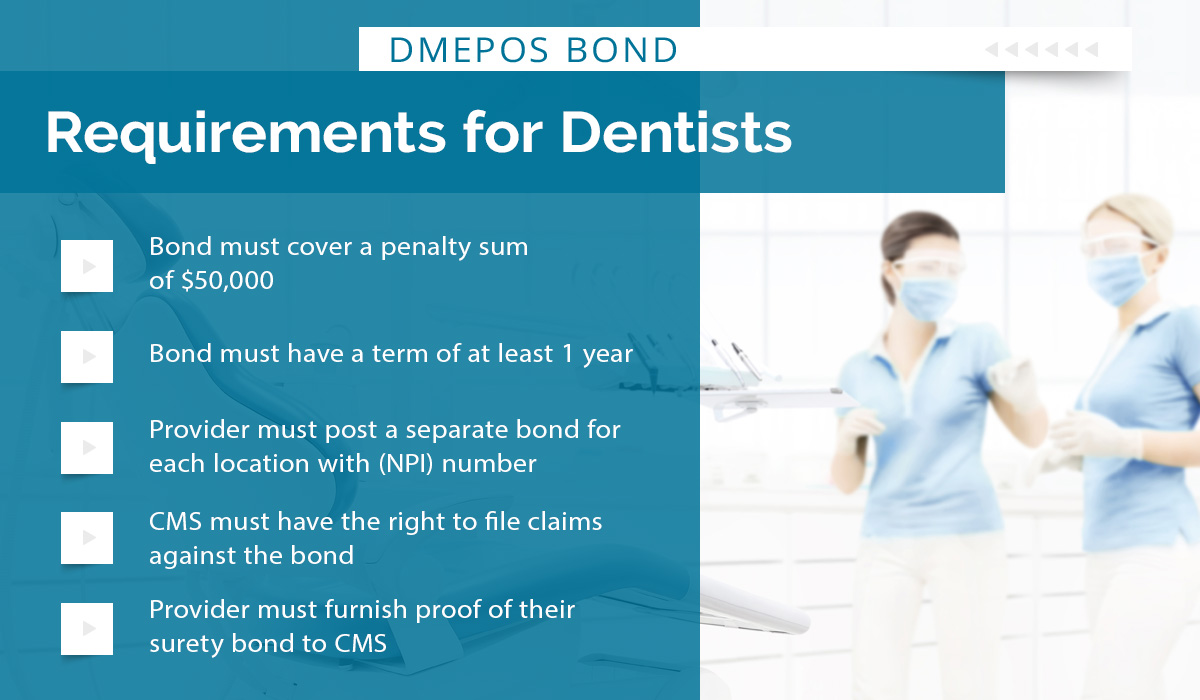 For the complete DMEPOS bond requirements for dentists, see the CMS fact sheet for dentists enrolled as DMEPOS providers.
How Much Does a DMEPOS Surety Bond for Dentists Cost?
To get your DMEPOS surety bond, you'll need to pay a premium. You'll pay your premium once when you purchase your DMEPOS bond, and again when you renew the bond every year. The premium is a small percentage of the penalty sum, typically 0.5 percent to 2 percent. For a standard $50,000 DMEPOS surety bond, that's a premium of $250 - $1,000. The relatively wide variation in premiums stems from the process that the surety uses to calculate a principal's risk level.
A principal's premium depends on the risk level that the surety assigns to them based on the underwriting process. Principals with higher credit scores will have access to better rates on surety bond premiums. If you have bad credit, past bond claims, or you have lost Medicare billing privileges in the past, you might face higher DMEPOS bond premiums.
However, there are ways to get a surety bond with bad credit. Surety Bonds Direct works with a wide variety of sureties, some of which specialize in providing affordable rates for principals with bad credit. You can also have a cosigner with good credit added to your surety bond, or take advantage of the premium financing options that Surety Bonds Direct offers.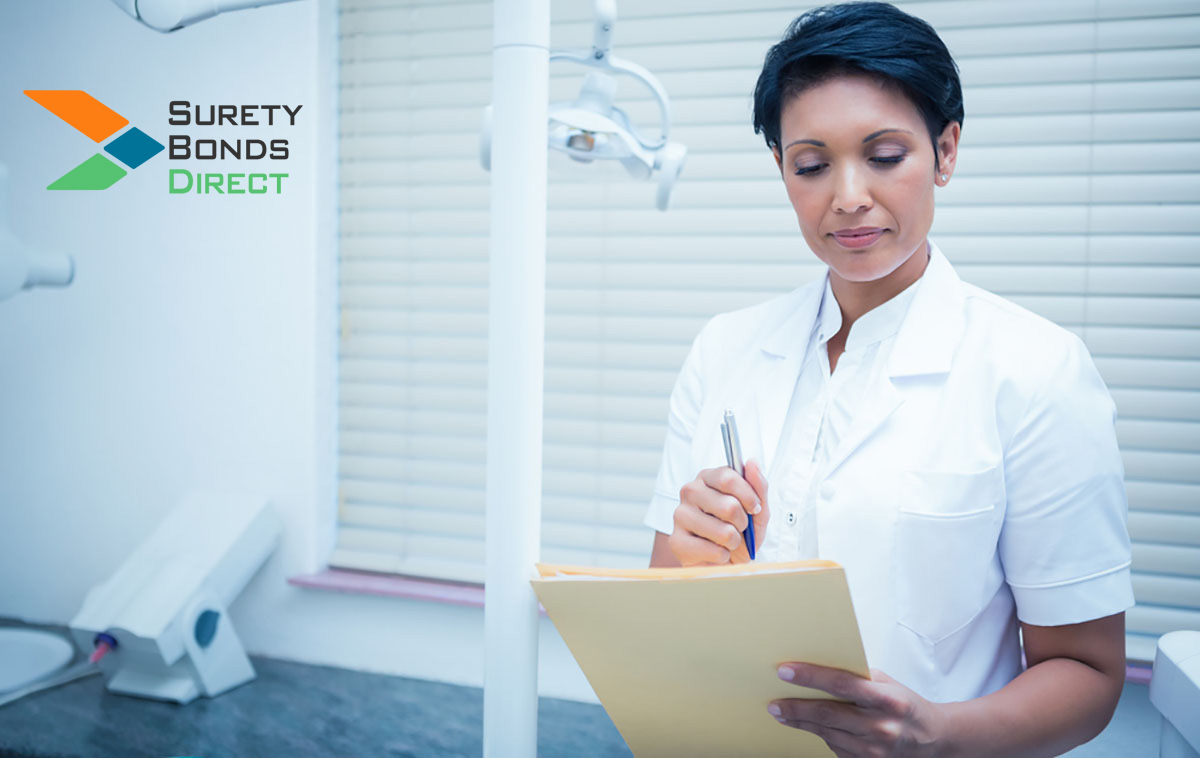 Applying for Your DMEPOS Bond
If your dental practice requires a DMEPOS bond, you'll need to apply for your surety bond as soon as possible, since CMS will not approve Medicare billing privileges until a provider submits proof of bonding. Follow these steps to get your surety bond:
Find a surety bond company or surety bond broker that offers DMEPOS bonds.
Apply for a surety bond quote online. You'll need to provide some basic information about your personal and financial history, as well as your NPI number and PTAN number.
The surety will assess your risk level and provide you with a quote for the premium you'll pay, usually in just a few minutes.
If you're satisfied with the quote, you can pay the premium online and get your bond documents instantly via email.
Submit the bond paperwork to CMS as part of your DMEPOS accreditation application.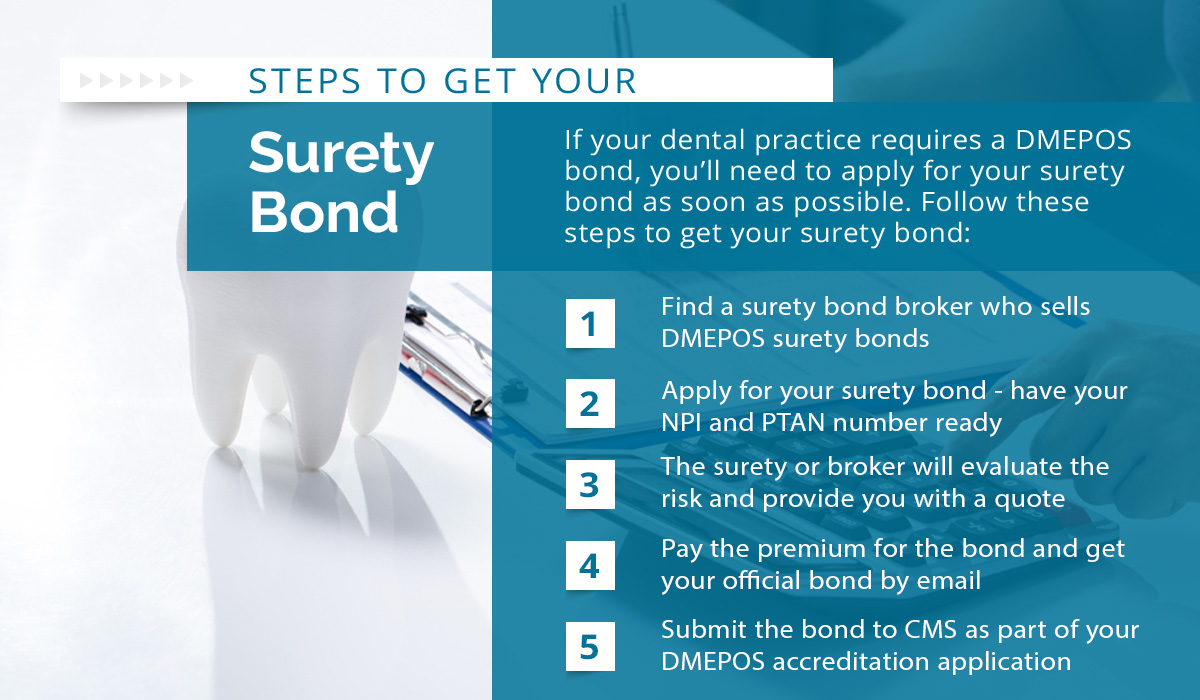 Surety Bonds Direct is a leading supplier of DMEPOS bonds for dentists across America. We know the surety bonding process can be intimidating, so we provide fast and friendly customer service that makes it easy. Thanks to our practice of working directly with a network of reliable sureties, we also offer lower premiums than other surety bond brokers.
Ready to get started with your DMEPOS surety bond? You can get a free DMEPOS bond quote for your dental practice today in just a few minutes. Need help with your application or have questions about your bond? Call our surety bond professionals at 1-800-608-9950 or contact us online for more information.
December 28, 2020

Jason O'Leary