9 Things to Consider When Buying or Selling a Yacht in Florida
From choosing a broker with a Florida yacht broker license to conducting your sea trial, these key tips will help you buy or sell your yacht in Florida.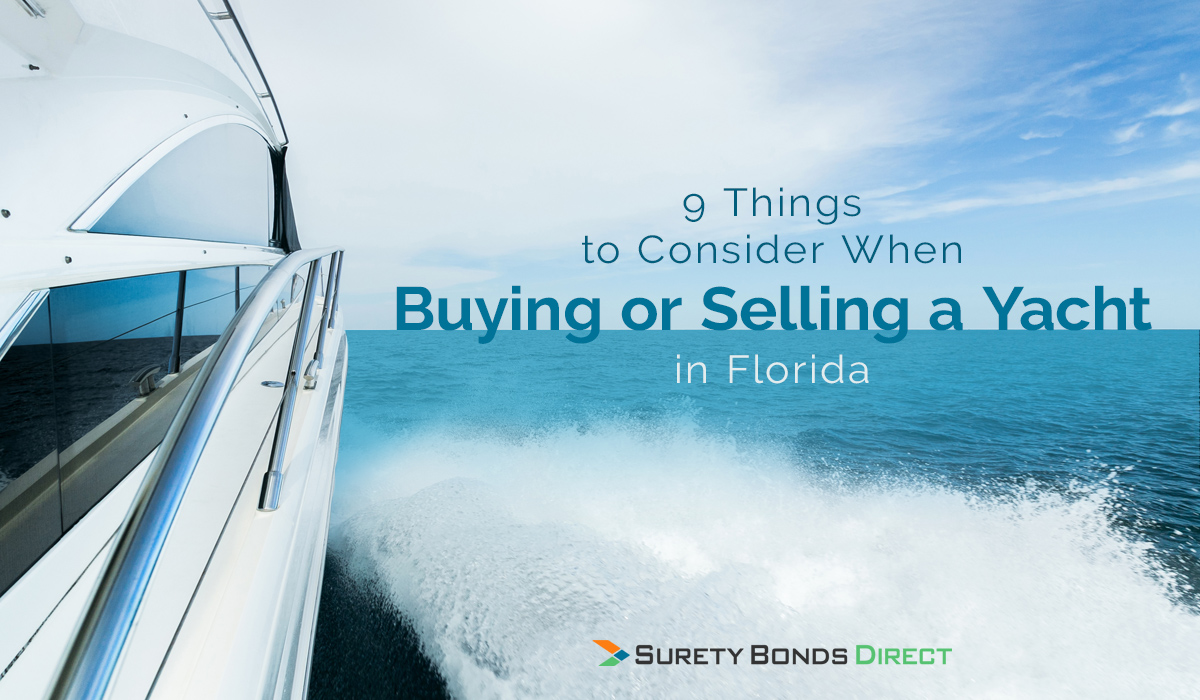 For Floridians who feel the call of the ocean, a yacht can be a treasured investment. It can be the gateway to adventure, leisure, and the ability to explore the beautiful coastlines of the Sunshine State. On a yacht, you can relax with friends, go for a swim, enjoy a delicious meal, or even catch that meal fresh from the ocean.
However, a yacht is a major investment, and buying or selling one involves assuming certain responsibilities. From finding a broker with a Florida yacht broker license to paying all required taxes and fees, it's important to be aware of the critical process steps before beginning your yacht buying or selling journey.
Anyone buying or selling a yacht in Florida should know about the nine key factors that we'll discuss here. We'll discuss four factors of buying a yacht in Florida, four for selling a yacht in Florida, and one best practice that yacht buyers and sellers alike should follow.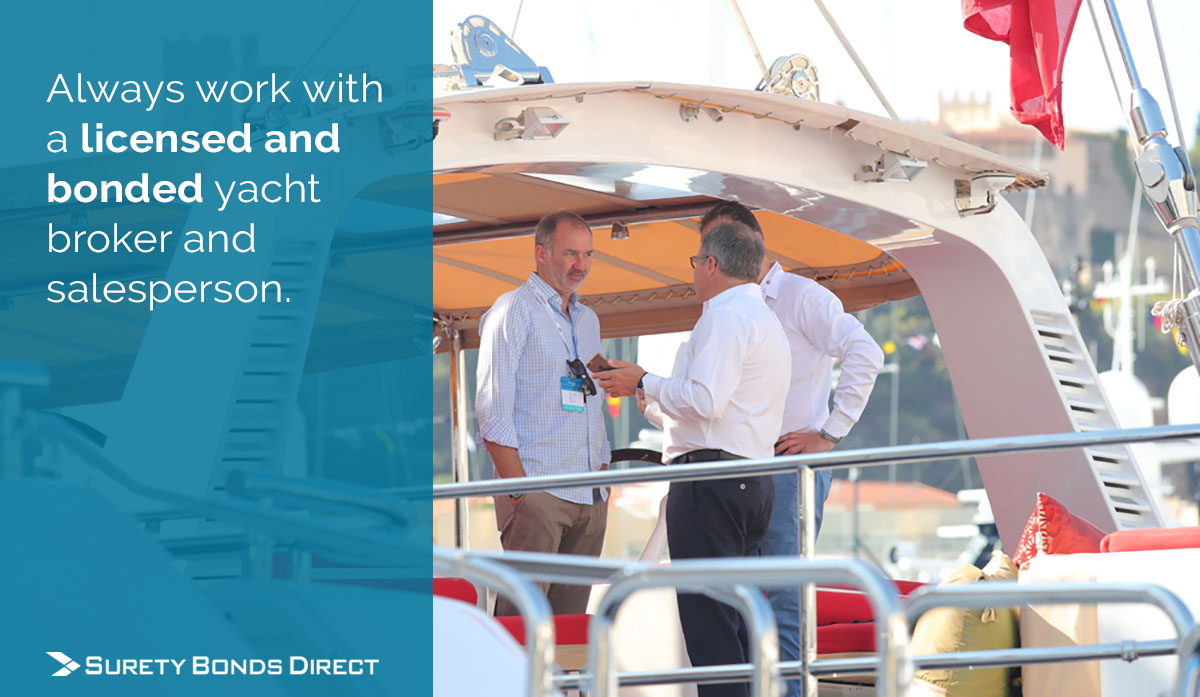 Buying or Selling: Use a Broker with a Florida Yacht Broker License
Both yacht buyers and yacht sellers will benefit from using a licensed and certified Florida yacht broker. Buyers will love the security and confidence that comes with working with an experienced yacht expert. Sellers will get a competitive advantage by working with someone who knows how to highlight a yacht's best qualities and reach out to qualified buyers.
You can check a Florida yacht broker's license by searching for the broker or salesperson's name or license number in the Florida DBPR's records. If the yacht broker employs other yacht salespeople, the sales staff should hold Florida yacht salesperson licenses. Avoid working with a yacht broker or salesperson who has had their license suspended or makes excuses for their lack of licensure.
It's also highly recommended to work with a yacht broker with a certification from the Yacht Brokers Association of America (YBAA). Their Certified Professional Yacht Broker (CPYB) certification is the industry's gold standard for yacht sales professionals. A yacht broker must fulfill several qualifications to achieve CPYB certification, including passing a written exam and demonstrating at least two years of experience in the industry.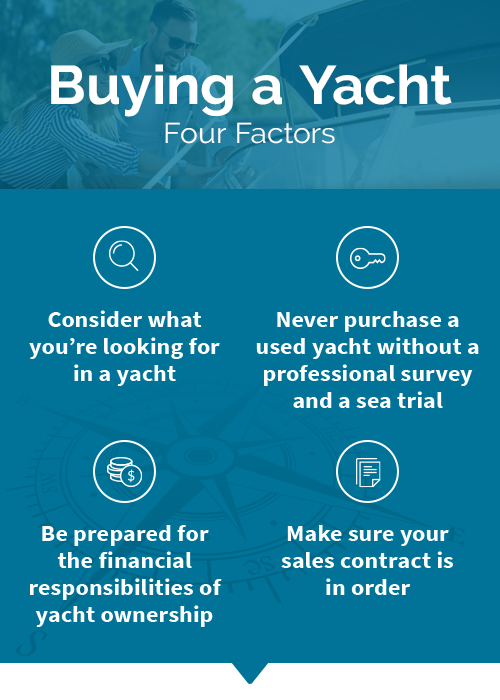 Buying a Yacht
Know approximately what you're looking for.
Before beginning your yacht-buying journey, you'll want to consider what you're looking for in a yacht. Consider the major factors that will influence your selection, including:
What is your budget?
Are you interested in buying a used or new yacht?
Are you interested in motor yachts, sail yachts, or both?
How many passengers does your yacht need to hold?
Do you want a yacht that you can pilot yourself or one that needs a crew?
Do you want a yacht equipped with full-sized bedrooms and indoor living areas?
What kind of activities (e.g., fishing, swimming, scuba diving) are you interested in enjoying on your yacht?
Do you want your yacht to include features such as a swim platform or dinghy?
What kind of media-playing devices do you want your yacht to come equipped with?
Do your local marinas have slip size limitations that will restrict the size of yacht you can choose?
While you're considering these key factors for choosing your new yacht, start reading reviews of popular yacht models. Learn about the must-have features of today's yachts and explore the listings of local yacht dealers. This "pre-selection" process is crucial for narrowing down the many models of yacht available and directing your attention toward the models that most suit your wants and needs.
Never purchase a used yacht without a professional survey and a sea trial.
Before purchasing a yacht, you should have the utmost confidence that the vessel is seaworthy and that you enjoy spending time on it. The best way to achieve this is through a professional survey and sea trial.
A professional yacht surveyor has the tools and expertise to give a yacht a true assessment of seaworthiness. You can find a qualified professional marine surveyor through organizations like the American Boat and Yacht Council, or your Florida yacht broker can recommend one. Many lenders require a yacht to be professionally surveyed before they will agree to finance its purchase.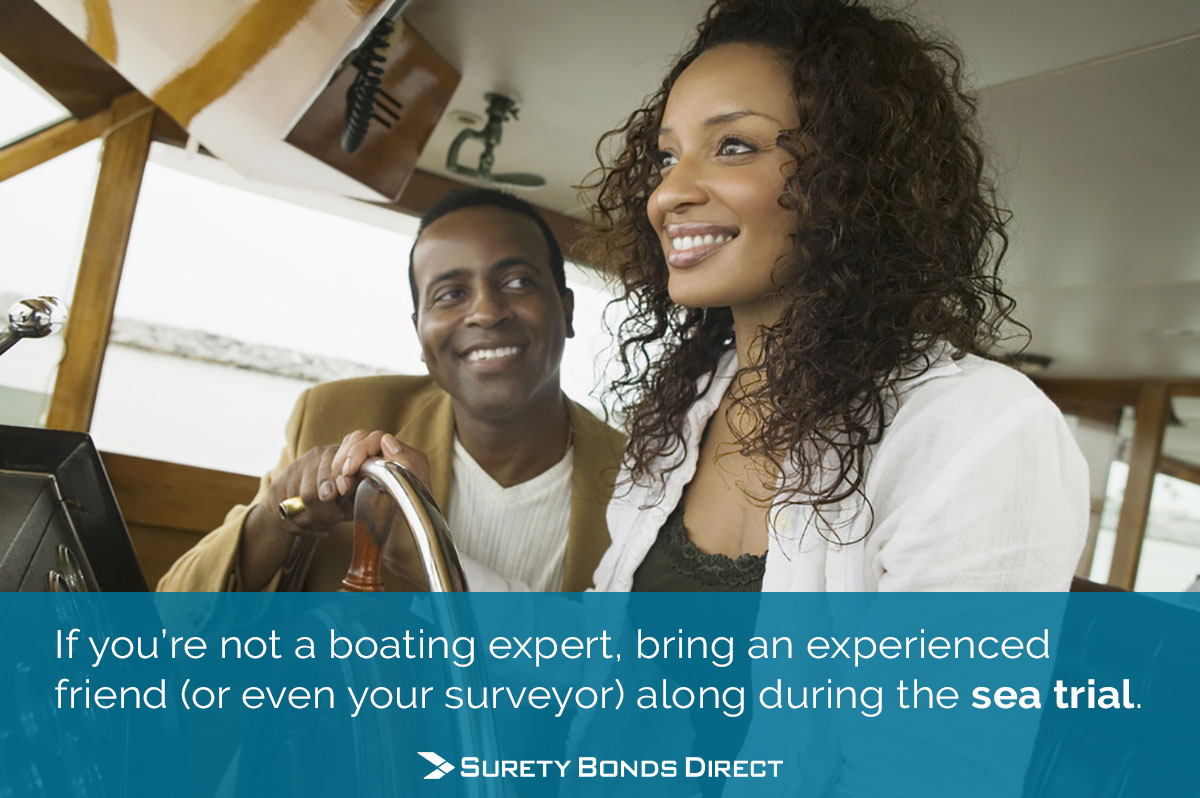 You'll also want to take the yacht out for a sea trial (essentially a test drive). During a sea trial, you'll want to take note of key factors such as:
Engine performance, both at top RPM and cruising RPM
Amount of vibration and noise created
Ability to handle tight turns
Functionality and design of marine electronics
Suitability for your favorite activities
Comfort for both driver and passengers
Sun glare and reflections that make instruments hard to read
If you're not a boating expert, bring an experienced friend (or even your surveyor) along during the sea trial. Remember that the buyer assumes the fuel cost of the sea trial, so reserve it for a yacht that you're serious about buying.
Professional surveys and sea trials do increase the cost of buying a yacht. However, these costs pale in comparison to losses or repair costs you may incur from buying a mechanically unsound vessel, so resist the temptation to save money by skipping these important steps.
Make sure your sales contract is in order.
A sales contract is an essential legal document for a yacht purchase. Sales contracts should include all of the following information:
Full names and contact information of the buyer and seller
The make, model, engine serial number, year of manufacture, and hull identification number (HIN) of the yacht
Purchase price of the yacht and payment method, including escrow account information
Seller's declaration that no outstanding liens or taxes are owed against the yacht
A detailed assessment of the yacht's mechanical and cosmetic condition, including disclosures of any known issues
Detailed description of any warranty included with the yacht's purchase
Date on which the seller will deliver the yacht and finalize the sale
Clauses that make the sale of the yacht contingent on a satisfactory sea trial and inspection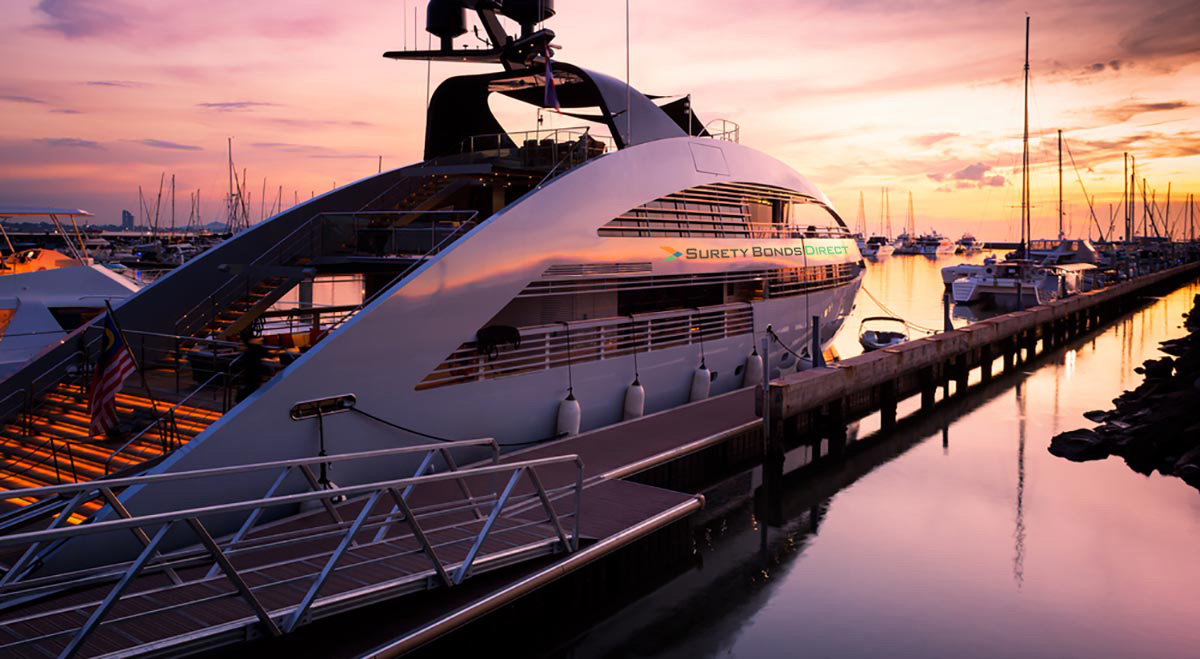 Buyers and sellers alike should have their sales contract inspected by an attorney with experience in maritime and/or contract law. In the event that any questions or disputes arise later, this contract will ensure that you can obtain legal recourse.
Be prepared for the financial responsibilities of yacht ownership.
Owning a yacht is a major financial commitment that doesn't end when you've signed the purchase papers. Yacht ownership involves numerous financial responsibilities such as:
Insurance
Taxes
Slip and mooring fees
Yacht club or marina membership
Fuel costs
Crew wages
Maintenance and repair costs
Before making your purchase, do some research about how much you can expect to pay for these upkeep costs. Contact your local marinas to learn the cost of their available slips, and talk to an insurance company about their insurance products for marine vessels. Finally, don't forget that you'll also need to pay a 6 percent Florida sales tax on the yacht's value.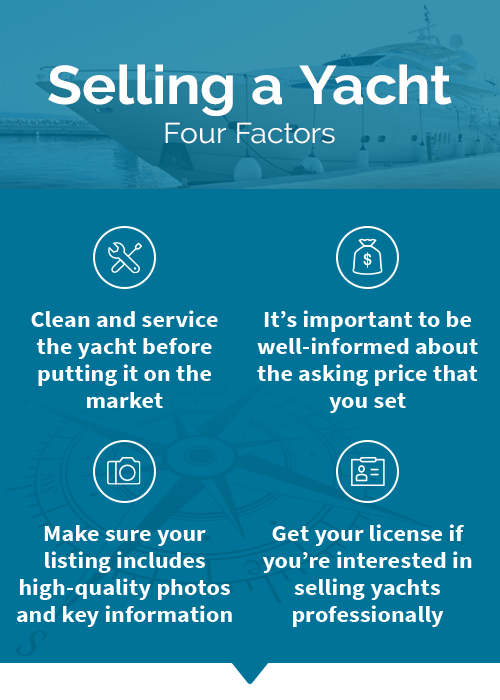 Selling a Yacht
Clean and service the yacht before putting it on the market.
The interior, exterior, and mechanical condition of your boat should all be in the best possible state before you list your vessel. Some steps that sellers can take to make a yacht appealing to a buyer include:
Cleaning the interior thoroughly, including the bilge and engine room
Removing excessive personal effects and clutter to make the interior seem more spacious
Waxing the boat, repairing the gel coat if necessary, and cleaning the hull
Ensuring that caulking and sealants are in good condition
Replacing dock lines
It's often worth the cost to hire a professional boat detailer to get the interior and exterior of the yacht looking great. Owners of smaller yachts can save money by detailing their own boats, although it's important to do your research on the proper cleaning techniques for your yacht model.
A marine mechanic should give the yacht a thorough inspection before you place it on the market. Even if your boat runs smoothly, it may have hidden mechanical issues that only a trained professional will notice. Make sure to have any repairs completed by a professional prior to sale, and get them documented in writing by your mechanic.
Do some market research.
Unfortunately, it's not as easy to find an accurate value for a yacht as it is for a car or truck. Thus, it's important to be well-informed about the asking price that you set for your vessel. There will be a variety of factors that affect the value of a yacht in Florida, including:
Size of the yacht
Make, model, and manufacturing year of the yacht
How well the yacht has been maintained
Geographic area of Florida in which the yacht is being sold
Time of year that the yacht is being sold
Amount of time the yacht has spent on the market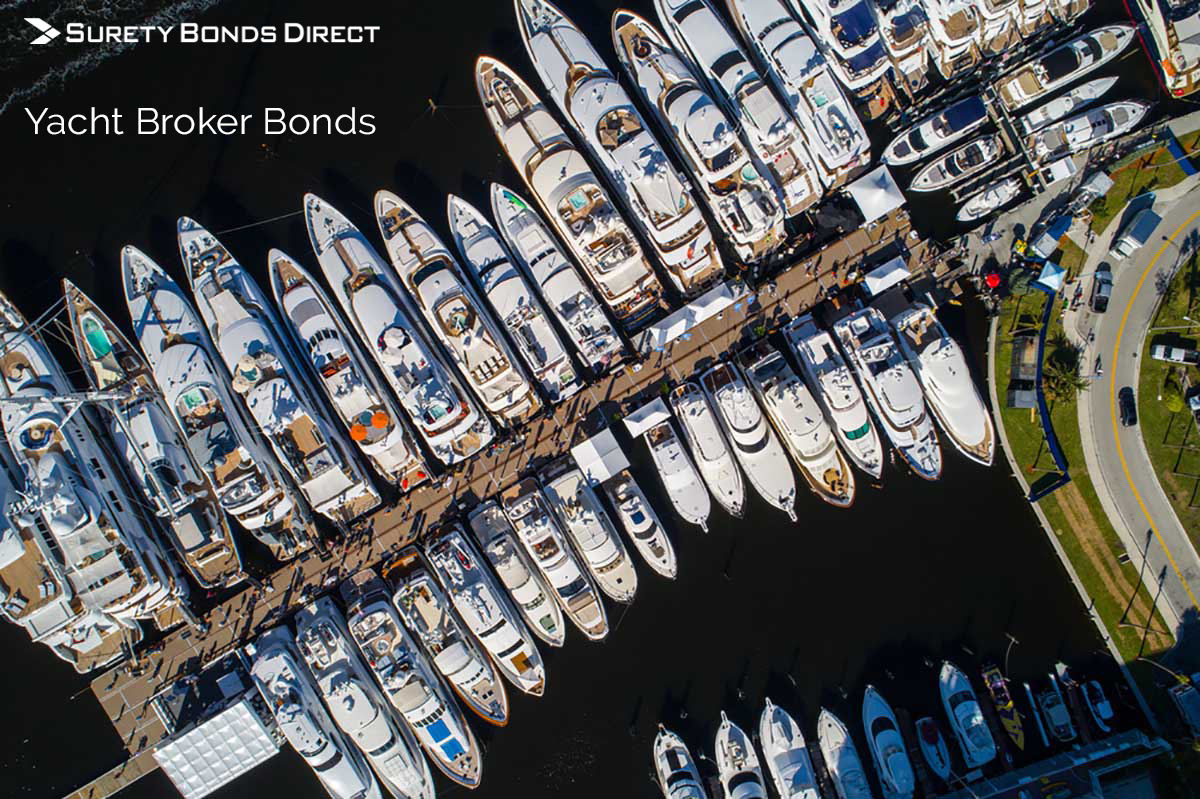 Sellers can look at yachts of similar models and sizes on yacht listing sites to get an idea of the potential value of their yacht, but the best option is usually to work with a qualified Florida yacht broker. Brokers have access to years of yacht sales data that helps them find a realistic asking price for your vessel, and they know how to evaluate a vessel's condition in ways that a layperson usually doesn't.
Make sure your listing includes high-quality photos and key information.
For most buyers, a yacht's online listing will be their first and only impression before seeing the vessel in person. You'll want to spend some time crafting a listing that entices buyers and provides all of the relevant information, preferably with the help of a licensed Florida yacht broker.
It's a great idea to hire a professional photographer to take HD pictures of your yacht's interior and exterior. Clean, well-lit photography will help you emphasize the vessel's most attractive features. Try to keep other boats and marina features out of the shots as much as possible.
Your listing should also include a complete summary of the boat's most important information, including its make, model, year, and engine specifications. Make sure to have this information on hand, as well as the title and registration, before you reach out to a Florida yacht broker to list your yacht.
Get your Florida yacht broker or yacht salesperson license if you're interested in selling yachts professionally.
If you're interested in entering the yacht business as a Florida yacht sales professional, it's important to have the right credentials. You'll need a yacht broker license or yacht salesperson license issued by the state of Florida, which you can apply for using state form BPR 6000-2.
To get a Florida yacht broker license, a broker must register with the Florida Department of Business and Professional Regulation and provide a $25,000 yacht broker surety bond. A yacht salesperson licensure (which requires the salesperson to work for a licensed yacht broker) requires a $10,000 yacht salesperson surety bond. These requirements help ensure that licensed Florida yacht brokers are financially sound and that the customer's financial interests are protected in the event of a dispute.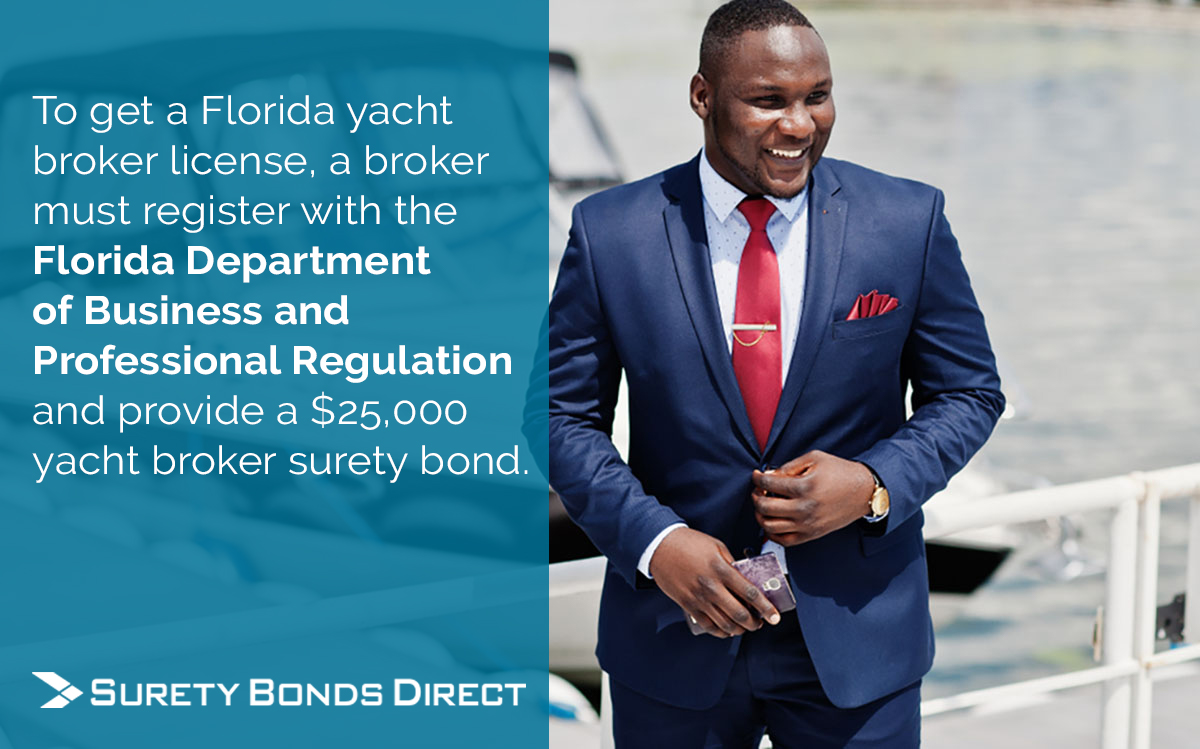 Note that yacht brokers must have at least two years of licensure as a Florida yacht salesperson working for a licensed broker. If you're entering the yacht sales field for the first time professionally, you should begin your career as a licensed Florida yacht salesperson.
Buying or selling a yacht is a big decision that shouldn't be taken lightly or made too quickly. Take your time to do the relevant research, and work with a trusted professional Florida yacht broker to help you get the deal that's right for you.
For those on the path to their Florida yacht broker license, Surety Bonds Direct offers the easiest and most cost-effective way to get a surety bond in Florida. Call us at 1-800-608-9950 to speak to a surety bond expert, or get your yacht broker surety bond quote online today for free in just a few minutes.
December 28, 2020

Jason O'Leary