A surplus lines broker is an insurance agent with the authority to find and place coverage with non-admitted (not licensed) insurers in the state in which they are doing business. Businesses that require high-risk coverage that is too much for admitted insurance companies to carry can expect their insurance agent to turn to a surplus lines broker to find surplus lines insurance to cover their needs.
The surplus lines insurance industry is less regulated than the admitted insurance industry. This fact necessitates protection on the part of the surplus lines broker. Surplus lines brokers are required to follow multiple regulatory rules, including purchasing a surplus lines broker bond which ensures that a surplus lines broker meets all the state and federal requirements and protects the business covered by the insurance.
Surplus Lines Insurance and Surplus Lines Brokers
Surplus lines insurance exists to protect against financial risks which regular insurance companies cannot take on. While normal insurance coverage must be purchased from an insurer licensed in the insured company's state, surplus lines insurance can be bought from a provider that is not insured in the insured business's state. However, the surplus lines insurer and the surplus lines broker representing them must hold a license in their operating state.
Surplus lines brokers help those who need high-risk insurance find surplus lines coverage. Typically, surplus lines brokers don't work directly with the company looking for insurance. Instead, the company's insurance agent enlists them to find a policy that will cover their client.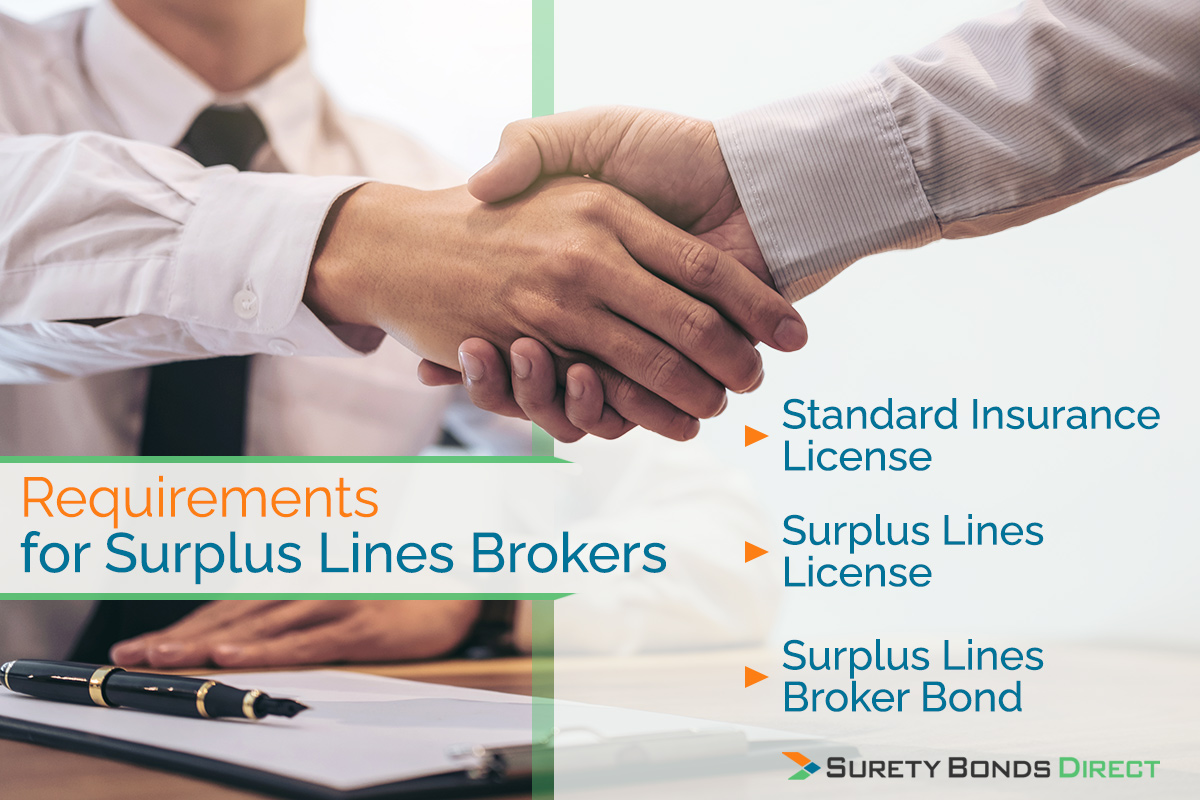 Requirements for Surplus Lines Brokers
Since surplus lines insurance is high-risk, brokers must adhere to strict regulations, and they are overseen for solvency by their domiciliary country or state. A surplus lines broker must hold three regulatory items to operate. These are a standard insurance license, a surplus lines license and a surplus lines broker bond.
1. Standard Insurance License
A standard insurance license applies to any area of insurance that the surplus lines broker wishes to offer. Many surplus lines brokers are licensed in property or casualty insurance.
2. Surplus Lines License
Surplus lines license is a special certification that allows surplus lines brokers to find and provide surplus lines insurance from a carrier not licensed in the insured entity's state.
3. Surplus Lines Broker Bond
A surplus lines broker bond, also called a surplus or excess insurance broker bond, is a form of protection for the consumer and is required by the state insurance department. A surplus lines broker bond acts as a guarantee in the event that the broker makes a mistake or the surplus lines insurance company is unable to follow through on its obligations.
Why Do Surplus Lines Brokers Need a Surety Bond?
Due to the high-risk nature of excess insurance lines, it is important for surplus lines brokers to hold a surplus lines insurance bond to protect consumers. Brokers cannot obtain a surplus lines license unless they purchase a surplus lines broker bond.
A state guaranty fund backs regular insurance in the event that the insurance company cannot keep its obligation to make a payout. This same fund does not back surplus lines insurance. The third-party surety bond takes on the financial obligation, thereby protecting consumers if the broker or surplus lines insurance company fails in its duties.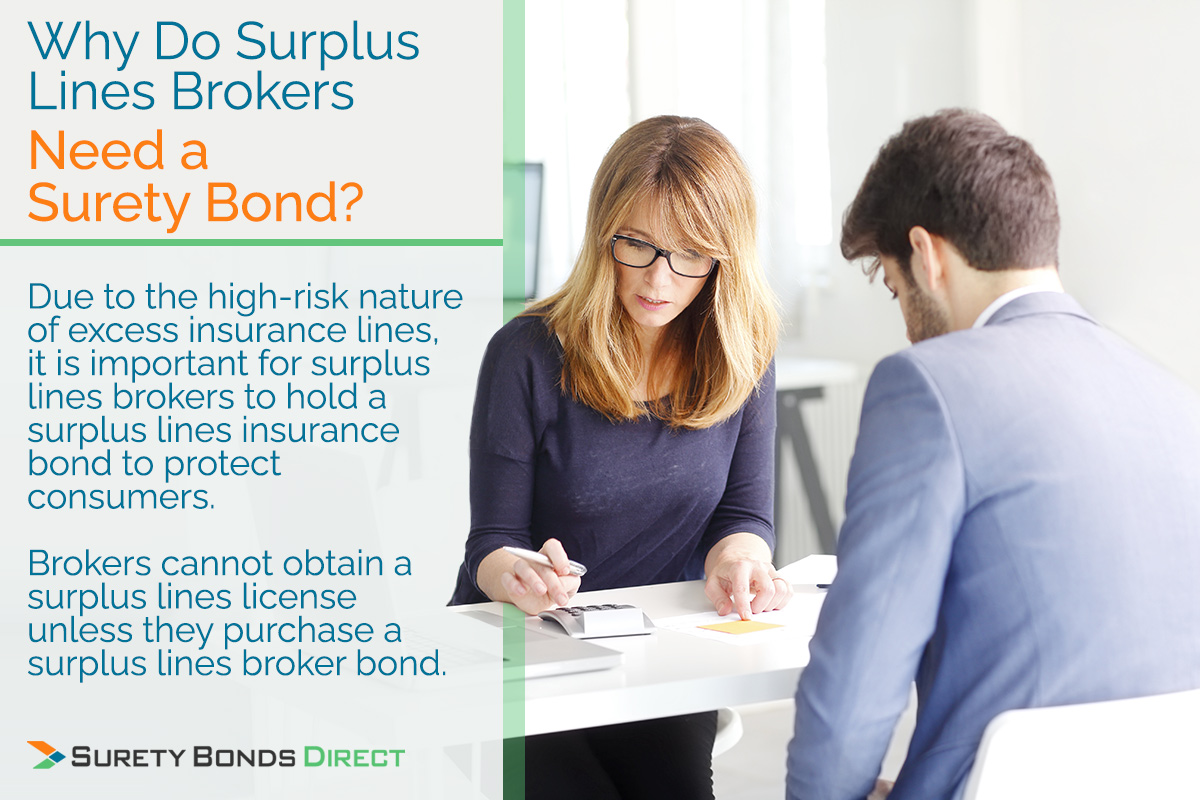 TIP: Read What Is a Surety Bond? to get a better understanding on how a surety bond works.
Where to Find Surplus Lines Broker Bonds
When searching for surplus lines broker bonds, finding an affordable, reliable option for your state can be difficult. Additionally, the process of getting a quote and receiving your bond can be time-consuming and cause you to lose out on days or weeks' worth of work while you wait for a response. Surety Bonds Direct is the Best Overall Surety Bond Company in 2021 and provides those looking for special bonds, such as the surplus lines broker bond, with affordable, fast options to get bonded.
When you use Surety Bonds Direct to obtain your surplus lines broker bond, you can be sure that your transaction is 100% secure. You'll find the best bond prices and receive a quote almost instantly and have your bond in hand, typically by the next day. To get started, search by state to obtain surplus lines broker bond information for that location or get started with a quote through our website.
Find a Surplus Lines Broker Bond for Your State
Surety Bonds Direct provides surplus lines brokers with surplus lines broker bonds with affordable premiums and a convenient process. Call us at 1-800-608-9950 with any questions, or visit us online to get a free online surety bonds quote today.