Who Must File a Livestock Bond?
Those conducting business operations in marketing livestock, meat and/or poultry for commercial purposes (i.e. stockyard owners, market agencies, dealers, packers, swine contractors and live poultry dealers) are subject to the Packers and Stockyards Act of 1921 and the related Livestock Packers and Stockyards Surety Bond requirement. Those with annual livestock purchases over $500,000 are subject to the surety bond requirement in conjunction with their registration with United States Department of Agriculture – Grain Inspection, Packer and Stockyards Administration (PSA).
What is the Purpose of the Livestock Packers and Stockyards Surety Bond?
This surety bond provides a limited guarantee to secure performance of the obligations of the bonded principal, ensuring compliance with all federal regulations, proper dispersion of all funds, and ethical business conduct. If the Secretary of State or another third party is harmed financially by the bonded principal's violations of the terms of the registration and/or the bond agreement, a claim may be filed against the surety company in amount up to the penal sum of the bond to resolve the claim. Any funds paid out by the surety due to a valid claim, including attorney's fees, are subject to indemnity and reimbursement by the bonded principal.
If the Secretary of the United States Department of Agriculture determines a registrant is insolvent or has violated any provisions of applicable federal law, an order suspending the registrant for a specified period may be issued. The order will require the entity to cease and desist from purchasing livestock while insolvent, or while insolvent purchasing livestock except under such conditions that may be prescribed by the Secretary. Furthermore, the order of suspension will take effect within not less than five days, unless suspended or modified or set aside by the Secretary or a court of competent jurisdiction.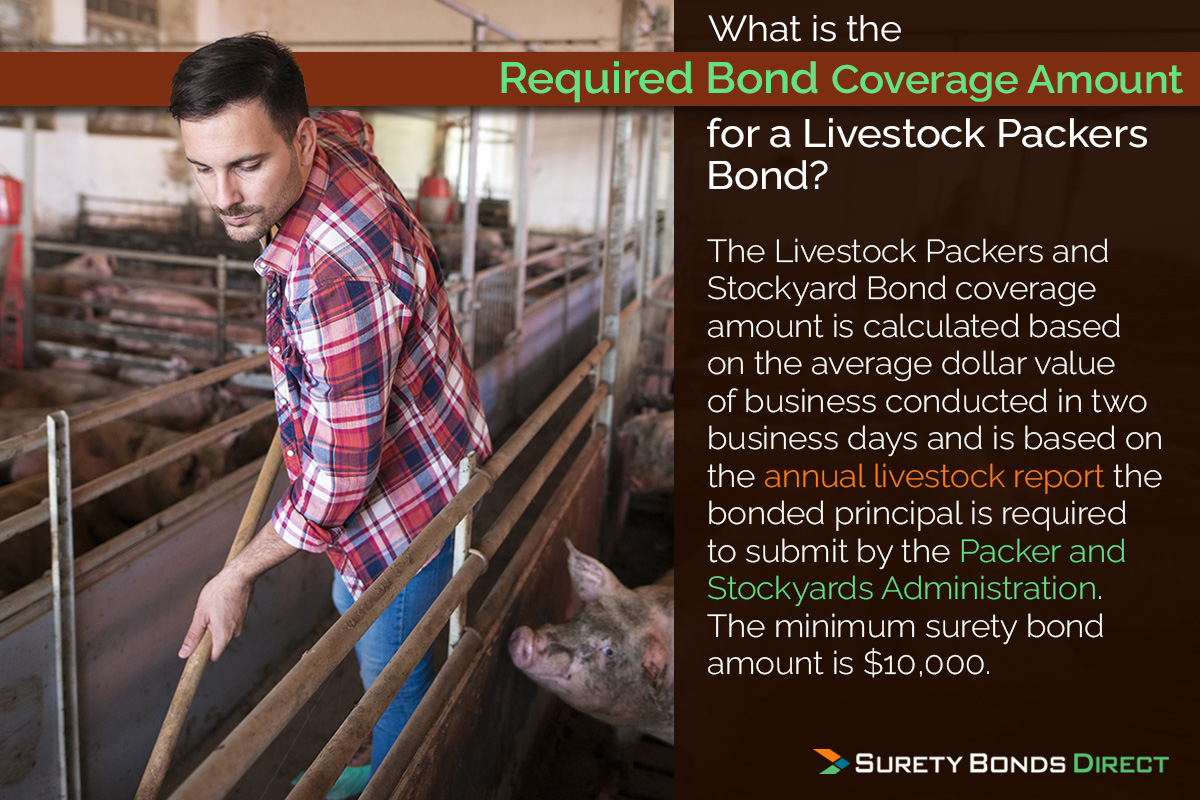 What is Required Bond Coverage Amount for a Livestock Packers Bond?
The Livestock Packers and Stockyard Bond coverage amount is calculated based on the average dollar value of business conducted in two business days and is based on the annual livestock report the bonded principal is required to submit by Packer and Stockyards Administration. The minimum surety bond amount is $10,000.
What are the License Classifications for Livestock Packers and Stockyards?
An applicant's business is categorized as follows for the purposes of defining license classifications:
Packer
Purchases livestock for slaughter
Manufactures or prepares meats or meat food products for sale or shipment, or
Markets meats, meat food products, or livestock products in an unmanufactured form acting as a wholesale broker, dealer, or distributor
Livestock Market Agency
Buys or sells livestock on a commission basis, or
Provides stockyard services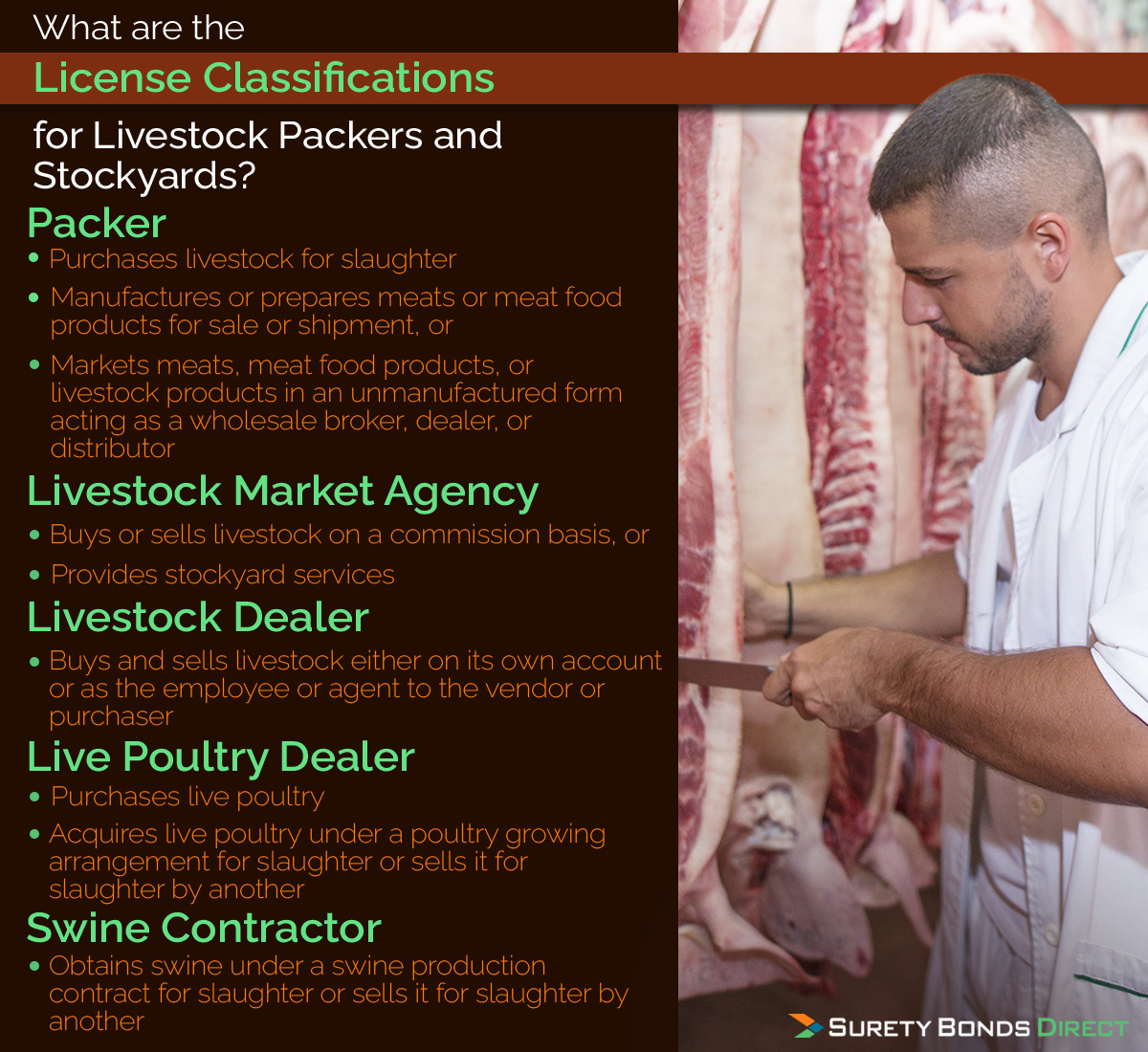 Livestock Dealer
Buys and sells livestock either on its own account or as the employee or agent to the vendor or purchaser
Live Poultry Dealer
Purchases live poultryAcquires live poultry under a poultry growing arrangement for slaughter or sells it for slaughter by another
Swine Contractor
Obtains swine under a swine production contract for slaughter or sells it for slaughter by another
How to Purchase Livestock Packers and Stockyards Surety Bonds
Like most surety bonds, Livestock bonds must be purchased from licensed and authorized surety bond agents nationwide. Surety Bonds Direct is an experienced national surety bond agency specializing in Livestock Packers and Stockyards Surety Bonds and provides fast and easy bond quotes. Surety Bonds Direct offers expert advice from bond specialists, competitive prices from the nation's leading surety companies, and a guarantee that bond forms will be accepted by the US Department of Agriculture.