Becoming an auto dealer can be a great source of income. However, to get started in the car dealership business, you'll first need to get an auto dealer's license from your state DMV, DOT or motor vehicle commission. So, you're probably wondering how to get a dealer's license. Let's find out!
Getting an auto dealer bond is usually necessary for getting your dealer's license, but it's just one piece of the puzzle. At Surety Bonds Direct, we love to see our clients succeed in their business endeavors. One way that we do that is by offering great rates on surety bonds directly from bond providers, and another way is by providing our clients with business tips that can help them succeed. Today's topic is a basic outline of the steps you'll need to take to get your dealer's license, as well as what it means to get a dealer surety bond.
Getting Familiar with Local Laws
To find out what you need to get your dealer's license, the first step is to reach out to state government authorities. Every state and municipality has different laws on what they require for auto dealers, and some vary a lot.
Most states have four main types of auto dealer licenses:
Wholesale
New vehicles
Used vehicles
Motorcycle/motorsport
Each license type has its own unique requirements on top of the aforementioned state requirements. You'll need to reach out to your state's Department of Transportation or Department of Licensing and get a complete list of what they require to issue an auto dealer's license, as well as any paperwork they may need to send you. Once you've got these materials on hand, you're ready to start preparing your application.
Filling Out a Dealer License Application
Your application for an auto dealer's license is a multi-part process that includes several key steps. The process elements common to almost all states and municipalities include:
Passing a background check examining your financial history and criminal record. (It's not impossible to get a dealer's license if you have a felony, but you might need to take some extra steps.)
Providing a detailed business plan for your dealership. (Not sure how to write one? Check out one of the many examples available online.)
Proving you have a dealership space by providing a copy of your rental lease or property deed. The DMV may also require a site inspection.
Filling out an application to create a DBA, LLC or corporation. Which one you want to file as is a matter of personal preference and depends on what kind of business you're running. You'll need to pay incorporation fees as well.
Getting a business license for your municipality, which also requires the payment of fees.
Providing proof that you have a valid auto dealer surety bond.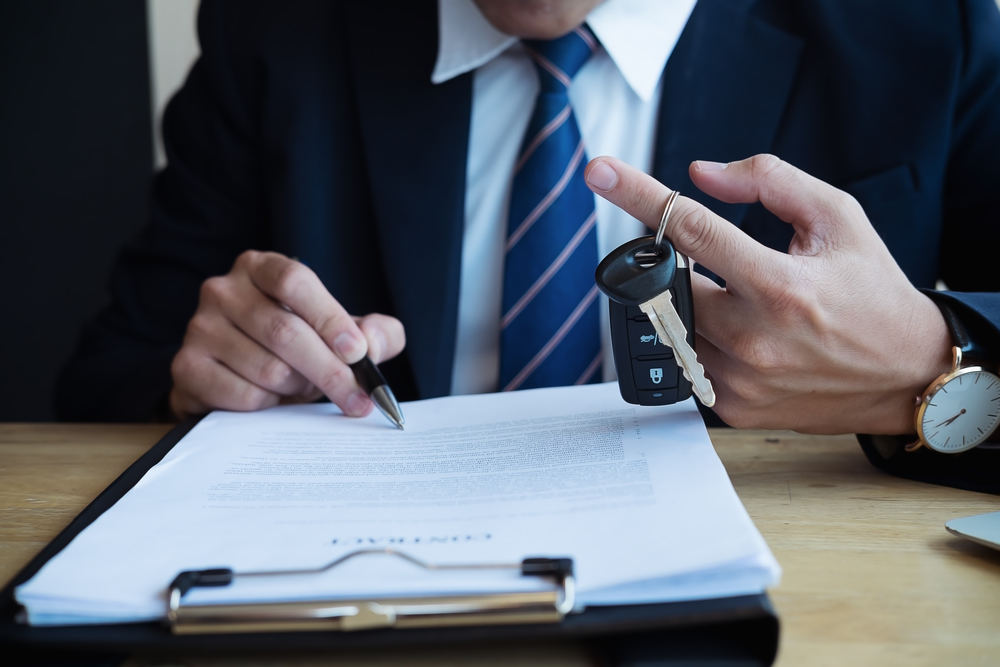 Not sure what getting a surety bond involves? Many people have heard the term before but don't know what it means — so we'll dive into a little extra detail.
Getting Your Auto Dealer Bond
So, what is an auto dealer bond and why is it important? We answer the first question in our post, What Is a Surety Bond? As for why it's important, one reason is that it's required by law to get a dealer's license—but it also helps protect your customers and inspire confidence in your business. A dealer surety bond guarantees that your dealership will behave ethically and not engage in any of the following:
Failure to pay sales taxes
Selling a vehicle without a valid title
Misrepresenting anything about the vehicles you sell
Any other business practice that's illegal or unethical
Part of the surety bond application process includes a credit check, but it's okay if you don't have perfect credit. Surety Bonds Direct works with numerous bond providers who can give you a great bond even with imperfect credit, and we also provide payment plans for many types of bonds.
Sending in Your Application
Once you've got everything assembled, it's time to submit your application to your state's DMV or DOL. If you're working with a lawyer or accountant, it's a good idea to have them look over your application papers first to make sure everything is in order. You'll also need some patience. Applications often take several months to process, so be prepared for a wait.
One final tip: Your state may require some of your documents to be notarized, so make sure you double-check. It might seem obvious, but it's the kind of consideration that's easy to overlook when you're assembling a thick packet of forms.
Getting an auto dealer's license is an involved process with many steps, but it's mostly a matter of assembling the correct pieces and staying organized. For more information on our great rates on auto dealer bonds (as well as numerous other types of bonds we sell), contact our surety bond experts at 1‐800‐608‐9950 or go online for a fast and easy quote.