To transport one load of goods via a cargo ship requires the combined effort of hundreds of people. From the dockworkers operating the container crane to the sailors working on the ship, everyone has a role to play. Behind the scenes, but in a position that's just as important, is the ocean freight forwarder.
Ocean freight forwarders (OFFs) are logistics professionals who help coordinate the movement of goods through maritime shipping. For someone who wants a fast-moving and interesting career in logistics, becoming an OFF could be a great choice. But to become an OFF, you'll need to complete an application process with the federal government. In this article, we'll discuss the duties and responsibilities of an OFF, as well as the steps of the licensing process to receive an OFF license from the Federal Maritime Commission.
What Does an Ocean Freight Forwarder Do?
An OFF's primary function is to act as the intermediary between businesses that want to find an international ocean carrier for their cargo and the vessel-operating common carriers (VOCCs) that want to find cargo to ship. The forwarder uses their connections with VOCCs to help cargo owners rent space on a VOCC's vessel, which in turn allows VOCCs to bypass individual negotiations with the hundreds or thousands of cargo owners renting space on any given voyage.
The daily duties of an OFF will usually include the following:
Booking transportation space on ocean vessels on behalf of cargo shippers
Negotiating a rate agreeable to both the cargo owner and the carrier
Advising cargo owners on how to prepare their cargo for shipment
Preparing and filing cargo documents on behalf of cargo shippers
Navigating the customs process on behalf of cargo owners
Arranging warehousing space for cargo while it clears customs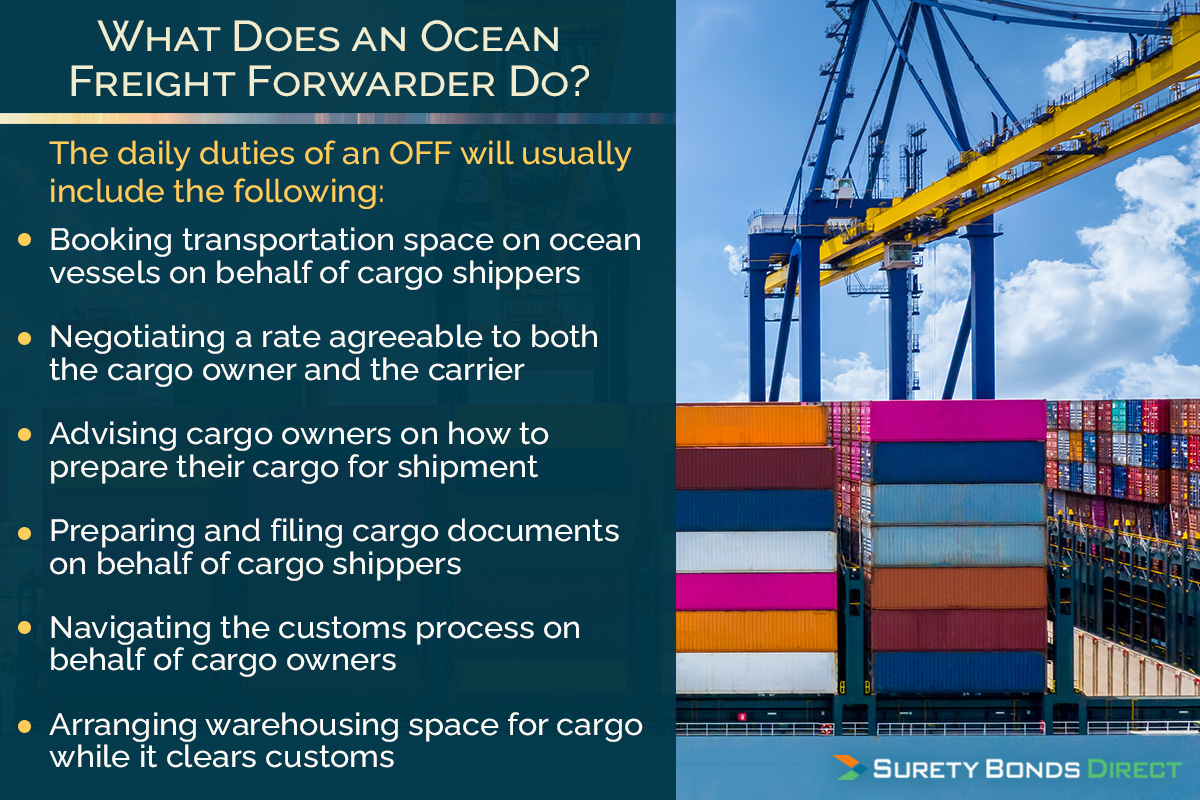 OFFs are similar to another kind of ocean transportation business called non-vessel-operating common carriers (NVOCCs), but the two are different in some important ways. Most notably, an NVOCC generally ships under its own bill of lading, and thus takes a greater degree of responsibility for the cargo they ship. Both types of business are categorized by the federal government as Ocean Transportation Intermediaries (OTIs).
How to Get an Ocean Freight Forwarder License
Someone who wants to become an OFF will need to obtain an OTI license from the Federal Maritime Commission. The application process for an OTI license is as follows:
Appoint a qualifying individual with at least three years of experience in the OTI industry. The individual must have an official role in the OFF's organization, the nature of which will vary according to the legal structure of the business.
Electronically file a copy of Form FMC-18 with the FMC. This is the application for an OTI license. To ensure that the form is completed accurately, the FMC recommends that an applicant first fill out the paper version of the form. The application will include (among other information):

Business activities and corporate structure of the OFF
Information about the OFF's qualifying individual
Proof of valid OTI surety bond
Background and criminal record information about the OFF's principals

Submit the license application fee of $250.00 along with the completed application to the FMC.
Note that if your business is not based in the US, the only licensing option is a NVOCC license. See the FMC's OTI licensing page for more information.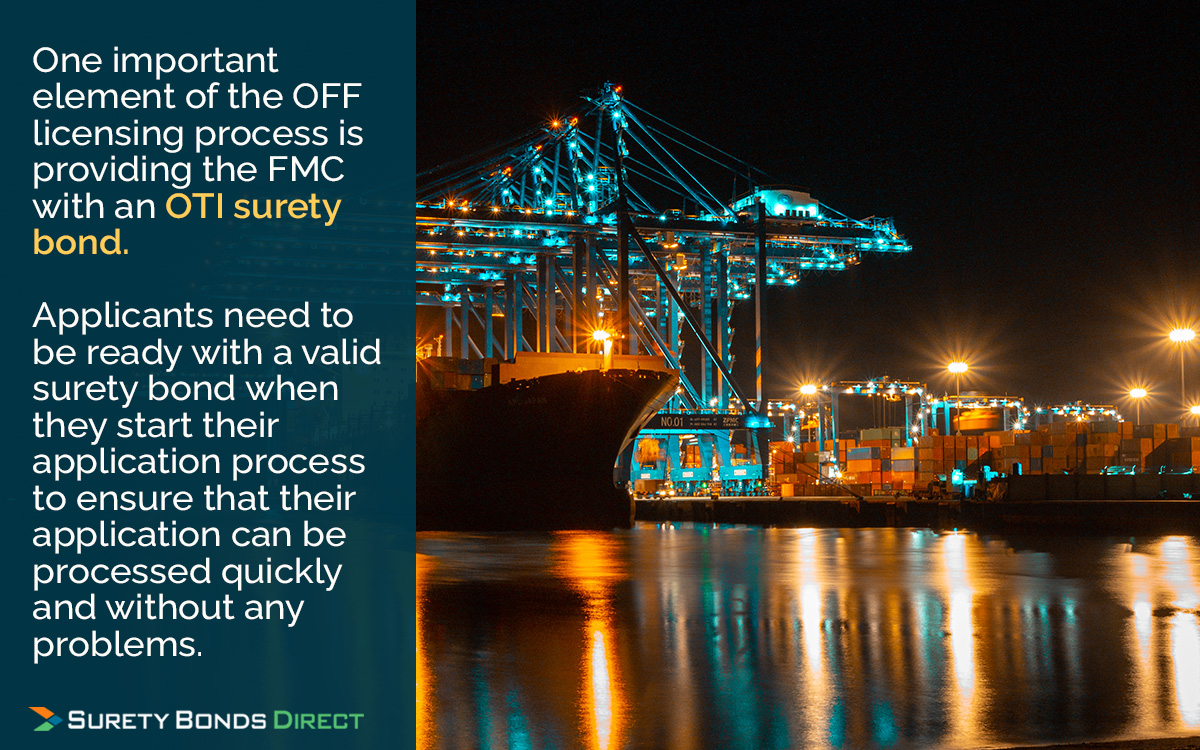 Ocean Freight Forwarder Surety Bonds
One important element of the OFF licensing process is providing the FMC with an OTI surety bond. Applicants need to be ready with a valid surety bond when they start their application process to ensure that their application can be processed quickly and without any problems.
An OTI surety bond creates a financial guarantee that an OFF will obey the law and will conduct their business honestly. (Our article on What is a Surety Bond? is a great way to learn about the basics of surety bonds.) Every OTI surety bond must have a minimum coverage amount of $50,000. Fortunately, you'll only need to pay a small percentage of this as a premium when you purchase the surety bond.
To get started, you'll need to contact a surety broker and apply for a free quote on an OTI or NVOCC surety bond. The surety broker will ask for your business's basic financial information and provide you with a quote for your premium based on your credit score and other financial factors.
With all of the steps that an ocean freight forwarder needs to take to become licensed, it's important to have a source for getting a surety bond quickly and at the right price. Surety Bonds Direct is a nationally licensed provider of OTI surety bonds, and our professionals are ready to help you get the bond you need—just call 1-800-608-9950 or get a free online quote for your ocean freight forwarder bond today.