Who Requires the Motor Vehicle Dealer Bond and
Why Is It Needed?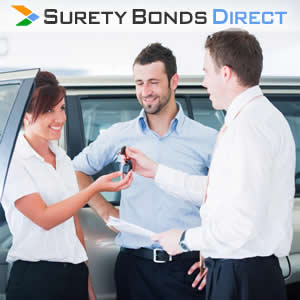 The State of Florida Department of Highway Safety and Motor Vehicles requires that auto dealers (both independent and franchise) and mobile home dealers post a $25,000 surety bond in order to engage in the business of buying, selling, or dealing in motor vehicles or displaying vehicles for sale. Recreational vehicle dealers also must post a surety bond in Florida.
Bonds Expire April 30th
For Independent, wholesale, and salvage dealers, as well as vehicle auctioneers, license bonds expire April 30th each year. Check to see if you can save on your renewal this year. The quick online form only takes 2 minutes. 
How Much

Will My Surety Bond Cost?

Take 2 minutes to provide the basic information required to get the best rates for your Florida Motor Vehicle Dealer Bond. The quote request is free and there is no obligation to you. If you prefer, please call 1‐800‐608‐9950 to speak with one of our friendly bond experts. We can help guide you through the bonding process and identify the lowest cost in the market for your situation.

If you are interested in spreading out the cost of your bond over time, we can offer convenient financing plans for many types of surety bonds. More information will be provided with your quote.
What Does the Bond Protect Against?
The motor vehicle dealer surety bond ensures that the dealer honors terms of any written contract entered into with a motor vehicle buyer. Further, the surety bond guarantees that the dealer complies the applicable provisions of Florida Statutes, Chapter 319 and 320.
In the event of a loss or damage sustained by any person in a retail or wholesale transaction related to the dealer's violations, a claim may be filed against the surety bond in an amount up to $25,000, the limit (penalty) of the bond.
What is Needed to Obtain My License?
The following is an overview of key Florida auto dealer licensing requirements.
Approval of business location by a Regional Office, Compliance Examiner/Officer
Completed Application, Form HSMV 86056
Payment of fees for each main location
$25,000 surety bond
Copy of lease for location or proof of ownership
Copy of the pre-licensing dealer training course completion certificate
Liability insurance certificate as required
Copy of registration of business and/or fictitious trade name(s) with Florida's Secretary of State, Division of Corporations
Copy of corporate papers
Sales tax number
Federal employer identification number
Fingerprints and applicable fees
Additional items may be needed and exact requirements may vary based on applicant, license type or obligee discretion. Please see obligee and state links in the Other Helpful Information and Links section below or contact the obligee directly for more information.