Who Requires the Motor Vehicle Dealer Bond and Why Is It Needed?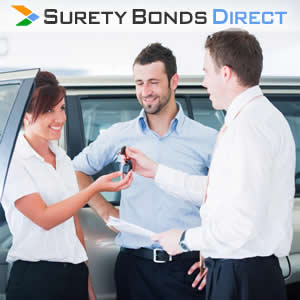 Used car dealers in West Virginia must post a $25,000 surety bond in order to legally conduct business in the state. All West Virginia auto dealer bonds expire annually on June 30th. Your surety bond cost will be adjusted to only reflect the portion of the year covered by the bond. The surety bond is required of all motor vehicle dealers licensed pursuant to Article 6, Chapter 17A of the West Virginia Code. The surety bond is conditioned upon compliance with all applicable sections of that statute and all pertinent rules and regulations of the West Virginia Department of Motor Vehicles.
What Does the Bond Protect Against?
The purpose of the bond is to protect against fraud or fraudulent representation on the part of the bonded dealer when such actions result in a financial loss to State of West Virginia, a purchaser, seller, financial institution or agency. The surety bond may be cancelled with the West Virginia DMV through thirty days written notice via certified mail from the surety company.
What is Needed to Obtain My License or Registration?
The following is an overview of the key used auto dealer licensing requirements in West Virginia
Completed application

$25,000 surety bond. A bond is not required for repo-financial institution, mfg-manufacturer and trs-transporter.

Personal property tax receipt

Pictures of dealership as required

A valid business license in the state of West Virginia

Dealer liability insurance as required

Garage agreement if required

Franchise agreement if required

Additional items may be needed and exact requirements may vary based on applicant, license type or obligee discretion. Please see obligee and state links in the Other Helpful Information and Links section below or contact the obligee directly for more information.