Who Requires the Motor Vehicle Dealer or Leasing Company Bond and Why Is It Needed?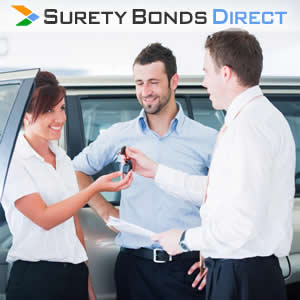 The New Jersey Motor Vehicle Commission (MVC) requires that dealers of motor vehicles dealers and leasing companies in the state provide a surety bond in the amount of $10,000 in favor of the State of New Jersey. All used motor vehicle dealer bonds expire on March 31st annually.
What Does the Bond Protect Against?
The surety bond protects third parties who sustain financial damages as a result of a vehicle dealer's fraudulent or other unlawful business practices that constitutes a violation of the rules and regulations in N.J.S.A. 56:8-1 et seq. The motor vehicle dealer bonds remain in force until a specified expiration date or until canceled by the surety company through 30 days advance written notice to the Commission.
What is Needed to Obtain My License or Registration?
The following is an overview of used motor vehicle dealer licensing requirements in New Jersey.
Completed application

Original $10,000 Surety Bond

License application municipal approval

Supplemental applications as required

Child support certifications

Copy of the driver licenses

Passport size color photograph

Copy of Incorporation/Formation Papers

Copy of Alternate/Fictitious Name Filing Certificate (if applicable)

Copy of property deed or lease.

Copy of Federal EIN Registration Certificate

Copy of NJ Certificate of Authority for Sales Tax

Original Certificate of Liability Insurance

Listing of authorized signatories

Photographs/plans clearly depicting the complete premises and signage which the dealer intends to conduct business.

Certification that verifies that those listed as authorized signatories have not been convicted of fraud or misrepresentation.

Copy of the phone bill or installation order for the business.

License and Registration fee

Additional items may be needed and exact requirements may vary based on applicant, license type or obligee discretion. Please see obligee and state links in the Other Helpful Information and Links section below or contact the obligee directly for more information.