Who Requires the Motor Vehicle Dealer, Dismantler/Recycler, Public License Tag Agent or Inspection Bond and Why Is It Needed?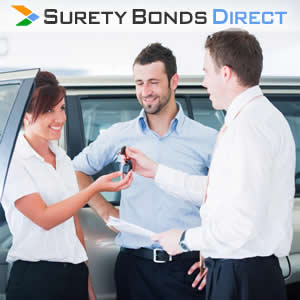 Surety bonds must be posted for those operating motor vehicle dealers and other motor vehicle facilities in the State of Louisiana. Bonds are for the benefit of the Louisiana Motor Vehicle Commission. Surety bond amounts are outlined below and specific requirements are based on business type and sales volume. 
$50,000 surety bond for Used Vehicle Dealers 
$20,000 surety bond for New Vehicle Dealers
$20,000 surety bond for Vehicle Facilities and Specialty Dealers
$20,000 or $30,000 surety bond for Dismantler / Recyclers
$5,000 surety bond for Inspection Stations
$100,000 surety bond for Public License Tag Agents
What Does the Bond Protect Against?
The surety bond ensures lawful business practices and compliance with applicable rules and regulations set out in Chapters 4 and 6 of Title 32 of the Louisiana Revised Statutes of 1950. Among other requirements, the bonded principal must comply with contracts and laws related to the sale, repair or exchange of vehicles. The dealer or facility must also adhere to licensing, tax, title and registration guidelines.  
In a situation where the bonded customer (principal) fails to comply with surety bonding terms and requirements, the surety company is financially obligated to cover damages up to the bond amount or penal sum of the surety bond. As with all surety bonds, the principal agrees to indemnify the surety for any such losses paid to third parties.