Who Requires the Motor Vehicle Dealer and Motor Vehicle Parts Dealer Bond and
Why Is It Needed?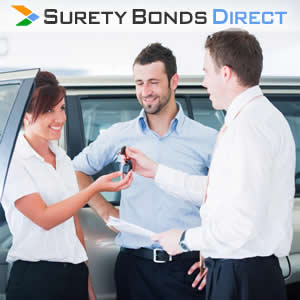 Used car dealers and used motor vehicle parts dealers in Georgia must post surety bonds in the state. The bond amount is $35,000 and it is required of used motor vehicle dealers, including motor vehicle brokers, leasing agencies, motor vehicle auctioning companies, and pawn brokers selling motor vehicles. A $10,000 surety bond is required of used auto parts dealers, including rebuilders, and salvage dealers.  
All auto dealer surety bonds expire on March 31 of even numbered years and all auto parts dealer bonds expire on December 31 of odd numbered years.
What Does the Bond Protect Against?
The surety bond guarantees that the auto dealer or its agent will comply with the conditions of any written contract or written warranty made in connection with the sale or exchange of a vehicle. The surety bond also obligates the surety company and dealer to pay all losses, damages, and other expenses that result from fraudulent misrepresentation of liens or titles to any used vehicle sold. 
Georgia used auto dealer and auto parts dealer surety bonds remain in force until canceled by providing 30 days prior written notice to the State Board of Registration. 
What is Needed to Obtain My License?
The following is an overview of key Georgia motor vehicle dealer licensing requirements.
A completed application form

A surety bond in the amount of $35,000 for used motor vehicle dealers and $10,000 for used motor vehicle parts dealers, as required by O.C.G.A. Section 43-47-8(h). Following the initial licensing period, the bond shall then run concurrently with the licensing period. At no time should the licensee be without a bond during any licensing period;

A certificate of insurance

Fingerprints as required

Proof that the applicant has attended the seminar

Proof that the applicant has applied for a sales tax registration number

Photographs as required

Appropriate fee as contained in the fee schedule

Additional items may be needed and exact requirements may vary based on applicant, license type or obligee discretion. Please see obligee and state links in the Other Helpful Information and Links section below or contact the obligee directly for more information.