Who Requires the Motor Vehicle Dealer Bond and
Why Is It Needed?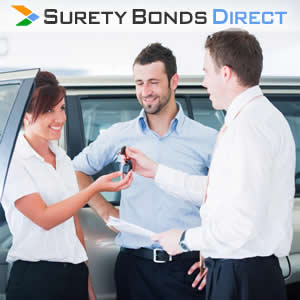 Surety bonds are required in the state of Arizona for retail dealers of new and used motor vehicles, automotive recyclers, and title service companies. The Arizona Motor Vehicle Division has established the following bond requirements:
$100,000 surety bond for New and Used Motor Vehicle Dealers, Public Consignment Auction Dealers
$20,000 surety bond for Automotive Recyclers
$25,000 surety bond for Brokers, Wholesale Auction Dealers, Wholesale Motor Vehicle Dealers, and Title Service Companies

 
A separate surety bond is required for each application and for each county in which the licensee has an established place of business. 
How Much

Will My Surety Bond Cost?

Take 2 minutes to provide the basic information required to get the best rates for your Arizona Motor Vehicle Dealer Bond. The quote request is free and there is no obligation to you. If you prefer, please call 1‐800‐608‐9950 to speak with one of our friendly bond experts. We can help guide you through the bonding process and identify the lowest cost in the market for your situation.

If you are interested in spreading out the cost of your bond over time, we can offer convenient financing plans for many types of surety bonds. More information will be provided with your quote.
What Does the Bond Protect Against?
Arizona motor vehicle surety bonds guarantee compliance with the rules and regulations as outlined in the Arizona Revised Statutes, Title 28 – Transportation. Specifically, the bond protects the obligee and consumers from damages arising from the following actions by the principal:
Non-payment of tax, title, registration, or other related fees as required by law
Failure to deliver a valid vehicle title certificate free and clear of any and all prior owner's interest and liens, the only exception being a lien created by expressly assumed in writing by the buyer of the vehicle
What is Needed to Obtain My License?
 The following is an overview of key Arizona motor vehicle dealer licensing requirements.
Application completed in full and signed by an individual, all partners, or an officer of the corporation
Provide personal history form and fingerprint card allowing for a criminal records check
Submit a surety bond
Pay fees including filing, criminal records, license and other applicable fees
Submit copies of Buy/Sell Agreements
Establish set business hours
Meet state signage requirements
Additional items may be needed and exact requirements may vary based on applicant, license type or obligee discretion. Please see obligee and state links in the Other Helpful Information and Links section below or contact the obligee directly for more information.