Who Requires the Motor Vehicle Dealer Bond and Why Is It Needed?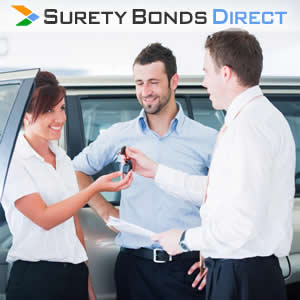 The state of Arkansas requires a surety bond for used motor vehicle dealers, wholesalers, and auto auction businesses operating in the state. The penal sum, or required surety bond amount is at least $25,000. Dealers of new vehicles must furnish a surety bond in the amount of at least $50,000. This surety bond accompanies the used motor vehicle dealer license issued through the Arkansas State Police for anyone who intends to operate a used motor vehicle business. The surety bond guarantees ethical business conduct and compliance with Arkansas Code Annotated §23-112-601, Used Motor Vehicle Buyers Protection.
How Much Will My Surety Bond Cost?
Take 2 minutes to provide the basic information required to get the best rates for your Arkansas Motor Vehicle Dealer Bond. The quote request is free and there is no obligation to you. If you prefer, please call 1‐800‐608‐9950 to speak with one of our friendly bond experts. We can help guide you through the bonding process and identify the lowest cost in the market for your situation.
If you are interested in spreading out the cost of your bond over time, we can offer convenient financing plans for many types of surety bonds. More information will be provided with your quote.
What Does the Bond Protect Against?
The surety bond guarantees compliance with the requirements of Arkansas Code Annotated 23-112-601 et seq., as amended of the laws State of Arkansas. It also serves to indemnify damaged parties for losses sustained due the principal's acts that constitute grounds for suspension or revocation of the license. The total liability of the surety company for all claimants, regardless of the number of years this bond is in force, may not exceed the amount of the bond.