Who Requires the Health Club Surety Bond and Why Is It Needed?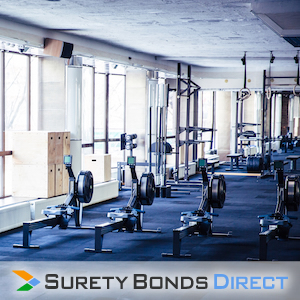 A person who sells, or offers for sale, health club services in New Jersey may be required to furnish a surety bond as security for each health club facility operated in the State. Surety Bonds Direct is a fully licensed and authorized issuer of Health Club Surety Bonds in New Jersey.
The amount of the surety bond (or limit) must be 10% of the health club's gross income for health club services during the club's last fiscal year, but it shall not be less than $25,000, or more than $50,000. New facilities may require a $50,000 bond prior to opening for business. After the health club facility opens, the bond will be adjusted to the appropriate income based bond amount.
How Much Will My Surety Bond Cost?
Take 2 minutes to provide the basic information required to get the best rates for your New Jersey Health Club Surety Bond. The quote request is free and there is no obligation to you. If you prefer, please call 1‐800‐608‐9950 to speak with one of our friendly bond experts. We can help guide you through the bonding process and identify the lowest cost in the market for your situation.
If you are interested in spreading out the cost of your bond over time, we can offer convenient financing plans for many types of surety bonds. More information will be provided with your quote.
What Does the Bond Protect Against?
The bond is for the benefit of any person who, after entering into a health club services contract, is damaged or suffers any loss by reason of breach of contract or bankruptcy by the health club services seller. Any person filing a claim against the bond may maintain an action at law against the health club and the surety company. The aggregate liability of the surety for all breaches of the conditions of the bond shall not exceed the amount of the bond. The surety is required to notify the director at least 10 days in advance of the date of any cancellation or material change in the bond.