Who Requires the Over Axle & Over Weight Permit Bond and Why Is It Needed?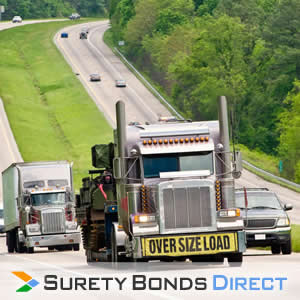 Vehicles and loads exceeding legal size and/or weight limits must secure an oversize/overweight (OS/OW) permit and route from the TxDMV to legally travel on Texas roads. These motor carriers may also be required to file a surety bond with the Texas DMV (TxDMV) in an amount set by the Texas Department of Transportation (TxDOT) and payable to TxDOT for any damages to the highway because of the operation of the equipment for which a permit is issued. The surety bond may be required when a permit is issued to operate under the provisions of Chapter 623, Transportation Code. The bond is requested for several Texas counties including Chambers, Fort Bend, Harris, and Montgomery.
How Much Will My Surety Bond Cost?
Some Texas Overweight or Highway Permit Bonds can be instantly approved without a credit check at the exceptional low prices shown in the table below. Others are priced based on your credit report and some other basic information. Surety Bonds Direct has access to the lowest bond costs available in the market for applicants with good credit and bad credit.
If you are interested in spreading out the cost of your bond over time, we can offer convenient financing plans for many types of surety bonds. More information will be provided with your quote.