Who Requires the Motor Vehicle Dealer, Manufacturer or Wrecker Bond and Why Is It Needed?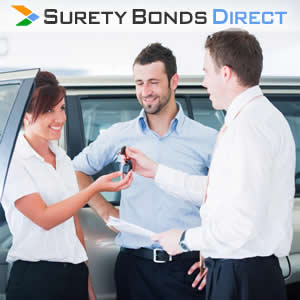 The Washington State Department of licensing has established surety bonding requirements for various businesses operating in the motor vehicle industry in the state. The specific surety bond amounts required by business type are as follows;
$30,000 Vehicle Dealer Bond for retail and wholesale businesses or auctioneers that sell new or used cars, trucks or motor homes
$40,000 Vehicle Manufacturer Bond for businesses that manufacture mobile homes
$20,000 Vehicle Manufacturer Bond for businesses that manufacture travel trailers
$5,000 Vessel Dealer Bond for businesses who sell at least 15 watercraft per year with retail value above $2,000
$5,000 Registered Tow Truck Operator Bond for tow truck operators
$1,000 Vehicle Wrecker Bond for vehicle wreckers
What Does the Bond Protect Against?
The vehicle dealer surety bond obligates the dealer, manufacturer, tow truck operator, or wrecker to comply with state laws and regulations. The bonded principal must refrain from fraud, or any fraudulent representation that results in monetary loss to a third party including a purchaser, seller, financing agency or governmental agency.
In the event of damages resulting from the dealer's non-compliance with bond terms, the surety is bound to cover losses for harmed parties up to the full penalty of the bond.  Furthermore, the principal is obligated to indemnify the surety for any damages paid.