Who Requires the Motor Vehicle Dealer Bond and Why Is It Needed?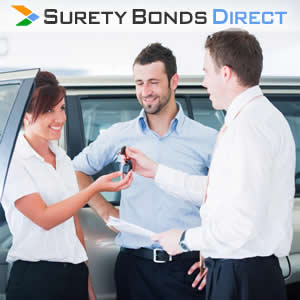 In order for Virginia motor vehicle dealers to meet legal licensing requirements set out by the Motor Vehicle Dealer Board, a surety bond is required. The surety bond must be posted per the provisions of Section 46.2-1527.2 of the Virginia Code in an amount of $50,000 for car dealers. 
Dealers of trailers, travel trailers, motor homes and motorcycles (including ATVs and off-road motorcycles) in Virginia must post a Motorcycle, Trailer or T and M Vehicle Dealer Bond in the amount of $25,000.
How Much Will My Surety Bond Cost?
Take 2 minutes to provide the basic information required to get the best rates for your Virginia Motor Vehicle Dealer Bond. The quote request is free and there is no obligation to you. If you prefer, please call 1‐800‐608‐9950 to speak with one of our friendly bond experts. We can help guide you through the bonding process and identify the lowest cost in the market for your situation.
If you are interested in spreading out the cost of your bond over time, we can offer convenient financing plans for many types of surety bonds. More information will be provided with your quote.
What Does the Bond Protect Against?
The purpose of the corporate surety bond is to indemnify any party who becomes a victim of fraud, fraudulent representation, or suffers damages or losses as a result of the motor vehicle dealer's breach of an extended service contract. The bond also protects those harmed by the principal, or salespeople employed by the principal, as a result of any violations of the provisions of Chapter 15, Title 46.2 of The Code of Virginia. 
In the event of damages resulting from non-compliance by the bonded principal, the surety may be obligated to reimburse damaged parties up to the full amount of the bond. The bond continues in force indefinitely unless canceled by the surety company by providing 30 days written notice to the Motor Vehicle Board of Virginia.
What is Needed to Obtain My License or Registration?
The following is an overview of key licensing requirements to become an auto dealer in Virginia.
Satisfy all local zoning regulations in your chosen locality.
Have sales, service, and office space devoted exclusively to the dealership of at least 250 square feet in a permanent, enclosed building not used as a residence.
House all records the dealer is required to maintain by the Code of Virginia.
Equip your office space with a desk, chairs, filing space, a working telephone listed in the name of the dealership, and working utilities including electricity and provisions for space heating, an internet connection and email address.
Display business hours and a sign as required by the Code of Virginia, respectively. A dealer must be open a minimum of 20 hours per week. 10 of these hours must be between 9am. - 5pm. Monday through Friday.
Have contiguous space designated for the exclusive use of the dealer adequate to permit the display of at least ten vehicles.
Pass the required dealer test administered at your local area Department of Motor Vehicle, Customer Service Center. A study guide may be found and downloaded from our website.
Secure a $50,000 or $25,000 surety bond as required.
Complete and submit to the board all necessary application forms, which can be found and downloaded from our website.
Pay fees totaling about $600.00.
Additional items may be needed and exact requirements may vary based on applicant, license type or obligee discretion. Please see obligee and state links in the Other Helpful Information and Links section below or contact the obligee directly for more information.