Who Requires the Motor Vehicle Dealer Bond and Why Is It Needed?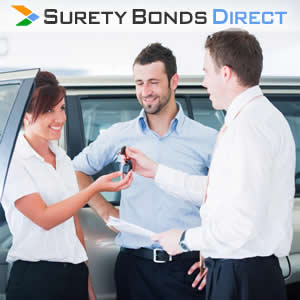 Utah motor vehicle dealers, special equipment dealers, crushers and body shops must furnish surety bonds (form TC-450) as required per provisions of the Motor Vehicle Business Regulation. The surety bond amounts required are as follows:
Motor vehicle dealer — $75,000
ATV/snowmobile/motorcycle/small trailer dealer — $10,000 (A small trailer is a trailer that has an unladen weight of 750- 1999 lbs.)
Bond amounts for crushers and body shops vary and should be verified with the state prior to requesting a bond quote
How Much Will My Surety Bond Cost?
Take 2 minutes to provide the basic information required to get the best rates for your Utah Motor Vehicle Dealer Bond. The quote request is free and there is no obligation to you. If you prefer, please call 1‐800‐608‐9950 to speak with one of our friendly bond experts. We can help guide you through the bonding process and identify the lowest cost in the market for your situation.
If you are interested in spreading out the cost of your bond over time, we can offer convenient financing plans for many types of surety bonds. More information will be provided with your quote.
What Does the Bond Protect Against?
The surety bond ensures lawful business practices and compliance with rules and regulations set out by Chapter 3, Title 41 of the Motor Vehicle Business Regulation Act. Specifically, the bond will indemnify persons, firms and corporations for loss suffered by reason of Principal's failure to conduct business without: 
fraud
fraudulent representation
violating subsection 41-3-301(1), which requires a dealer to submit or deliver a certificate of title or manufacturer's certificate of origin
violating subsection 41-3-402(1 ), which requires payoff of liens on motor vehicles traded in 
The total aggregate liability on this bond to all persons making claims, regardless of the number of the claimants or the number of years a bond remains in force, may not exceed the stated bond amount. The bond may be canceled by the surety company at any time by providing 60 days advance written notice to the to the Principal and to the Motor Vehicle Enforcement Division Administrator.
What is Needed to Obtain My License or Registration?
The following is an overview of the key motor vehicle dealer licensing requirements in Utah.
Completed application
FBI fingerprint cards and waivers for owners
Photographs as required
Surety bond
Sales tax number from Utah State Tax Commission
Training seminar
Licensing and related fees
Additional items may be needed and exact requirements may vary based on applicant, license type or obligee discretion. Please see obligee and state links in the Other Helpful Information and Links section below or contact the obligee directly for more information.