Who Requires the Motor Vehicle Dealer Bond and Why Is It Needed?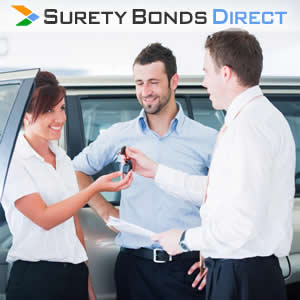 Motor vehicle dealers in the state of Tennessee must post a $50,000 surety bond for the benefit of the Tennessee Motor Vehicle Commission. Pursuant to Tennessee Code Annotated 55-17-111, the bond is required of any business engaged in the activities of buying, selling, dealing, or offering or displaying motor vehicles for sale.
The surety bond ensures that the principal faithfully performs duties in accordance with the provisions of Chapter 321 Public Acts of 1993, State of Tennessee.
How Much Will My Surety Bond Cost?
Take 2 minutes to provide the basic information required to get the best rates for your Tennessee Motor Vehicle Dealer Bond. The quote request is free and there is no obligation to you. If you prefer, please call 1‐800‐608‐9950 to speak with one of our friendly bond experts. We can help guide you through the bonding process and identify the lowest cost in the market for your situation.
If you are interested in spreading out the cost of your bond over time, we can offer convenient financing plans for many types of surety bonds. More information will be provided with your quote.
What Does the Bond Protect Against?
The purpose of the surety bond is to protect any person who is damaged due to the following violations by the motor vehicle dealer:
Nonpayment of registration, taxes, related fees or monies related to a retail customer's prepaid title
Failure to deliver valid vehicle title, free and clear of any interests or liens except those expressly assumed in writing by the buyer
The bond is cancelable by the surety company by providing 60 days advance written notice to the Tennessee Motor Vehicle Commission.
What is Needed to Obtain My License or Registration?
The following is an overview of key auto dealer licensing requirements in Tennessee. 
Permanent facility requirements as specifically outlined by the Commission
Sign Requirements
Surety Bond
Liability Insurance
Business Tax License
Financial Statement
Corporate Documentation
Sales Tax Documents
Financial Background Disclosure
Dealer License Fees as required
Additional items may be needed and exact requirements may vary based on applicant, license type or obligee discretion. Please see obligee and state links in the Other Helpful Information and Links section below or contact the obligee directly for more information.