Who Requires the Motor Vehicle Dealer or Agent Bonds and Why Is It Needed?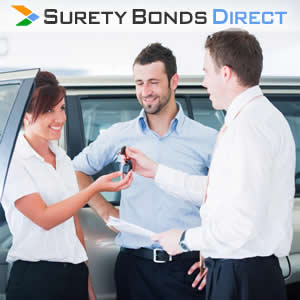 The Pennsylvania Department of Transportation requires that motor vehicle dealers, manufacturers, issuing agents, salvors, messengers services, and card agents be licensed by the State Board of Vehicle Manufacturers, Dealers and Salespersons, and post a surety bond. 
How Much Will My Surety Bond Cost?
Some Pennsylvania Motor Vehicle Dealer or Agent Bondss are offered completely online without a credit check or any paperwork. Surety Bonds Direct has access to the lowest bond prices available in the market for applicants with good credit and bad credit.
It only takes a couple minutes to provide us with the information required for a free, no-obligation quote. Or if you prefer, call 1‐800‐608‐9950 to speak with one of our friendly bond experts. We can help guide you through the bonding process and identify the lowest cost in the market for your situation.
If you are interested in spreading out the cost of your bond over time, we can offer convenient financing plans for many types of surety bonds. More information will be provided with your quote.
What Does the Bond Protect Against?
The corporate surety bond ensures that the car dealer complies with all state laws, rules and guidelines set out by the Pennsylvania Department of Transportation governing the operation of a vehicle dealership in the state. The bond provides protection against a dealer's unlawful or unethical business practices that result in financial damages to customers. 
In a situation where the bonded customer (principal) fails to comply with bonding terms and requirements, the surety company is financially obligated to cover damages up to the bond limit (or penalty) of the bond.  The surety bond principal is also required to reimburse (or indemnify) the surety for losses paid to damaged parties.
Pennsylvania auto dealer bonds are continuous until canceled through 60 days written notice provided to the Pennsylvania Department of Transportation by the surety company.
What is Needed to Obtain My License or Registration?
The following is an overview of key auto dealer licensing requirements in Pennsylvania.
Complete Vehicle Dealer Application

Follow instructions to obtain Temporary Registration Plates

Post Surety Bond for each place of business

Provide criminal history records

Familiarize with sections of Pennsylvania Vehicle Code and Title 67 as required

Additional items may be needed and exact requirements may vary based on applicant, license type or obligee discretion. Please see obligee and state links in the Other Helpful Information and Links section below or contact the obligee directly for more information.