Who Requires the Motor Vehicle Business License Bond and
Why Is It Needed?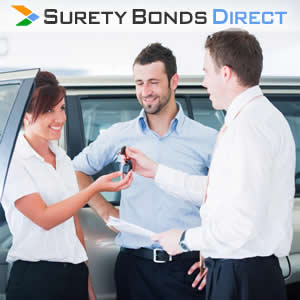 Businesses involved in the vehicle industry in the state of Nevada must obtain a surety bond as part of the Nevada Department of Motor Vehicles licensing requirements. Dealers, brokers, rebuilders, lessors, distributors, manufacturers, body shops, wreckers and transporters operating in the state all need to be bonded. The surety bond amount will vary based on the type of business activity as outlined below.
OFF-HIGHWAY VEHICLE - $50,000
CAR DEALER OR BROKER - $100,000
BODY SHOP - $10,000
WRECKER AND SALVAGE POOL - $50,000
VEHICLE TRANSPORTER - $100,000
DEALER, DISTRIBUTOR, LESSOR, MANUFACTURER AND REBUILDER - $10,000 for utility or boat trailers with an unladen weight of 3,500 or less, $50,000 for motorcycles, horse trailers without living quarters or utility trailers with an unladen weight of 3,501 or more and $100,000 for all other vehicle types.
What Does the Bond Protect Against?
The surety bond protects any individual who is injured by the actions of the bonded principal, its employees or its agents. Specifically, any act of fraud or fraudulent representation, or violation of Chapter 482 or Chapter 490 of the Nevada Revised Statutes or the Nevada Administrative Code committed by the principal and resulting in damages to a third party may constitute a valid claim against the bond. Total liability to the surety company and the principal is limited to the aggregate amount of the bond. The surety bond is continuous in nature unless canceled by the surety company by providing 30 days advance written notice to the State of Nevada Department of Motor Vehicles.
What is Needed to Obtain My License or Registration?