Who Requires the Motor Vehicle Dealer (Designated Agent) Bond and Why Is It Needed?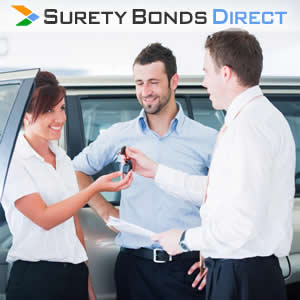 Surety bonds are required by the State of Mississippi for licensed motor vehicle dealers. Used vehicle dealers must post a bond in the amount of $15,000 and new vehicle dealers must post a bond in the amount of $25,000. 
What Does the Bond Protect Against?
This surety bond ensures the bonded principal appointed as "Designated Agent" faithfully performs his or her duties as "Designated Agent" pursuant to Section 6, Senate Bill 1688, Laws of 1968 known as The Mississippi Motor Vehicle Title Act. hen, this obligation shall be void, otherwise to remain in full force and effect. The surety bond may be canceled by giving thirty days notice in writing to the Mississippi Department of Revenue.
What is Needed to Obtain My License or Registration?
These following procedures must be followed when applying for any type of Motor Vehicle Dealer Permit in Mississippi:
1. Review the Motor Vehicle Dealer Tag Permit Law Book which includes Dealer Tag Regulations before completing the application forms. The Dealer Tag Permit Application must be typed or printed. Incomplete forms will be returned without processing.
2. Furnish the Bond of Designated Agent issued by an insurance company in the amount of $15,000. This surety bond must be written by an insurance company qualified to do business in the State of Mississippi such as provided by Surety Bonds Direct. The bond will have a seal affixed and a valid Power of Attorney attached. 
3. Complete the eight hour educational seminar conducted by the Mississippi Independent Auto Dealers Association (MIADA). Your application must be accompanied by the certificate of completion for the class during the twelvemonth period immediately preceding the date of the application.
4. Maintain motor vehicle liability insurance providing blanket coverage on vehicles operated on the public streets and highways of this state, including vehicles in dealership inventory. Evidence of liability insurance for business and inventory vehicles shall be filed with the initial application for license and at each renewal.
5. The registration application for a sales tax number for each location must be completed and a sales tax number assigned by the state. If you plan to rent vehicles, another sales tax number is required. These forms may be found at www.dor.ms.gov.6. Wholesale only dealers must meet all the requirements above but are only permitted to sell vehicles to licensed dealers. They are not required to have a physical location, but may only maintain an inventory of two vehicles and can receive one wholesale dealer tag. A wholesale only dealer will be issued a sales tax wholesale account number. These permits are issued only for Mississippi Residents.
7. The completed dealer application including sales tax number assigned, bond of designated agent, notarized affidavit, certification of completion for the educational seminar, and proof of liability insurance should be forwarded to: Mississippi Department of Revenue, Motor Vehicle Licensing Bureau, P. O. Box 1140, Jackson, MS 39215