Who Requires the Motor Vehicle Dealer Bond and Why Is It Needed?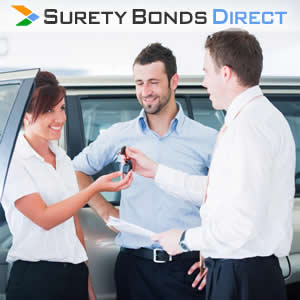 Missouri statutes require that the following types of licensed motor vehicle dealers purchase $50,000 surety bonds. 
New motor vehicle franchised dealers

Used motor vehicle dealers

Powersport dealers

Trailer dealers

Wholesale motor vehicle dealers

Boat dealers
Missouri Dealer Changes in 2018
Effective August 28, 2018, per Senate Bill 707, the minimum bond requirement increases from $25,000 to $50,000. Bonds, or riders increasing coverage, in the amount of $50,000 must be obtained to continue operation for the remainder of the 2018 dealer licensure year.
How Much Will My Surety Bond Cost?
Take 2 minutes to provide the basic information required to get the best rates for your Missouri Motor Vehicle Dealer Bond. The quote request is free and there is no obligation to you. If you prefer, please call 1‐800‐608‐9950 to speak with one of our friendly bond experts. We can help guide you through the bonding process and identify the lowest cost in the market for your situation.
If you are interested in spreading out the cost of your bond over time, we can offer convenient financing plans for many types of surety bonds. More information will be provided with your quote.
What Does the Bond Protect Against?
The surety bond protects persons sustaining financial losses due to acts by the bonded principal that constitute license suspension or revocation. In the event of a claim against the bond, a Missouri court may render a judgment against the principal resulting in surety bond proceeds being paid upon receipt by the Missouri Department of Revenue to the aggrieved party. Damages may be paid up to the full amount of the bond and the bonded principal is obligated to indemnify the surety company for losses paid out. In order to cancel the bond, the surety company must provide 30 days advance written notice to the Missouri Department of Revenue.
What is Needed to Obtain My License or Registration?
The following is an overview of key motor vehicle dealer licensing requirements in Missouri.
Completed Application for Dealer, Auction, Manufacturer License and Number Plates
Inspection/Certification by authorized law enforcement officer
$50,000 Corporate Surety Bond
Current photograph of the bona fide place of business (building, lot, and sign)
Criminal Record Check
Copy of the permanent signed order and photograph of the business' temporary sign, if applicable
Copy of the garage liability policy (manufacturers, auctions and trailer dealers are exempt)
Copy of your dealer seminar certificate, if applicable
Manufacturer's letter outlining operation, if applicable
Fees for licensure, plates and record check as required
Additional items may be needed and exact requirements may vary based on applicant, license type or obligee discretion. Please see obligee and state links in the Other Helpful Information and Links section below or contact the obligee directly for more information.