Who Requires the Motor Vehicle Dealer Bond and Why Is It Needed?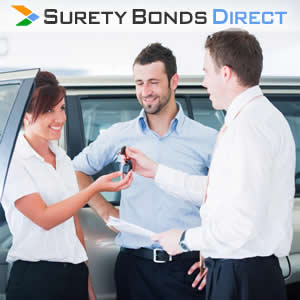 A Motor Vehicle Dealer License Surety Bond is required to legally operate as a vehicle dealer in Minnesota. This includes businesses that buy, sell, lease, broker, or auction new or used vehicles, as a retailer or wholesaler. The surety bond amounts required are as follows:
$50,000 for all auto dealers not defined below
$5,000 for boat, snowmobile, small horse trailers and motorized bicycle dealers
How Much Will My Surety Bond Cost?
Take 2 minutes to provide the basic information required to get the best rates for your Minnesota Motor Vehicle Dealer Bond. The quote request is free and there is no obligation to you. If you prefer, please call 1‐800‐608‐9950 to speak with one of our friendly bond experts. We can help guide you through the bonding process and identify the lowest cost in the market for your situation.
If you are interested in spreading out the cost of your bond over time, we can offer convenient financing plans for many types of surety bonds. More information will be provided with your quote.
What Does the Bond Protect Against?
The surety bond indemnifies the State of Minnesota and any transferor, or seller, or purchaser of a motor vehicle for any monetary loss caused by failure of the bonded principal to comply with state laws, including conduct as a licensee defined by Minnesota Statutes, section 168.27, and the payment of all taxes, license fees, and penalties.
The aggregate liability under this surety bond shall not exceed the bond amount during the term for which it is issued. The bond may be canceled by the surety company at any time by providing 30 days advance written notice to the Registrar of Motor Vehicles of the State of Minnesota.
What is Needed to Obtain My License or Registration?
The following is an overview of the general motor vehicle dealer licensing requirements in Minnesota.
Completed application

Commercial building

Display area for a minimum of 5 Vehicles.

Zoning approval

Surety bond

Liability insurance

Signage

Posted hours of operation

License fees

A separate license is required for any location in a county other than the one listed on initial application for license

Additional items may be needed and exact requirements may vary based on applicant, license type or obligee discretion. Please see obligee and state links in the Other Helpful Information and Links section below or contact the obligee directly for more information.
Who must have a Dealers License in Minnesota?
Those in the business of leasing, selling or arranging the sale of new or used motor vehicles
Those who lease or sell more than five vehicles, wholesale or retail, in a twelve month period
Those who sell used vehicle parts, or process and sell scrap metals acquired from vehicles
Those in the business of consignment sales or arranging vehicle sales or leases