Who Requires the Motor Vehicle Dealer Bond and Why Is It Needed?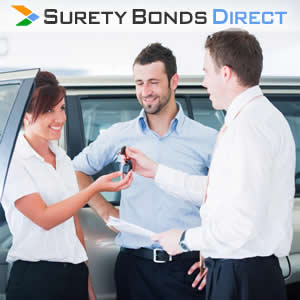 The Kentucky Motor Vehicle Commission is responsible for licensing motor vehicle dealers, salespersons, manufacturers, distributors, and their representatives pursuant to KRS Chapter 190. In addition to a financial statement, the Commission may require certain applicants to post a surety bond in an amount not less than fifteen thousand dollars ($15,000). Applicants should verify the surety bond amount with the Commission prior to requesting a quote.
How Much Will My Surety Bond Cost?
Take 2 minutes to provide the basic information required to get the best rates for your Kentucky Motor Vehicle Dealer Bond. The quote request is free and there is no obligation to you. If you prefer, please call 1‐800‐608‐9950 to speak with one of our friendly bond experts. We can help guide you through the bonding process and identify the lowest cost in the market for your situation.
If you are interested in spreading out the cost of your bond over time, we can offer convenient financing plans for many types of surety bonds. More information will be provided with your quote.
What Does the Bond Protect Against?
Kentucky motor vehicle dealer bonds protect the commonwealth of Kentucky and its citizens from financial damages caused by unlawful actions or other violations by the bonded principal of the rules, regulations and guidelines governing vehicle industry operations.
The motor vehicle dealer surety bonds remain in force until a specified expiration date or until canceled by the surety company through 30 days advance written notice to the Commission. All surety bonds in Kentucky are subject to a state surcharge tax of 1.7% of the premium.
What is Needed to Obtain My License or Registration?
The following is an overview of key motor vehicle dealer licensing requirements in Kentucky. 
Established place of business
Certificate of insurance
Licensed sales personnel
Business sign
Completed application
Surety bond - The Commission may require an applicant to either furnish a bond or to show assets or other reliable financial arrangements in any amount up to $100,000
Licensee fees
Additional items may be needed and exact requirements may vary based on applicant, license type or obligee discretion. Please see obligee and state links in the Other Helpful Information and Links section below or contact the obligee directly for more information.