Who Requires the Motor Vehicle Dealer Bond and Why Is It Needed?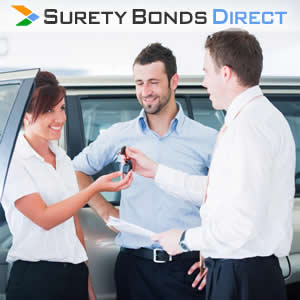 A $25,000 vehicle merchandising surety bond is required by the Indiana Secretary of State for various motor vehicle industry professionals. The surety bond must be posted by businesses holding the following vehicle industry license types in order to legally operate in the state.
Automobile Auctioneer
Dealer (Auto Dealers)
Distributor
Manufacturer
Wholesale Dealer
Watercraft Dealer
Research and Development
Converter Manufacturer
Automotive Salvage Recycler
Transfer Dealer
Auto Mobility Dealer
How Much Will My Surety Bond Cost?
Take 2 minutes to provide the basic information required to get the best rates for your Indiana Motor Vehicle Dealer Bond. The quote request is free and there is no obligation to you. If you prefer, please call 1‐800‐608‐9950 to speak with one of our friendly bond experts. We can help guide you through the bonding process and identify the lowest cost in the market for your situation.
If you are interested in spreading out the cost of your bond over time, we can offer convenient financing plans for many types of surety bonds. More information will be provided with your quote.
What Does the Bond Protect Against?
The surety bond protects third parties who suffer financial damages as a result of the bonded principal's noncompliance with any provision of law, ordinance, or resolutions governing issuance of the license by the Indiana Secretary of State. Damages may include nonpayment of fines, penalties, costs and fees due to the State or other damages sustained by aggrieved individuals. 
In a situation where the bonded customer (principal) fails to comply with surety bonding terms and requirements, the surety company is financially obligated to cover damages up to the bond amount or penal sum of the bond.  As with all surety bonds, the principal agrees to indemnify the surety for any such losses paid to third parties.
The bond may be canceled by the surety company at any time by providing 30 days advance written notice to the Secretary of State.