Who Requires the Motor Vehicle Dealer Bond (Designated Agent) and Why Is It Needed?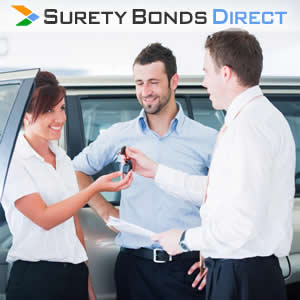 Auto dealers in the State of Illinois are required by the Secretary of State to post a Motor Vehicle Dealer / Designated Agent Bond for Vehicle Dealers. The surety bond is mandated by law for individuals and businesses engaged in the sale of at least five vehicles during a calendar year. The surety bond protects consumers from fraud, misrepresentation, or other illegal acts committed by a licensed auto dealer in the state. All Designated Agent Bonds expire on December 31st. The state of Illinois has increased the bond amount for the Motor Vehicle Dealer Bond from $20,000 to $50,000, effective January 1, 2018. Motor Vehicle Dealers are now required to keep the surety bond in force for five years as opposed to three years as previously required.
What Does the Bond Protect Against?
The surety bond ensures that the licensed Illinois vehicle dealer will collect and remit title and registration fees and taxes as defined in the Illinois Vehicle Code. The bond also guarantees the dealer's compliance with all applicable rules required by the Secretary of State. The surety bond is cancelable by the surety company by providing 30 days advance written notice to the Illinois Vehicle Services Department.
What is Needed to Obtain My License or Registration?
The following is an overview of key auto dealer licensing requirements in Illinois. 
A completed application and owner certifications
Surety Bond
Liability Insurance
Copy of Certification from Pre-licensing Education Program
License Fees as required
Additional items may be needed and exact requirements may vary based on applicant, license type or obligee discretion. Please see obligee and state links in the Other Helpful Information and Links section below or contact the obligee directly for more information.