Who Requires the Motor Vehicle Dealer Bond and Why Is It Needed?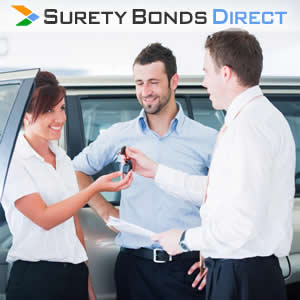 A Motor Vehicle Dealer Bond (sometimes called an auto dealer bond, DMV Bond, MVD bond, or car dealer bond), guarantees that the new or used auto dealer complies with all applicable federal, state, and local laws, tax, licensing guidelines and other conditions pertaining to managing a motor vehicle dealership. The surety bond protects consumers in the event the dealer (surety bond customer, or principal) engages in fraudulent practices, misrepresentation or other wrongful acts.
Some examples of a dealer's actions that may result in third party damages and a surety bond claim include:
Delivering an invalid or fraudulent certificate of title
Neglecting to pay motor vehicle fees
Misrepresentation or other unethical business practices
Failure to make sales tax payments to the state government
How Much Will My Surety Bond Cost?
Take 2 minutes to provide the basic information required to get the best rates for your Delaware Motor Vehicle Dealer Bond. The quote request is free and there is no obligation to you. If you prefer, please call 1‐800‐608‐9950 to speak with one of our friendly bond experts. We can help guide you through the bonding process and identify the lowest cost in the market for your situation.
If you are interested in spreading out the cost of your bond over time, we can offer convenient financing plans for many types of surety bonds. More information will be provided with your quote.