Who Requires the Motor Vehicle Dealer, Repairer or Leasing Company Bond and Why Is It Needed?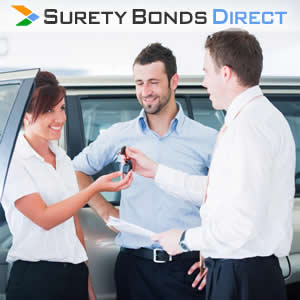 As required by Section 14-52(b) and Section 14-15 of the Connecticut General Statutes, auto dealers and related motor vehicle businesses in the state must furnish a surety bond to the Commissioner of Motor Vehicles as a condition of licensure.  The required bond amounts are as follows;
$50,000 for motor vehicle dealers
$10,000 for motor vehicle leasing or renting companies 
$5,000 for motor vehicle repairers or limited repairers
How Much Will My Surety Bond Cost?
Some Connecticut Motor Vehicle Dealer, Repairer or Leasing Company Bonds are offered completely online without a credit check or any paperwork. Surety Bonds Direct has access to the lowest bond prices available in the market for applicants with good credit and bad credit.
It only takes a couple minutes to provide us with the information required for a free, no-obligation quote. Or if you prefer, call 1‐800‐608‐9950 to speak with one of our friendly bond experts. We can help guide you through the bonding process and identify the lowest cost in the market for your situation.
If you are interested in spreading out the cost of your bond over time, we can offer convenient financing plans for many types of surety bonds. More information will be provided with your quote.
What Does the Bond Protect Against?
The surety bond provides a guarantee to the state that the principal will comply with the provisions of any state or federal law or regulation governing business conduct. Any party sustaining a loss due to acts of the licensee including omissions or other acts constituting reason for suspension or revocation of the license may seek indemnity for such loss. The surety company may cancel the bond by providing 30 days written notice to the state.
What is Needed to Obtain My License or Registration?
The following is an overview of key auto dealer licensing requirements in Connecticut.
Completed K7 Application
Class B Survey Map
K6 marker Plate Request
Trade Name Certificate
K89 Storage Rates
Financial Responsibility Certificate
Surety Bond
DEEP Referral Sheet
K200 VIN Etching Form
K193/K193A Financial Statement
Copy of Drivers License
Additional items may be needed and exact requirements may vary based on applicant, license type or obligee discretion. Please see obligee and state links in the Other Helpful Information and Links section below or contact the obligee directly for more information.