Who Requires the Investment Advisor Bond and Why Is It Needed?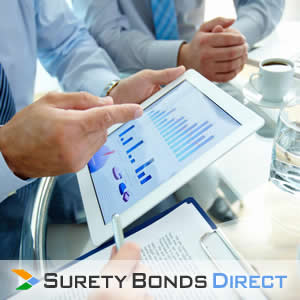 The Washington State Department of Financial Institutions requires investment advisors to furnish a surety bond as part of the licensing requirements. The bond ensures compliance with the Securities Act of Washington and ethical conduct related to the sensitive financial job functions of providing consumers with investment advice, financial planning, securities analysis, and asset protection strategies. The bond protects customers against financial losses in the event that the adviser improperly accounts for monies and securities held on behalf of investors, or otherwise violates fiduciary duties or license regulations.
How Much Will My Surety Bond Cost?
Take 2 minutes to provide the basic information required to get the best rates for your Washington Investment Advisor Bond. The quote request is free and there is no obligation to you. If you prefer, please call 1‐800‐608‐9950 to speak with one of our friendly bond experts. We can help guide you through the bonding process and identify the lowest cost in the market for your situation.
If you are interested in spreading out the cost of your bond over time, we can offer convenient financing plans for many types of surety bonds. More information will be provided with your quote.